Joan Collins of 'Dynasty' Fame Shares Picture with Family & Fans Leave Glowing Comments
Joan Collins of the famous television show "Dynasty" has just shared an adorable snap showcasing her family, and the fans could not stop talking about the actress's folks. 
Joan Collins offered her fans over at Instagram a look at her gorgeous family having their Sunday brunch in Beverly Hills late last month, and the fans were positively thrilled. 
The snap itself features the awe-inspiring showbiz family gathered around the breakfast table at the Polo Lounge in Beverly Hills, and as Collins claimed in the captions, nothing could be nicer. 
FANS REACT
Fans could not hold their excitement, and so they went on to the comments section to admire the veteran actress. "You are blessed, Joan. So blessed," one fan wrote before concluding with a heart emoji.
Another fan took to admiring the amazing people smiling at the lens and noted that Collins had a lovely family, an opinion to which a lot of fans concurred. 


Other fans went right to the point and admired the beautiful Dame followed by a positive remark for the lovely hat she had donned that morning. 
COLLINS' PAST
Although the 86-year-old actress has a very successful career to look back to, the same cannot be said about her personal life, more so her marital life as the Golden Globe-winning actress has had four unsuccessful marriages. 
In an interview with "The Guardian," the English actress revealed that she was raped by her first husband, Maxwell Reed, on the very first date, and their relationship continued further only because they had "done it," which was a big deal in the '50s. 
The relationship that started on troubled grounds went steeply downhill after the marriage as Collin claimed that during her first marriage, a Middle Eastern man offered her husband a sum of ten thousand dollars to sleep with the "Dynasty" star.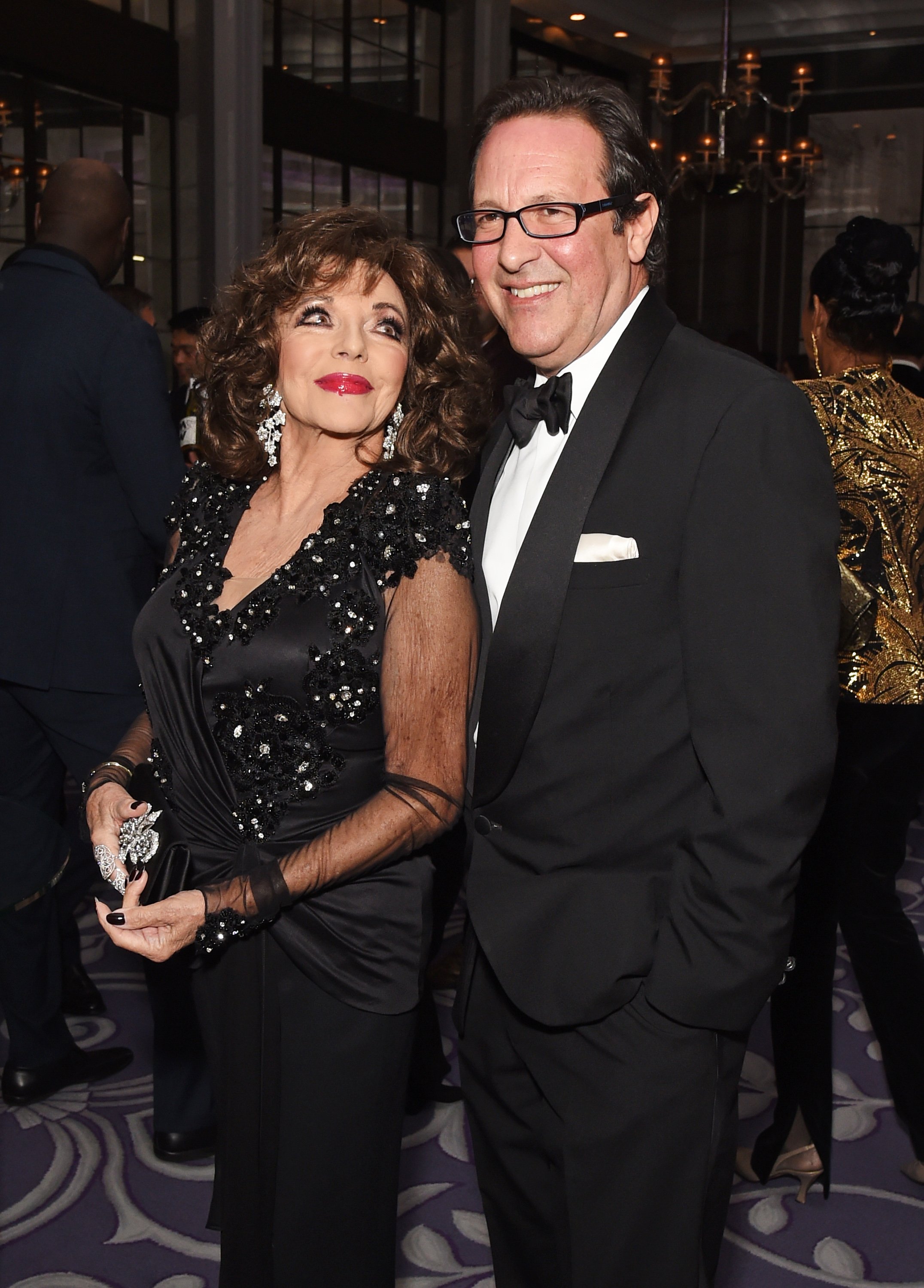 FINDING LOVE
She then relived the horror as she confirmed with the outlet that the actor actually agreed to the deal and, even worse, her husband was actually looking forward to witnessing the unquestionably immoral exchange. 
Collins' second marriage was no better, as Anthony Newly had never been faithful during the course of their marriage. Nevertheless, their bond resulted in two children that the actress still adores, Tara and Alexander Newly. 
Her third marriage with recording executive and film producer Ronald Kass gave her a beautiful daughter, Katyana Kass. Still, the marriage itself derailed after Ronald had a severe addiction to cocaine and later heroin. 
The fourth tragedy was from Peter Holm, a fading Swedish pop singer, who she caught cheating red-handed and considered the marriage was his meal ticket. Fortunately, the actress found true love as her fifth husband, Percy Gibson, who she married in 2002.