Ivanka Trump Shares Cozy Selfie at Home & Photo of Pastries Baking in the Oven Ahead of Jewish Holiday Purim
As the Jewish Purim celebration beckons, Ivanka Trump showed her preparedness for the holidays when she posted a sweet selfie photo on Instagram and another on her Instagram stories. 
The Jewish Purim celebrations begin on the evening of Monday, March 9, and end on the evening of Tuesday, March 10. The holiday comes in a week, but Ivanka Trump is already into her preparations. 
The Senior White House Special Adviser shared a cute selfie picture taken from her home, showing the 38-year-old and her dog lying on the bed. Ivanka gave a little sweet smile, while her dog cozied up on her chest.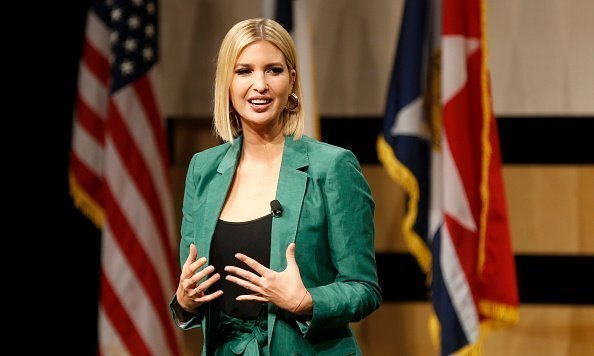 The mother of three captioned her post with an emoji of a yellow-faced dog in between two yellow heart emojis. There was, however, more to come from Ivanka. 
She posted a delicious looking photo of freshly baked Hamantaschen, one of the best treats of a Purim holiday. In the caption to that Instagram story post, Ivanka wrote:
"Getting ready for Purim."
Purim is one of the most fun holiday celebrations among Jews. It is celebrated as a remembrance of how Queen Esther of Persia saved the Jewish people from being executed by Haman. 
Haman held a position as the special adviser to Esther's husband, the King of Persia. He was on the verge of executing all Jews, when Esther, a Jew, bravely revealed her real but hidden heritage to her husband. 
Jared's parents were also initially against the marriage and refused to meet with Ivanka, as he was supposed to marry a Jew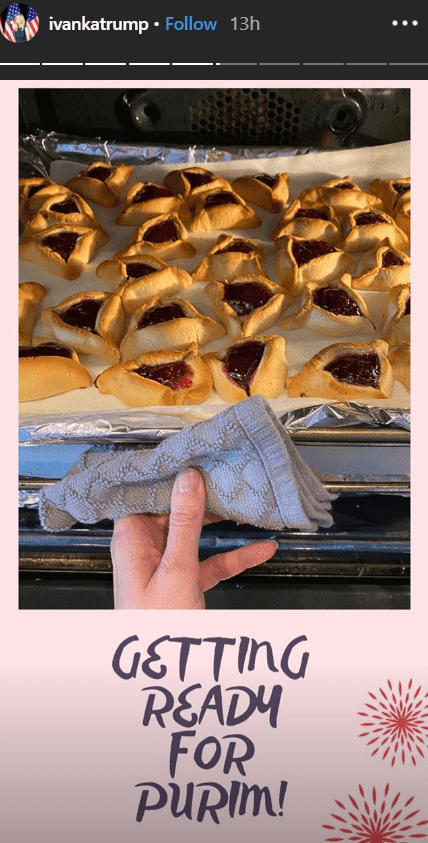 She asked the King to save her people, which he did, out of love for his wife. During Purim, there is a lot to eat and drink, and so much fun to experience.
Despite Ivanka getting all set for Purim, her father may have been against her decision to convert to Judaism and marry her husband, Jared Kushner, also an adviser to the White House in 2009. 
These revelations are contained in a book titled, "American Oligarchs: The Kushners, the Trumps, and The Marriage of Money and Power," written by Andrea Bernstein. 
According to Bernstein, Donald Trump was shocked by his daughter's relationship with Jared, her conversion to Judaism in order to marry him, and their marriage. 
Though the President wondered why his daughter had to convert to another religion to marry anyone, he was still gracious at her wedding ceremony in October 2009. 
Another revelation from the book is that Trump confided in his friend, Robert Kraft, who owns the New England Patriots, saying that Jared was half the size of Tom Brady's arm, and wondering why his daughter didn't marry Tom Brady. 
Jared's parents were also initially against the marriage and refused to meet with Ivanka, as he was supposed to marry a Jew. 
Ivanka's decision to switch her religious alliances, and convert from being a Presbyterian to becoming a Jew could be down to many reasons, including the fact that she and Jared initially broke up after dating for the first time.
The breakup was due to religious differences, so when they got back together, and their relationship became serious, Ivanka decided to change her religious beliefs, as Jared was always expected to marry a Jew. 
So, it can be said that Ivanka did so out of love and put in the hard work to practice the Jewish Faith. Ten years and three kids later, that hard work has paid off handsomely. Purim would be so much fun in the Jared-Ivanka household.