Prince William & Kate Middleton Had Tea with President of Ireland and Also Met His Dog Bród
Kate Middleton and Prince William received a warm welcome in Ireland when they met President Michael D. Higgins and his wife Sabina Higgins, who greeted the pair with their dog.
Kate Middleton and Prince William were greeted with a unique welcome when they touched down in Dublin, Ireland, for their three-day tour of the country.
The couple was met by Ireland's President Michael D. Higgins and his wife, Sabina Higgins. The family's pet Bernese Mountain dog Brod also tagged along for the welcome.
According to PEOPLE, the name Brod means pride in Gaelic. He is certainly the pride of Ireland's first family. Brod is no stranger to the spotlight and makes for the perfect photo-op.
He often joins President Higgins and his wife in welcoming officials to Ireland. In 2018 Brod, along with their Bernese, Sioda met Prince Harry and Meghan Markle when they were just newlyweds on a tour of Ireland.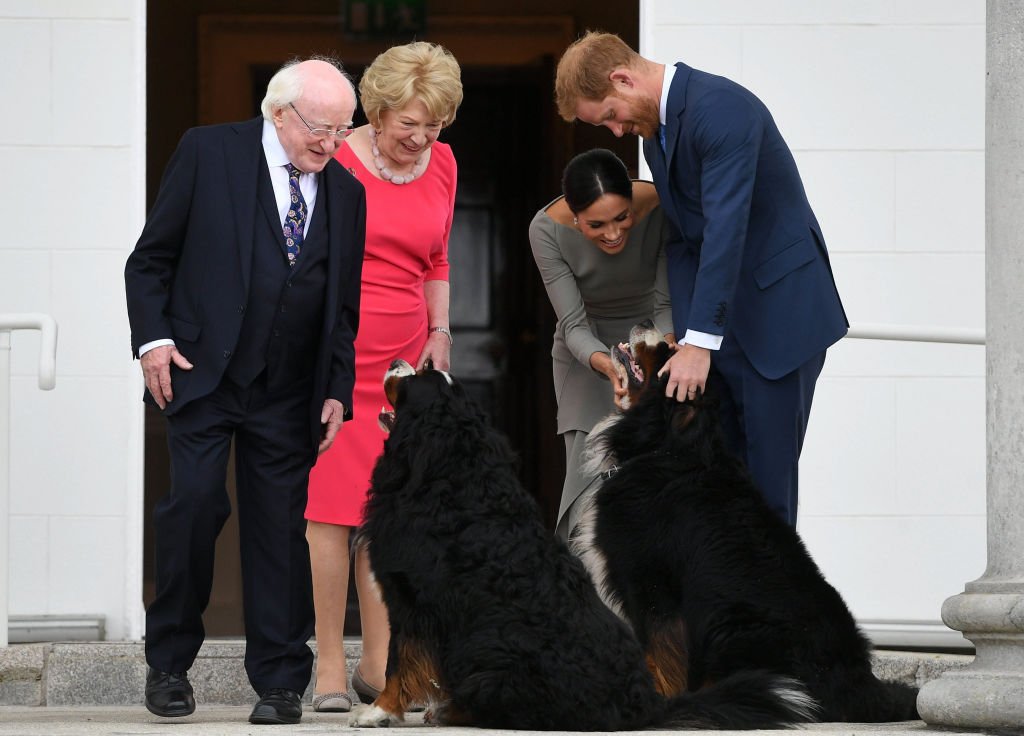 During Kate and William's meeting at the President's residence, Brod, held his head up to the couple as he enjoyed the affectionate strokes from Kate and William.
It is reported, he was just as affectionate with Meghan and Harry. Joined by Sioda at the time, the two dogs followed the pair around as they toured Higgins' home.
Updated: William and Kate Middleton ease Brexit tension in Dublin | Daily Mail Online https://t.co/H3c3RZAyIU

— Rebecca English (@RE_DailyMail) March 3, 2020
During their visit, Kate and William were received with such a warm welcome in Ireland, particularly because Brod's presence made it extra special for them as dog lovers. 
The couple has their own dog, and an English cocker spaniel named Lupo. The dog was gifted to Kate by her husband when they had their first child, Prince George.
William and Kate meet Taoiseach @LeoVaradkar and his partner Matthew Barrett at Government Buildings: pic.twitter.com/g7Vnuc4Vhb

— Emily Nash (@emynash) March 3, 2020
Sharing her appreciation for military wives during a Christmas party held at Kensington Palace in 2018. William revealed that getting a dog helped Kate overcome loneliness when he was away, a source at the event explained:
"[William] was saying how difficult it was for Kate because he was leaving for six weeks. It was when they'd just got the Spaniel to help her with the time apart."
It was a pleasure to welcome the Duke and Duchess of Cambridge to Government Buildings this afternoon as part of their visit to Ireland. pic.twitter.com/6at3JyF4ye

— Leo Varadkar (@LeoVaradkar) March 3, 2020
Hello! reports, Kate paid tribute to the Emerald Isle styled in an all-green ensemble, which was made up of a green coat by Catherine Walker and a complimenting printed dress by Alessandra Rich.
The couple is expected to have a jammed packed three days visiting various cities across the country and organizations in support of Ireland's rich culture and celebrating its local communities.