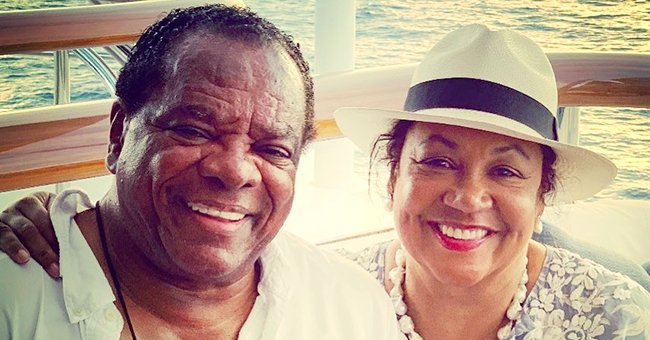 Instagram/arobinsonwitherspoon
John Witherspoon Was Married to Angela for 31 Years before His Death — Meet 'Friday' Star's Wife Who Is Also an Actress
Late American comedian and actor John Witherspoon was married to one of Hollywood stars, Angela Robinson, for thirty-one years, before his death. Here's what we know about the actress.
Since the passing of John Witherspoon last year autumn, his wife, Angela Robinson-Witherspoon, has shown strength in moving on with life while remembering her late husband of 31 solid years.
John Witherspoon visits the "Late Show With David Letterman" on December 21, 2009 in New York City. | Photo: Getty Images
Angela was an amazing wife to John, and they enjoyed each other's mutual support in building their careers, even from early on. A post made a month before John's death, in 2019 is a picture of the ever-smiling couple in Saint-Tropez.
The family revealed John's death in a statement to Deadline. He died at the age of 77 from a heart attack while at his home in Sherman Oaks. The "Friday" actor was still active in his senior years, even at the point of death.
The couple also had two sons together, Alexander Witherspoon and John David Witherspoon. JD Witherspoon is the first son of the late "Boondocks" star, and apart from being the veteran actor's namesake, he is a voice actor and comedian.
Her role in the film "Kidnapped" was where she met her husband, John, on set!
One of the not-so-secret facts about John's wife is that she is also an actress. The doting mother of two has an active career and she recently appeared in a movie titled "Hold On," where she played the protagonist's mother.
She is expected to star in another film which is currently in the pre-production stage: "EGB the Real Godson of Go-Go Music the Movie."
Her first acting role was opposite Eddie Murphy in the film, "48 Hours." However, her role in the movie "Kidnapped" was where she met and fell in love with her husband, John, on set.
Angela has also co-starred with John in various films after that ⁠— "Soul Plane," "The Wayans Bros," to mention a few. She has also featured in the television series, "Criminal Minds" and "Ugly Betty."
Angela has a multi-faceted career. In addition to being an actress, she used to model, and now she is a director, producer and she calls herself a storyteller. The first film Angela made ⁠— "Last Call" ⁠— was directed in 2013.
Mrs. Witherspoon has produced documentaries, including one about Betye Saar, a 93-year old contemporary artist. At a point, she experimented in stand-up comedy with the help of her husband.
Please fill in your e-mail so we can share with you our top stories!