Kylie Jenner from KUWTK Looks Stunning with Long Wavy Blonde Hair She Poses in Leopard Print Outfit
Kylie Jenner brought the sizzle back from the Bahamas after a lazy vacation, as she stunned in a green hooded dress feeling every bit her "own muse" in striking poses. 
The self-made billionaire recently returned from a girls' getaway on Harbour Island in the Bahamas with her daughter Stormi, sister Kendall, and some friends. And she kept the glamour going by taking a walk on the wild side in leopard print.
KYLIE ROARS IN LEOPARD PRINT
The Tom Ford creation looked amazing on Kylie, as the green skintight, long-sleeved hooded dress accentuated her curves.
Blond tresses spilled out from underneath the loose hoodie as she posed in black square-toe stilettos to complete her look. Alongside a slideshow of images, Kylie wrote, "' I am my own muse' - Tom Ford." 
In a separate post, Kylie shared another picture in the outfit, wherein she looked the camera square on while bending over. Cheekily, she captioned the snap, "Giving you baby mama drama honey ?."
GREEN IS A GO
While in the Bahamas Kylie posted several updates of their stay at Villa Rosalita, tucked away on the pink beached island and surrounded by a lush tropical garden.
With green becoming a recurring theme, Kylie posted several sexy shots taken with her sister Kendall on their first day in the Bahamas.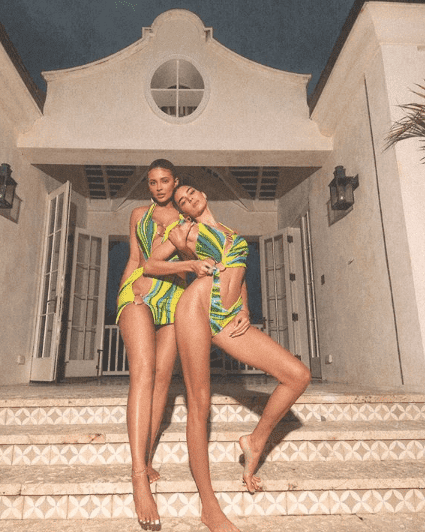 Several pictures got taken at the luxurious villa with its six bedrooms and verandas that offer amazing sea views. In one of those pictures, Kylie advised others to "talk to [her] nice," as she posed in a brown bikini.
TRAVIS AND KYLIE STILL ON PAUSE
The female-only getaway comes shortly after sources told Us Magazine that Kylie and Scott Travis are likely to get back together "at some point in the future."
According to the source, the pair still have romantic feelings for each other since they called it quits in October 2019 and spend "a lot of time" with each other and their daughter Stormi.
The pair's main focus is Stormi, and are taking the time apart to grow as "adults and parents." Even though they are not in a romantic relationship at the moment, Kylie's family still sees Travis as a part of the family.
It's reportedly not the first time Travis Scott and Kylie Jenner took time apart since they started dating in 2017. Even so, the pair are "very happy" with the way things are at the moment and not ready to label their relationship just yet.
Travis and Kylie aren't seeing other people either, and are spotted together more often doing things together without Stormy.