Kelly Ripa and Ryan Seacrest Share Their Morning Routine before 'Live!' Goes on Air
"Live with Kelly and Ryan" hosts, Ryan Seacrest and Kelly Ripa share their cute every morning pre-show routine, adding that they never miss it before going live.
Kelly and Ryan's morning talk show began in 2017, according to Pop Culture. In 2014, Kelly started on the show as Michael Strahan's permanent co-host. Strahan, however, left the Live show to join Good Morning America, leaving Kelly to continue as a single co-host. Ryan joined Kelly in 2017, and the show took off successfully.
In an interview with PEOPLE, the duo opened up about their morning Routine before the show begins every weekday, and revealed that they never deviate from the routine they've developed over the years.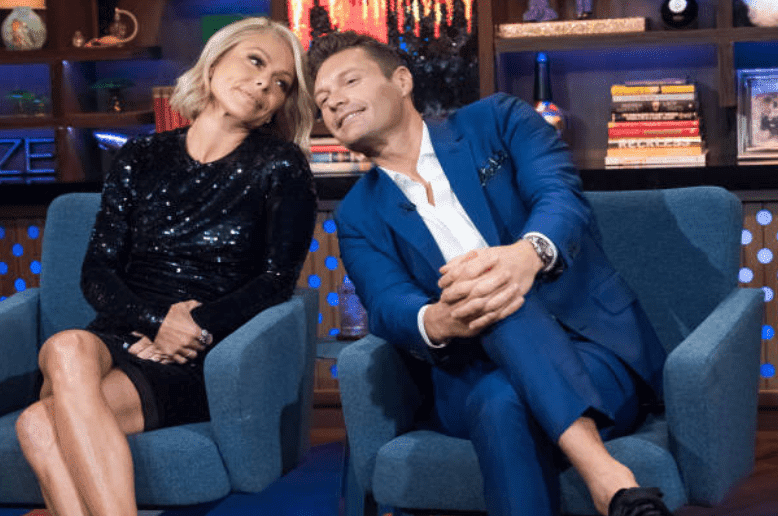 Since 2017 when Seacrest came on board, the two have developed a sort of chemistry about them. Talking about his first day hosting with Ripa, Ryan described it as one of his "Favorite moments."
Ripa revealed that they are both almost religious about the way they conduct their morning routine. What is most intriguing about their method is their strict, no face-to-face contact. Ryan explained that:
"The short version is we don't connect with each other until 60 seconds before we're going on air. I scream to her in the dressing room, 'Morning! Hi, Ripa.'"
Although they don't set eyes on each other before getting on set, the pair disclosed that they make sure to text all night long before the following morning. This little ritual might, in fact, be the secret to their long-lasting chemistry. 
Kelly has always commended her co-host, Ryan, who was a former host on "American Idol." Kelly told PEOPLE that everything Ryan says is funny to her. She also praised Ryan about his easy-going and easy-to-like personality.
Kelly and Ryan are taking their work relationship up a notch
On an episode of E! 's "Pop of the Morning," Ripa made an appearance on a lovely Wednesday morning and had a quick chat. The 49-year-old host confessed that she felt like she was cheating on her morning show with Ryan; she said:
"I feel like I'm cheating on my morning show. I feel a little bit dirty; I like it."
Of course, we do not doubt that Ryan can forgive just this one betrayal as Kelly spoke endearingly about her daughter, Lola, and the adventures of being a mom.
The TV won't just be seeing Kelly and Ryan on "Live," according to E! News, the pair are taking their work relationship up a notch with their new comedy show, "Work Wife." The show will follow the co-hosts, not only on set but also on the terrains of the real world.
There is no doubt that whatever show these two are on, their chemistry will always connect with their audience and keep them tuned in.