Kimora Lee Simmons and Her Look-Alike Daughters Stun in Chic Looks in Video for International Women's Day
The famous TV personality, Kimora Lee Simmons, is a proud mother with two beautiful look-alike daughters — the gorgeous trio posed for a stunning photo in a new Instagram update. 
Kimora Lee Simmons is a leading businesswoman and TV personality. She is also mother to two beautiful girls, 20-year-old Ming Lee Simmons and 18-year-old Aoki Lee Simmons.
In celebration of the International women's day, the 44-year-old mother took to her Instagram page to post a short video clip that featured herself and her stunning daughters.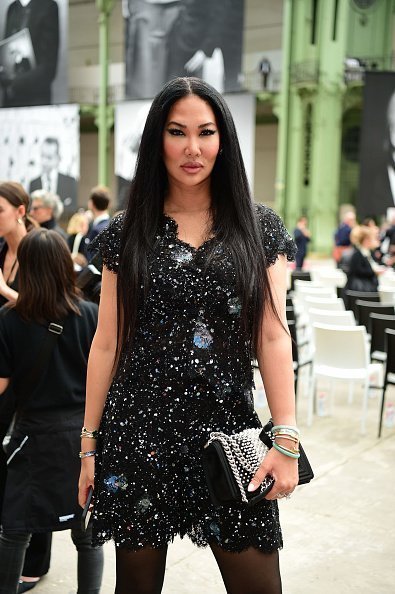 In the footage, Kimora could be seen seated on a chair flanked on both sides by her daughters. The trio was dressed to please in chic dresses that showed off their perfect figures. Kimora captioned the post,
"I think women are foolish to pretend they are equal to men. They are far superior and always have been. Whatever you give a woman, she will multiply."
Fans of the famous TV personality took to the comments section to point out the similarities the mother-daughter trio shared. 
"You ladies Rock!! Ming u got your mom swag," a fan wrote about Ming Lee who recently celebrated her 20th birthday. Her family took to their various social media handles to wish her a happy birthday. 
Though Kimora takes her job as a mom seriously, she also runs a tight ship as an entrepreneur. The 44-year-old TV personality recently relaunched her famous brand, Baby Phat.
Baby Phat is an early 2000s brand founded by Kimora and her then-husband, Russell Simmons, and achieved popularity when it received several endorsements from high profile celebrities like Britney Spears, Alicia Key —it shut down in 2011.
The businesswoman announced the exciting relaunch news in March, revealing that her daughters would be aiding her this time around. She stated to People at the time,
"Here we are again, 20 years later, in 2019, and now [my daughters] are with me taking the reigns."
She also added that the company was a woman-based one run by herself and her daughters. Now she's getting ready to pass the torch of leadership to the girls. 
The girls are more than qualified to handle it and are prepared to take the mantle to further the company's reach. Ming is reportedly majoring in fashion and business at New York University and is already designing clothes for the new Baby Phat collections.
She is also considering going to law school to learn more about running the company. Last year, her sister, Aoki, started as a freshman at the prestigious Harvard, where she is majoring in economics and classics. 
Aoki Lee allegedly focuses more on the financial aspects of the company while her sister Ming, deals with the creativity section.