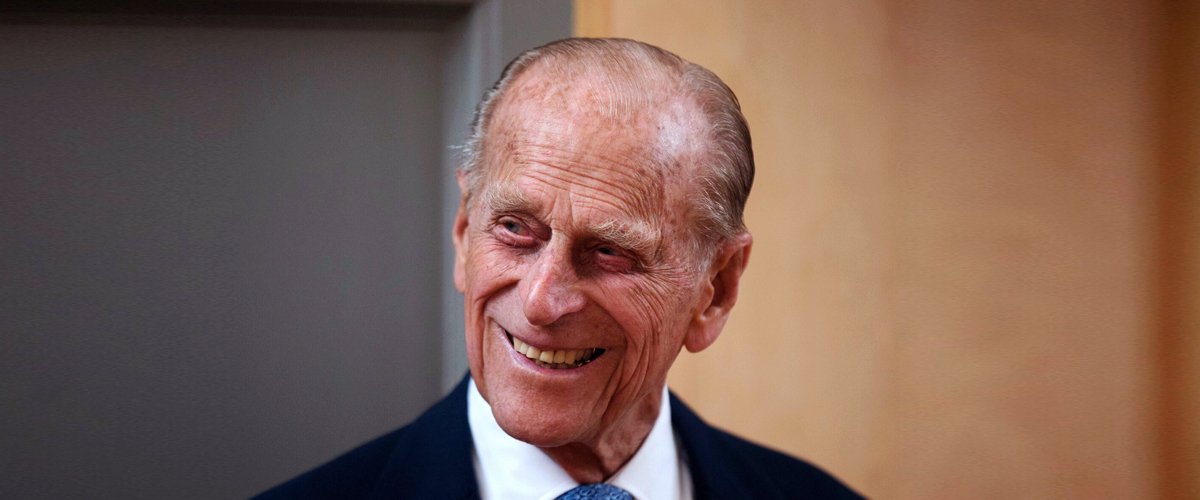 Getty Images
The Story Behind Prince Philip's Childhood That Impacted The British Royal Family

Prince Philip holds the record for the longest-serving royal consort in history, and we must admit that he has been of excellent service to the Royal family.
However, his long full life of 98 years didn't come without dark times. He stood by Queen Elizabeth II for 70 years before he retired from his royal duties. Philip's adult life was filled with titles, royal tours, privileges, and responsibility.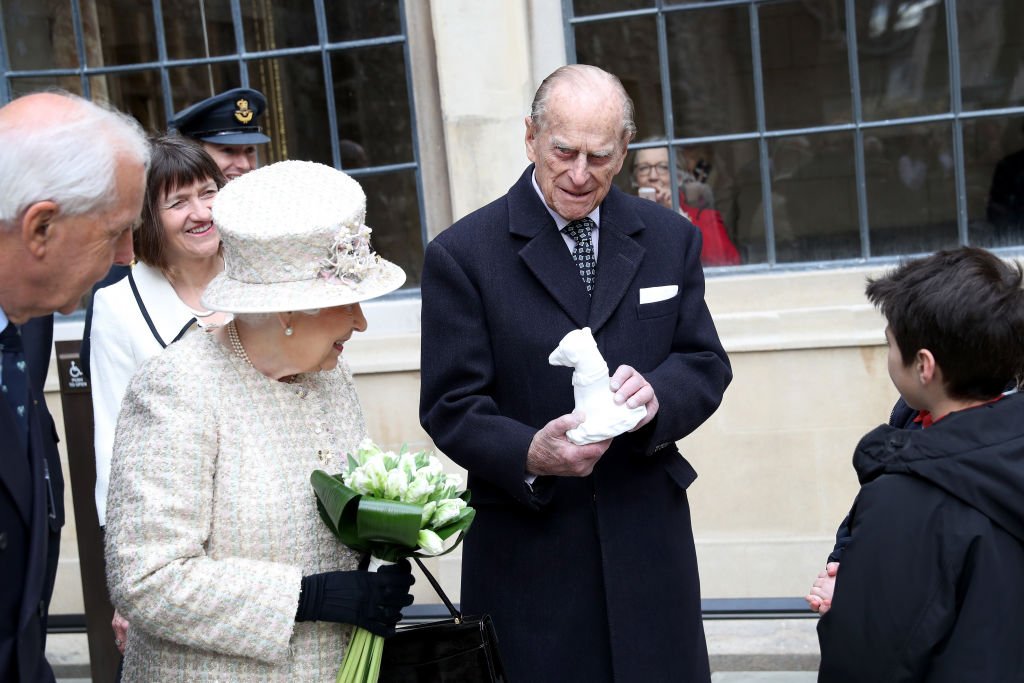 Queen Elizabeth II and Prince Philip, Duke of Edinburgh are greeted by local school children as they open a new development at The Charterhouse at Charterhouse Square on February 28, 2017 | Photo: Getty Images
The same cannot be said about his childhood. Prince Philip suffered significant losses while growing up, and one that especially hurt him was his sister's demise in a plane crash when he was 16.
This article sections the different stages of the Prince's growth from childhood until the present, so stick around to find out more about the Duke of Edinburgh.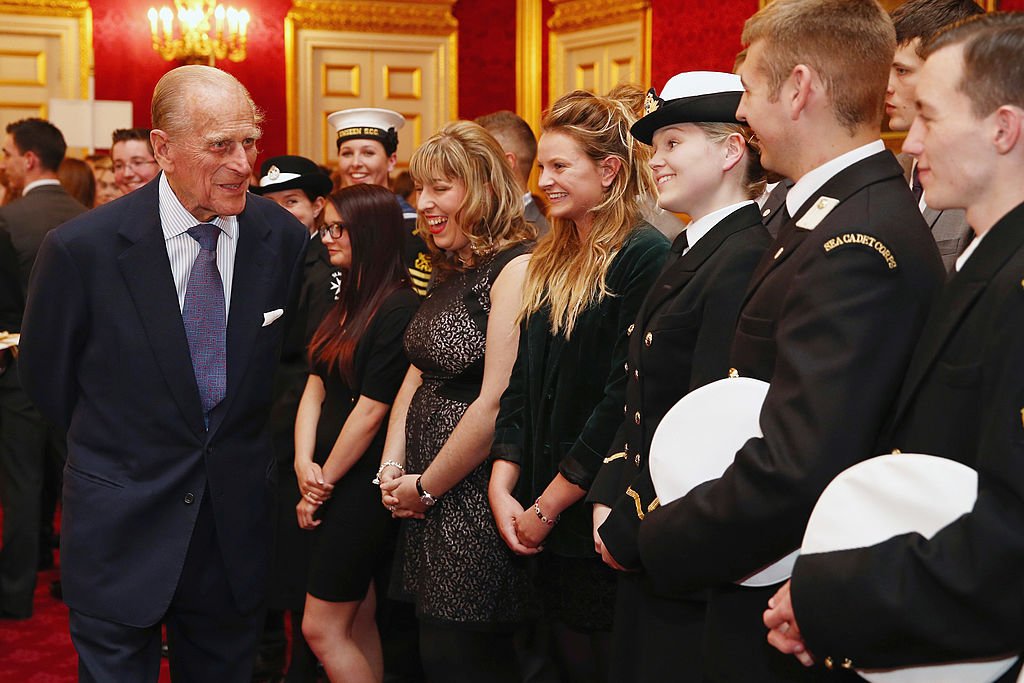 Duke of Edinburgh speaks with a group of young people during a reception at St. Jamess Palace on October 10, 2013 | Photo: Getty Images
PRINCE PHILIP HAD A TURBULENT CHILDHOOD
The Prince's birth story is synonymous to that of his wife, in that they both had a noble lineage. However, his royal childhood was remarkably different from Queen Elizabeth's.
The Greece native was born to Princess Alice of Battenberg and Prince Andrew of Greece and Denmark on June 10, 1921. He was sixth in line for the succession of the Greece throne. His grandfather was King George I of Greece.
When King George I was killed, Prince Philip's uncle, Constantine ascended the throne. However, he was usurped from the throne when Philip turned 1.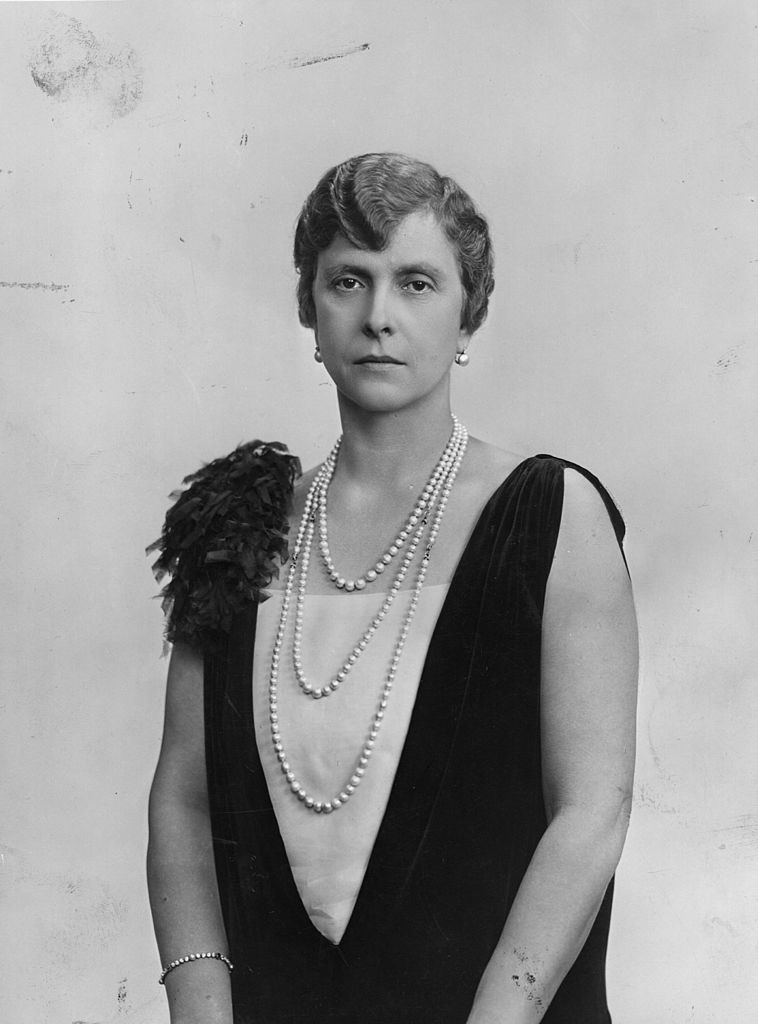 Princess Alice of Greece (1885 - 1969), mother of Prince Philip, the Duke of Edinburgh, and formerly Alice of Battenberg | Photo: Getty Images
As a result, Prince Philip and his family were forced to flee the country. The young royal had to be carried away in a fruit crate.
Royal author, Philip Eade in his book, "Young Prince Philip," analyzed the Prince's young start and termed it "turbulent." While speaking to Town & Country, Eade said:
"Whereas the Queen experienced a very close-knit and happy family life apart from the abdication in 1936 when she was 10, Philip's childhood was far more turbulent."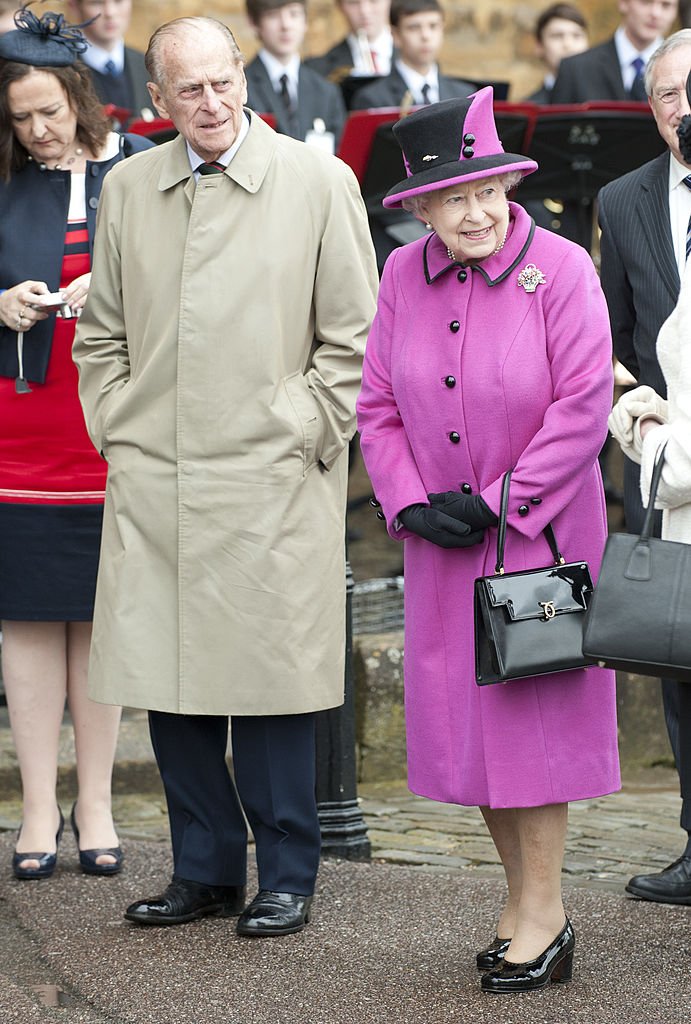 Queen Elizabeth Ll And Duke Of Edinburgh Visit Sherborne Abbey And Visit A Mad Hatters Tea Party | Photo: Getty Images
HIS MOTHER WAS MENTALLY DERAILED
Philip's mother, Alice of Battenberg, was the granddaughter of Queen Victoria; she was exceptionally gorgeous but suffered a hearing defect.
Alice could tell and make sense of words through lip-reading, which she learned in diverse languages. As a result of the exile Philip's family faced, the young royal rarely saw his parents, especially his mother. She had been bitter about the banishment, and this affected her nerves.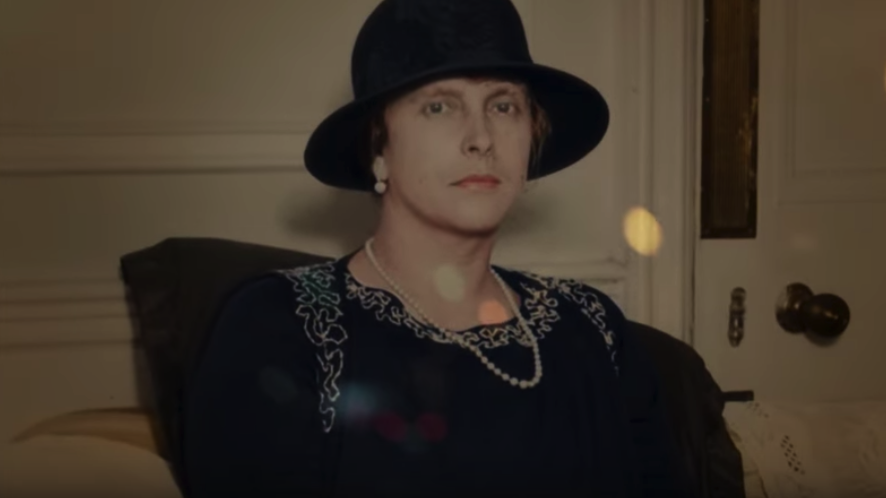 Prince Philip's mother, Alice of Battenberg posing for a picture| Photo: YouTube/Timeline - World History Documentaries
When he was just nine years, his mother was put in an asylum against her wish. On the fateful day, the children were taken out, and when they returned, their mother was gone.
Alice was diagnosed with schizophrenia, as well as neurotic pre-psychotic libidinous condition. She was a victim of a series of tests which ultimately sped her menopause.
In 1967, Prince Philip reconnected with his mother who resided in the Buckingham Palace until she passed away.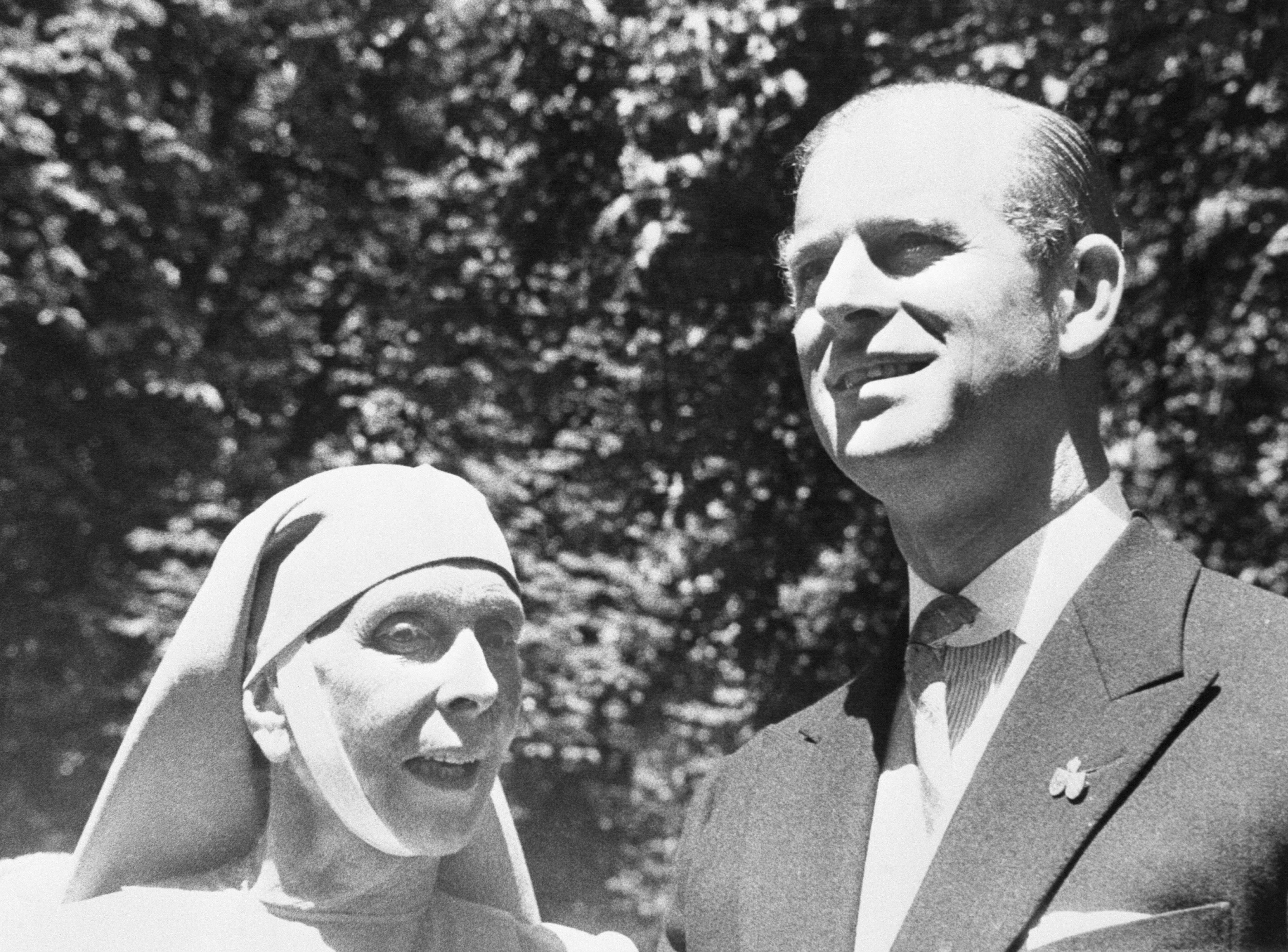 Prince Philip, Duke of Edinburgh, husband of Britain's Queen Elizabeth II, is shown in a reunion with his mother, Princess Alice of Greece. | Photo: Getty Images
A CHALLENGING SCHOOL LIFE
With a playboy father like Prince Andrew and a mentally derailed mother, Prince Philip's school life sucked. He was often bullied for not having a surname, as his mates simply referred to him as Philip of Greece.
They taunted him because he was a boy with "no name." Under the guidance of his mother's family, Philip schooled in England, Germany, and then Scotland. In his school, Gordonstoun, in rural Scotland, young Philip experienced sheer pain as part of the rigors of education.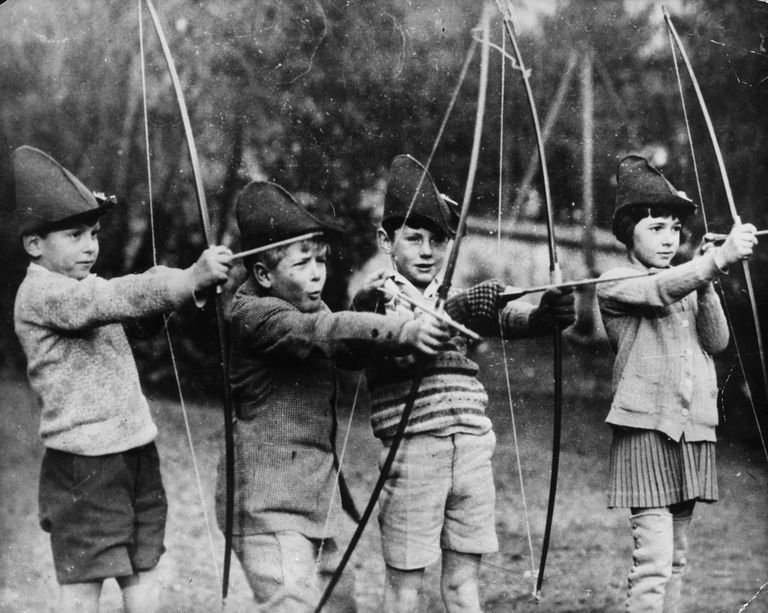 A circa 1929 photo of Philip of Greece with schoolmates at the MacJannet American school in France. | Photo: Getty Images
The prince had to wake up at 6 am daily, sail a distance, bath with cold water, engage in manual labor, and also read 60 minutes a day on his back.
Despite the challenges he faced, the Prince went on to send his son, Prince Charles to the same school. He believed the school was a place for one to learn discipline.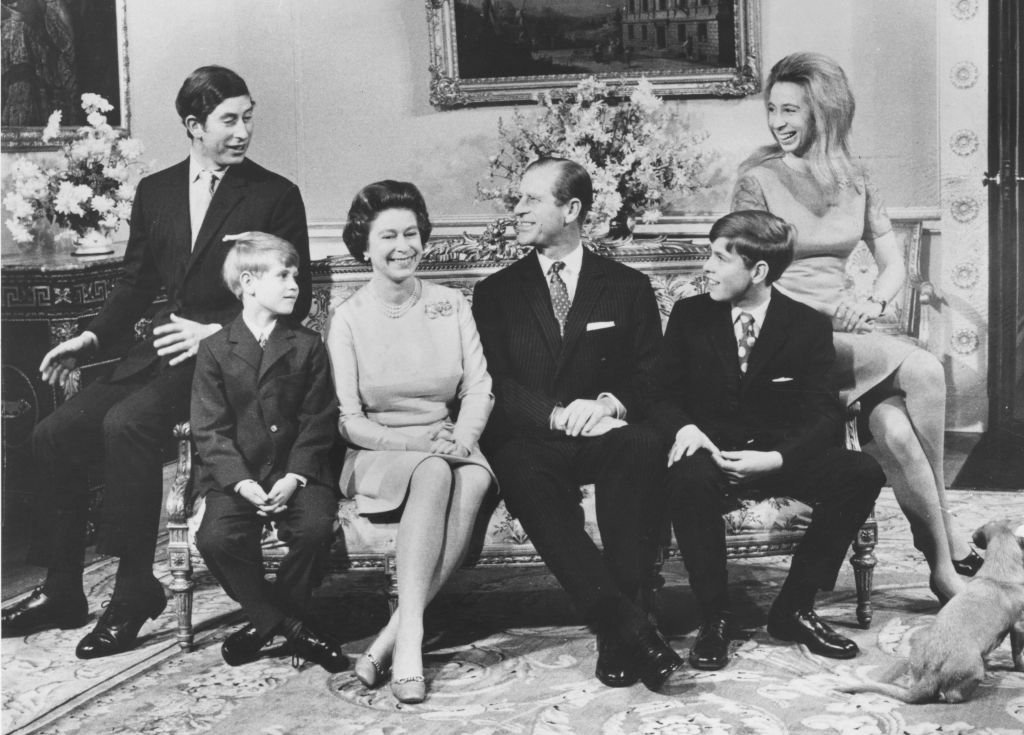 Queen Elizabeth II and the Duke of Edinburgh with their children (left to right); Charles, Prince of Wales, Prince Edward, Prince Andrew, Princess Anne celebrating their silver wedding anniversary at Buckingham Palace | Photo: Getty Images
HE HAD A SORRY EXCUSE FOR A FATHER
Prince Andrew was not a typical father; he was not the best example either. Prince Andrew left his family after he fled from Greece. He chose to be in the arms of his lover rather than embrace his fatherly roles.
As at ten years old, Prince Philip was all by himself navigating life without parental love. It was reported that when Prince Philip was asked about the language he spoke in his home as a child, the Duke of Edinburgh replied saying, "what do you mean, 'at home'?"
Conversely, Prince Philip tried to do differently with his offsprings. He is often regarded as a "devoted father."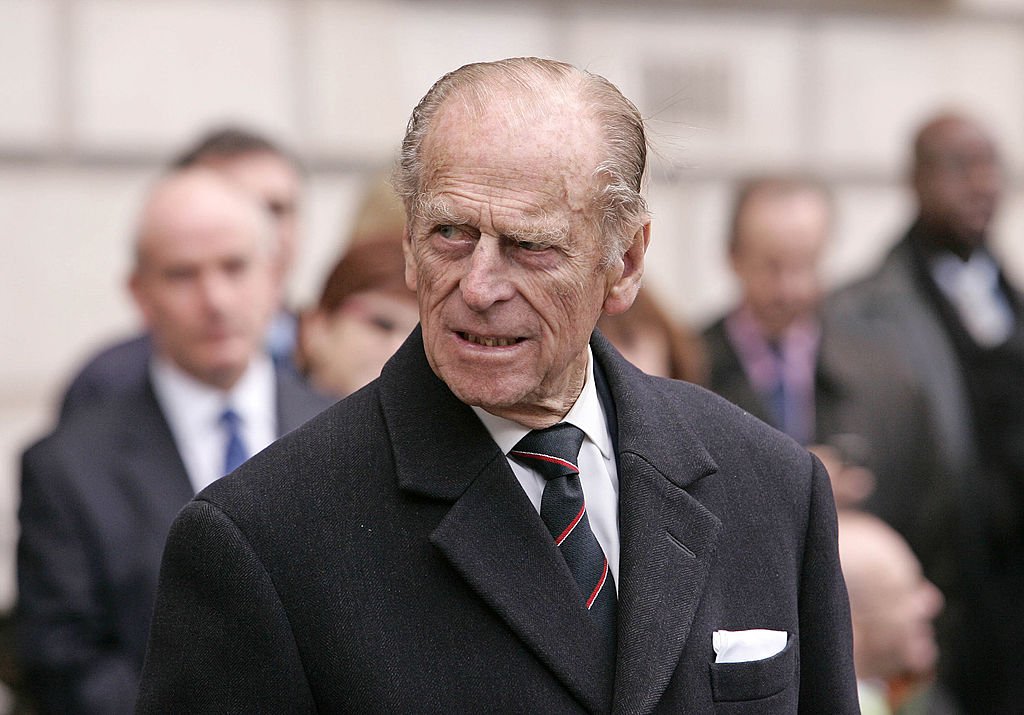 Prince Philip, Duke of Edinburgh attends the unveiling of the Jubilee Walkway panel on Parliament Square on November 19, 2007 | Photo: Getty Images
NAZI RELATIVES
The Prince had four sisters who were way older than he was. When he was 10, all of his sisters were married to German aristocrats, with some of them being Nazis.
This caused a lot of controversy for Philip, especially when he met Queen Elizabeth, and they decided to get married. The pair tied the knot just after World War II ended, and many people were quick to talk about his ties to the Nazi.
It believed that his ties to the Nazis was what caused King George VI, to instruct the young couple to keep their engagement secret for a year. Not one of Philip's family members were invited to his wedding.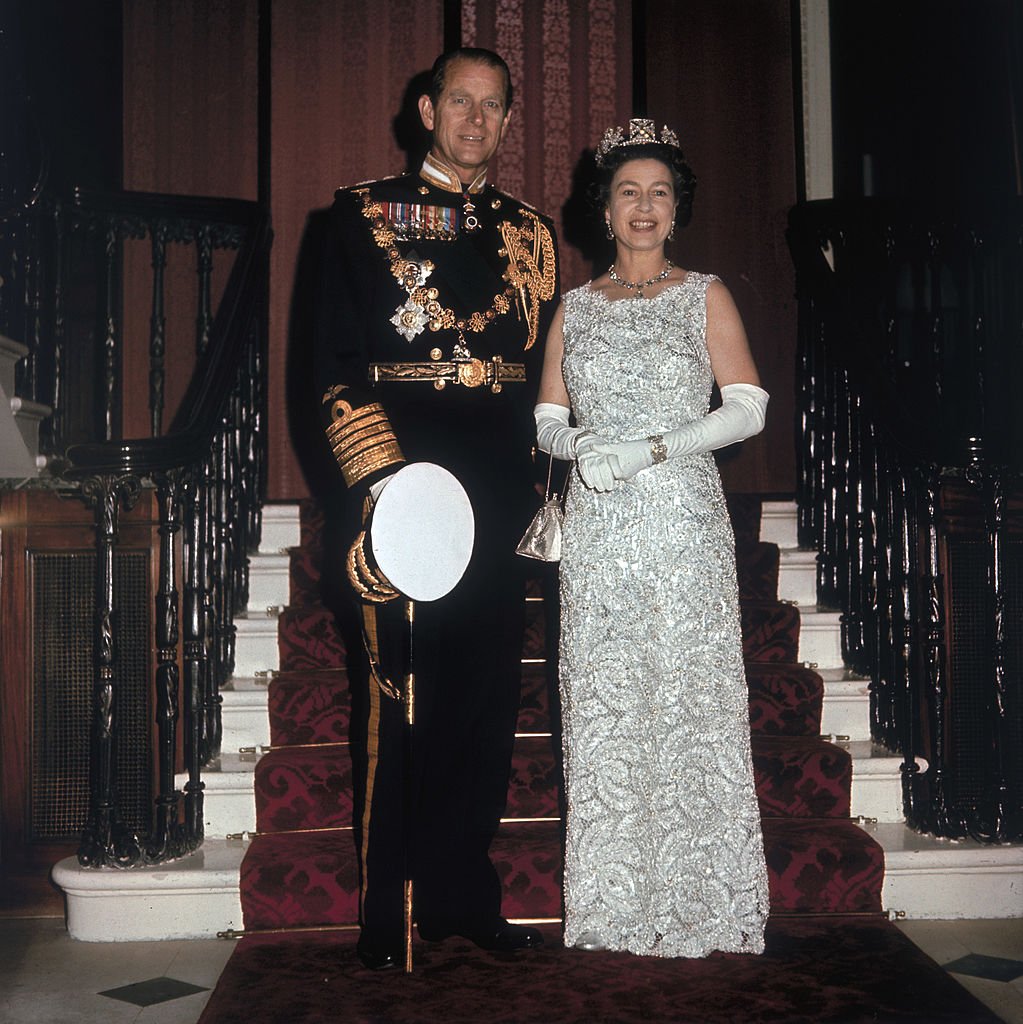 Queen Elizabeth II and Prince Philip Duke of Edinburgh on the occasion of their 25th silver wedding anniversary celebrations held at Buckingham Palace, 20th November 1972 | Photo: Getty Images
THE LOSS OF A SISTER AND OTHER FAMILY TRAGEDY
Philip was the youngest of his five siblings, he was protected and cared for by his sisters. Of his four sisters, he had a favorite in Cecile.
He spent some time living with her and her family whenever he returned from boarding house. When Philip was 16, Cecile met her untimely death in a plane crash. She was killed alongside her husband and two children.
While living with his sister, Cecile, Prince Philip also juggled residing with his maternal uncle and guardian, Georgie Mountbatten and his wife, Nada.
Nada happened to be the great-granddaughter of a famous poet, Alexander Pushkin. Just months after his sister died, Philip was barely healing when he was struck with another.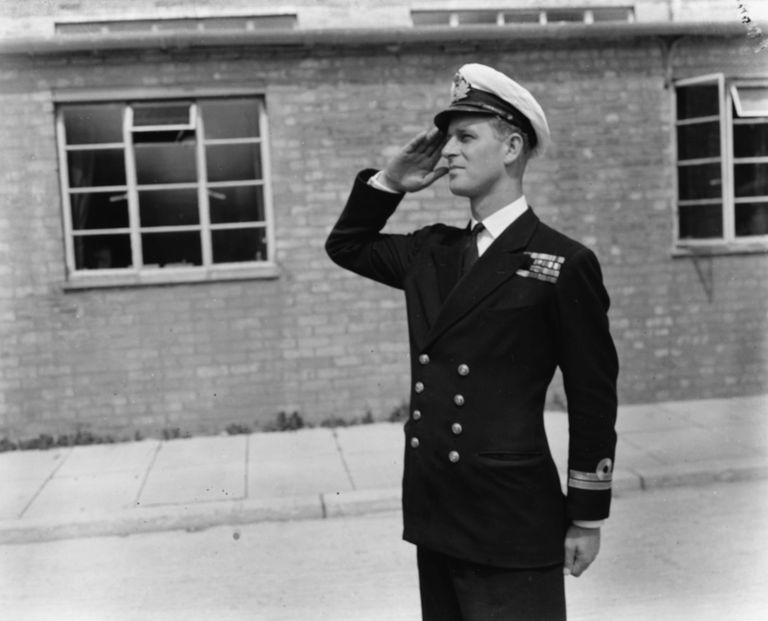 Philip, prior to his marriage to Princess Elizabeth, saluting at the Royal Naval Officers School at Kingsmoor, England, July 1947 | Photo: Getty Images
Georgie Mountbatten, who was the second Marquess of Milford Haven, kicked the bucket at age 46, after suffering from cancer. This was melancholia for the Prince.
The news was presented to Philip by Gordonstoun Headmaster, Kurt Hahn, the same man who told him about his sister's death.
While recounting how the young prince felt, Headmaster Hahn said: "His sorrow was that of a man." Uncle Dickie Mountbatten was saddled with the responsibility of caring and raising young Philip after he suffered the tragic loss of his Uncle George.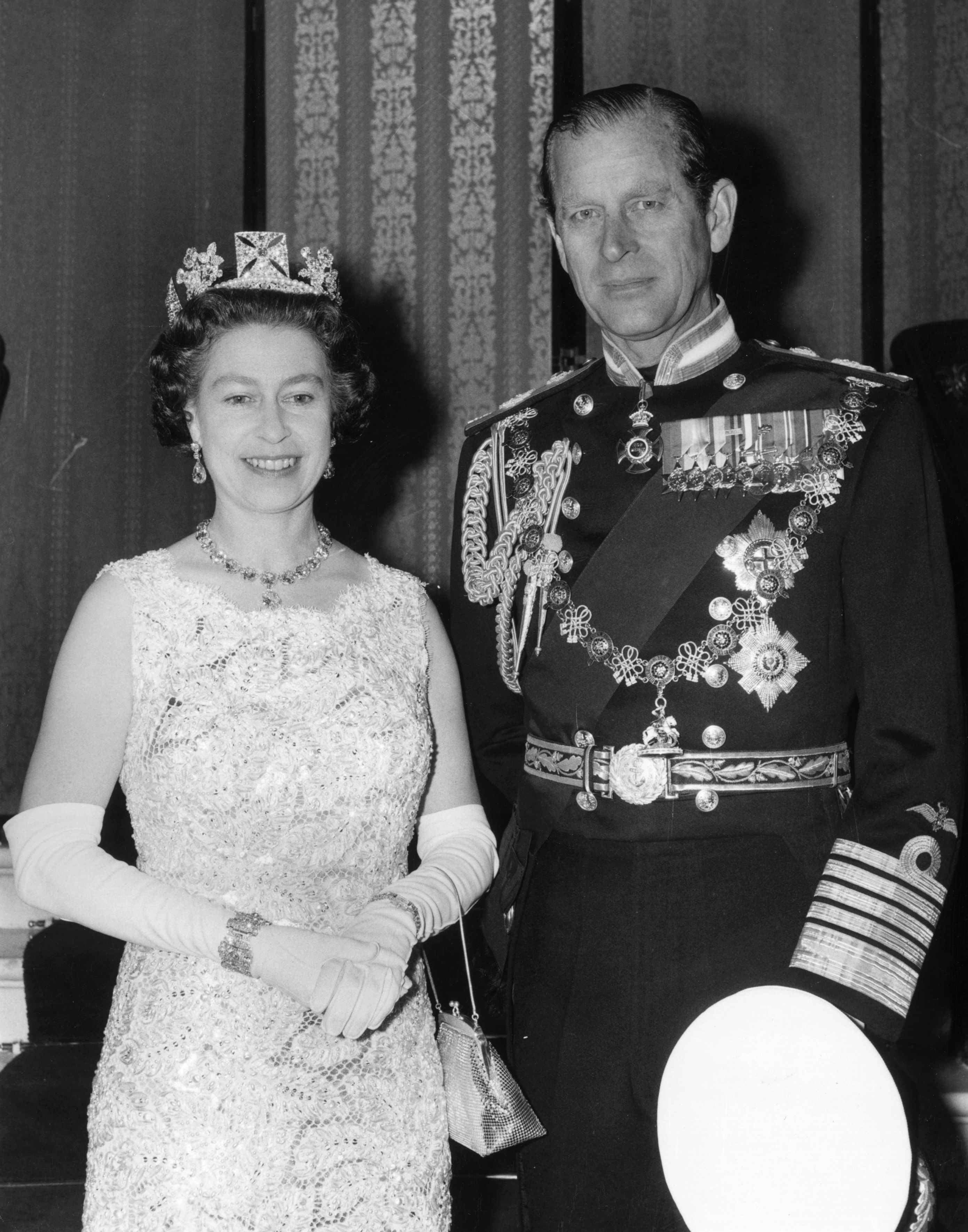 Queen Elizabeth II and Prince Philip, Duke of Edinburgh, during celebrations for their Silver Wedding anniversary | Photo: Getty Images
THE NAKED WAITER
Prince Philip's definition of fun was somewhat eccentric, as the Prince was involved with a group known for their notoriety of "rip-roaring stag parties."
The lunch club members loved to be the life of the party and stopped at nothing to cast attention to their end.
The Prince was said to have served some invitees at a party clad in a funny and revealing outfit, precisely a teeny weeny lace apron. This act earned him the title of the "naked waiter." What a well-deserved title!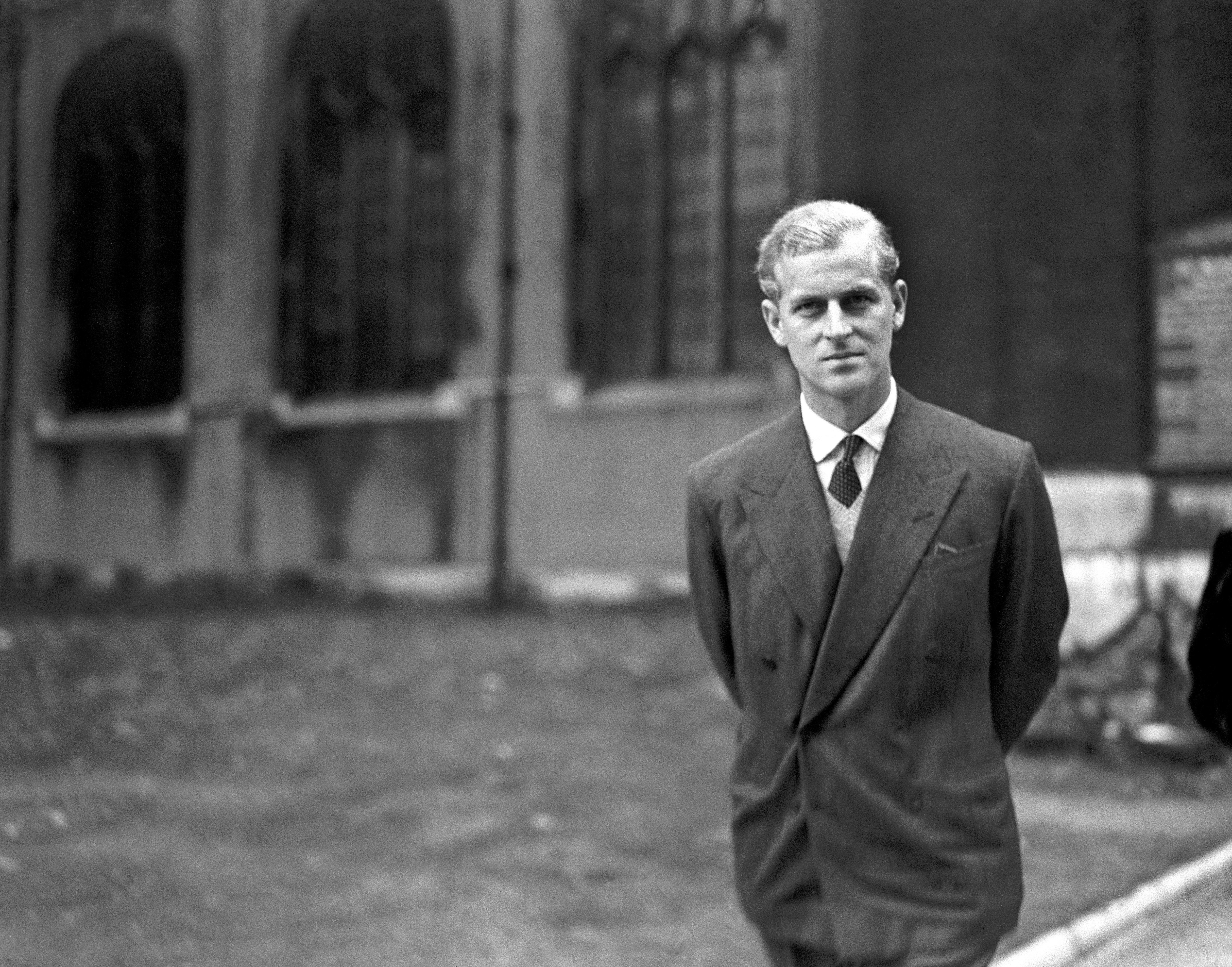 Prince Philip of Greece, a month before his wedding to Princess Elizabeth | Photo: Getty Images
MEETING QUEEN ELIZABETH AND A CHANGE OF TITLE
On November 20, 1947, a young Elizabeth and Prince Philp tied the knot. The distant cousins met after Philip's enrollment at the Royal Naval College in Dartmouth, and it was reported that 13-year-old Elizabeth fell for the Prince's "forthrightness and independence."
While his marriage to Queen Elizabeth brought a fresh air of happiness, it was marked with some dark moments from the past.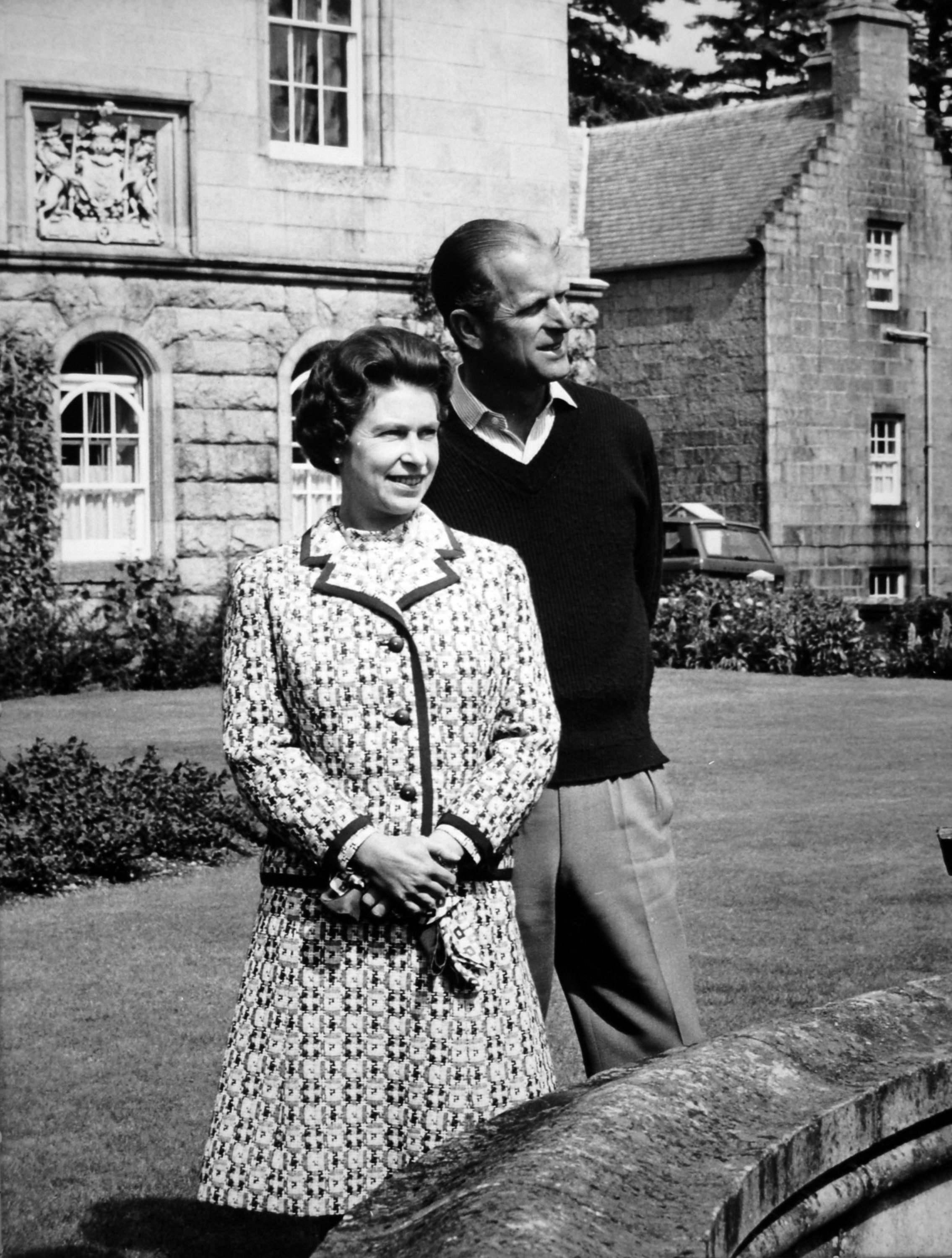 Queen Elizabeth II and the Duke of Edinburgh at Balmoral to celebrate their Silver Wedding anniversary | Photo: Getty Images
At their wedding, Philip did not invite his family members. During this time, his sisters were married to Germans, his mother housed some Jewish refugees, and his father had died since 1944.
Before his wedding, he became the Duke of Edinburgh. The Prince had the title of His Royal Highness the Prince, conferred on him a decade after his marriage in 1957.
At the beginning of their union, the Queen's uncle, David Bowes-Lyon didn't approve of them spending their lives together. Even Queen Elizabeth's mum thought it was a bad idea for her daughter to get romantically involved with him. She often called Prince Philip "The Hun."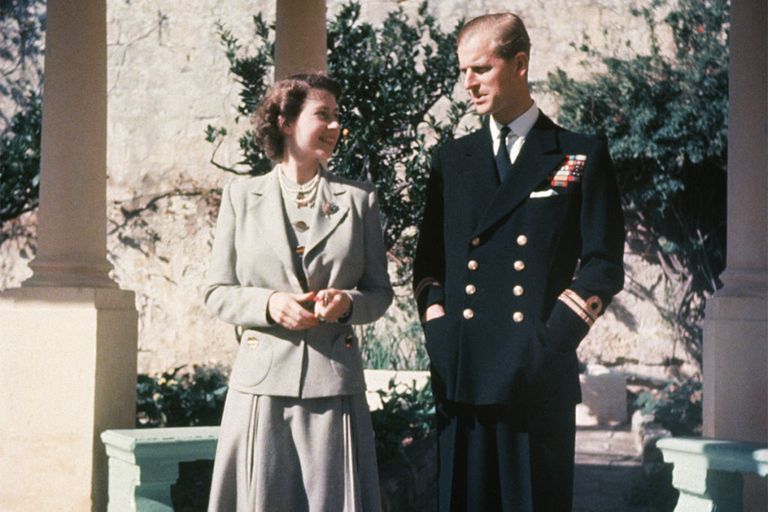 Elizabeth and Philip on their honeymoon in Malta, 1947 | Photo: Getty Images
RUMORS OF AN AFFAIR PLAGUED HIS MARRIAGE
It is no strange news that the company of a woman can sway a man inclined to display such eccentricity. Although it wasn't stated explicitly, "The Crown" suggests that the Duke of Edinburgh indulged in the luxury of having a fleet of women surround him during his marriage.
There were rumors of his involvement with other women, but it was never confirmed. In the course of marking five decades of union with Queen Elizabeth, he gave a toast that may have signified how patient the Queen was with him all these years. In his words:
"I think the main lesson we have learned is that tolerance is one essential ingredient in any happy marriage...the Queen has the quality of tolerance in abundance."
Elizabeth radiates happiness, moments after her marriage to Prince Philip, Duke of Edinburgh | Photo: Getty Images
A RUMORED HAND IN DIANA'S END
After the untimely end of the Princess of Wales in an automobile accident with her rumored-lover, Dodi Fayed, Dodi's dad stated that Prince Philip was responsible. While speaking of Dodi's father's claim, Historian, Carolyn Harris said:
"There have been extensive investigations concerning the death of Diana, and those allegations of foul play have never been substantiated."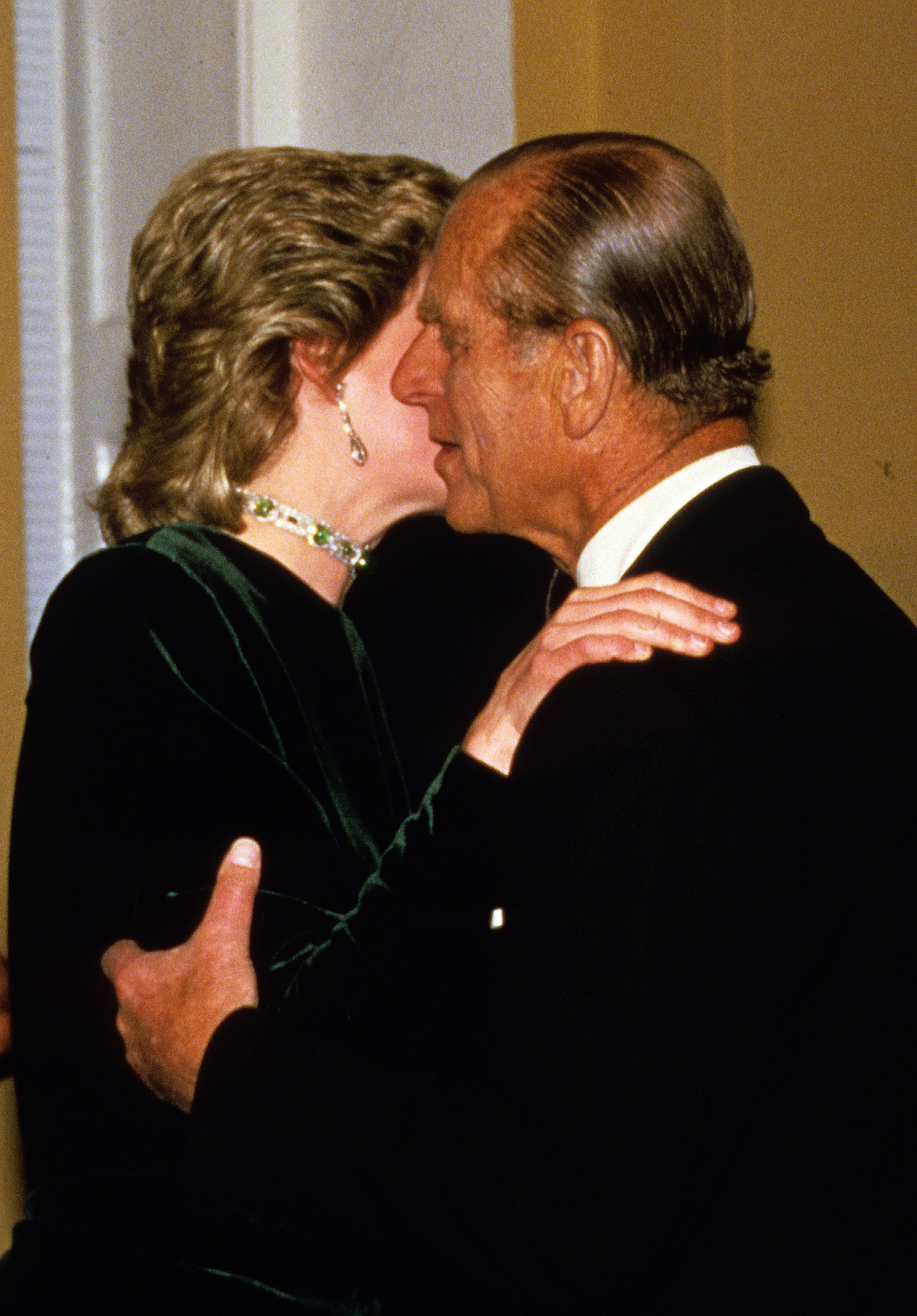 Prince Philip, Duke of Edinburgh receives a kiss from Diana, Princess of Wales in London | Photo: Getty Images
The Prince's life was plagued with a series of events that shaped him, from a notorious father to an absentee mother. However, the Prince chose to forge his way, and that led him into the British Royal family.
His life story has proven that a traumatic childhood doesn't have to determine one's future. Which of these facts surprised you the most? Feel free to let us know your thoughts on this.
Please fill in your e-mail so we can share with you our top stories!