Stylist Breaks down Kim Kardashian's Met Gala Outfits — from Worst to Best
Stylist Anna Ponomarenko took a look at reality star Kim Kardashian's fashion hits and misses on the prestigious MET Gala red carpet over the last 7 years.
The 2020 MET Gala is just 2 months away, and celebrities like Kim Kardashian are already in a frenzy preparing for their five-minute extravaganza on the most prestigious red carpet of all.
Kim Kardashian has been a staple at the prestigious MET Gala since 2013, but as personal stylist and fashion blogger Anna Ponomarenko noted, her fashion choices haven't always been a success.
The MET Gala's 2019 theme, "Camp: Notes on Fashion," inspired Kim's designer of choice Thierry Mugler, who drew his inspiration from Sophia Loren's movie "Boy On A Dolphin"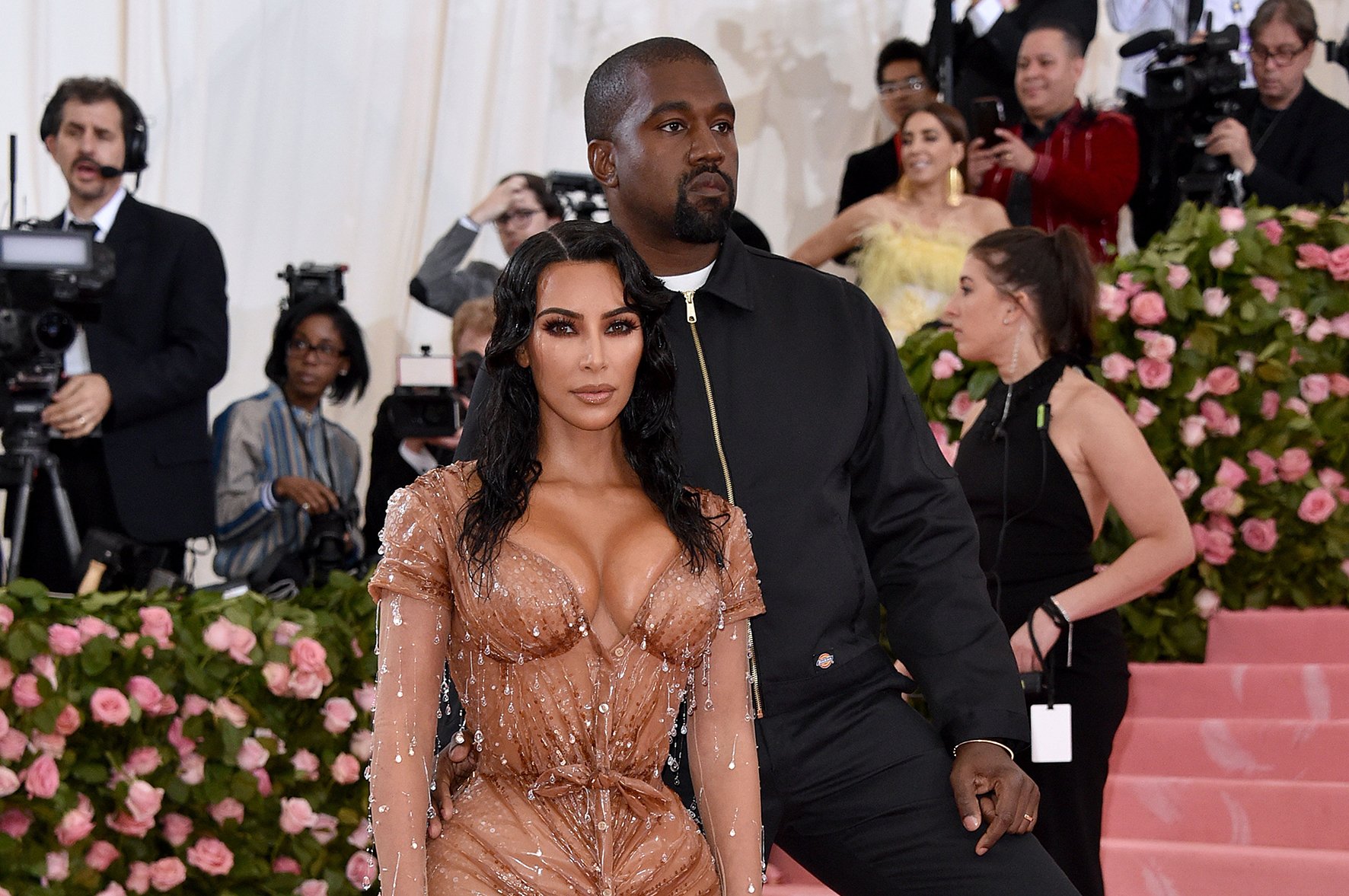 MET GALA 2013
2013 was the first year that Kim Kardashian was invited to the MET Gala, one of the hand-picked 700 guests chosen from among the bright, the beautiful and the most famous people in the world.
Unfortunately, Kim was in the third trimester of her first pregnancy - she was expecting daughter North - and her flowing floral Givenchy frock was not considered a success, or relevant to the theme "PUNK: Chaos to Couture Exhibition", with some comparing her dress to the character immortalized by Robin Williams, Mrs. Doubtfire.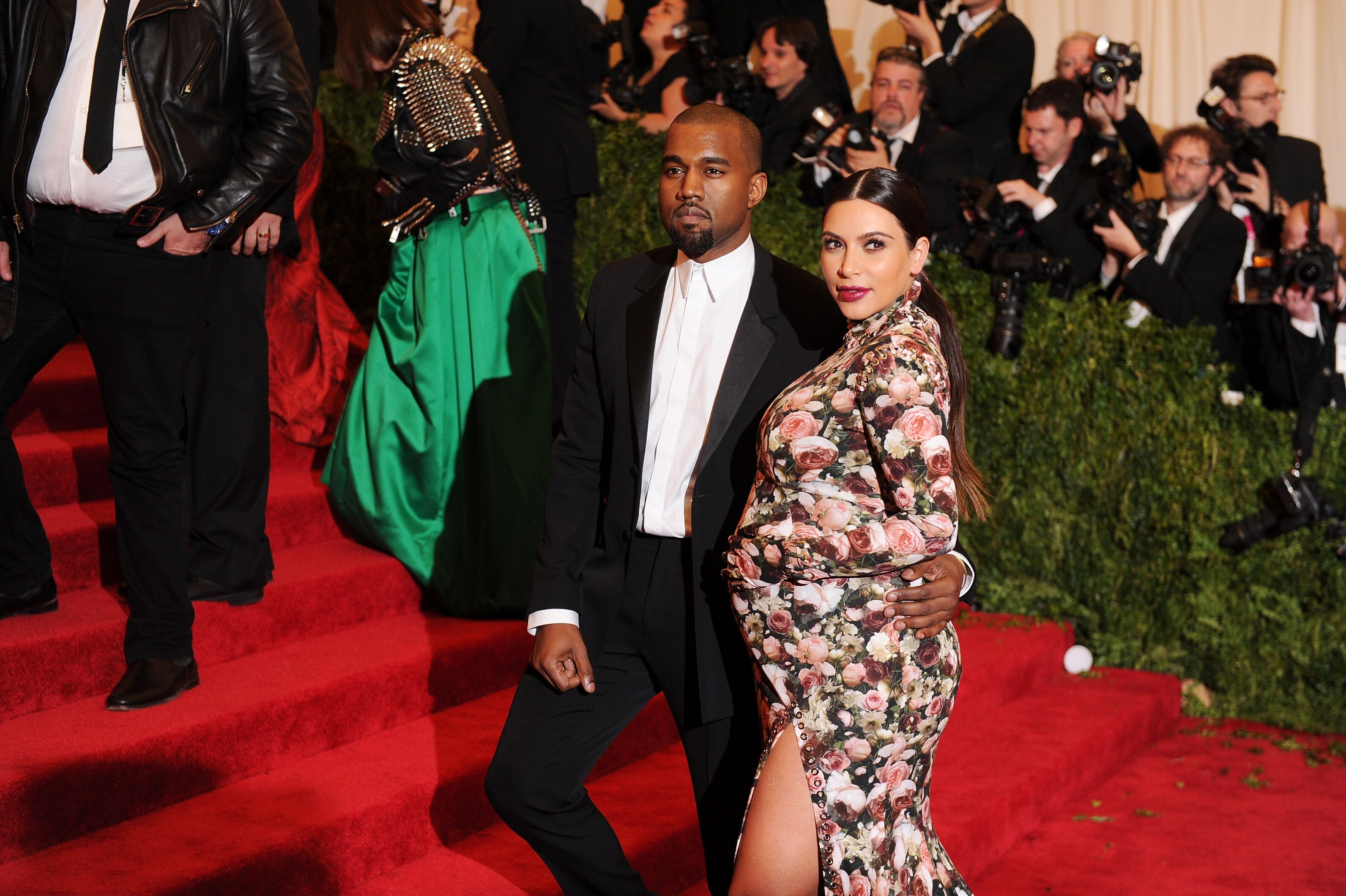 EMBARRASSING FAIL
It has been reported that the heavily pregnant reality star cried all the way home in her limo, as Twitter was flooded with acerbic comments and criticism of her fashion fail. But Kim is nothing but resilient, and you can't keep a good Kardashian down. Kim said:
"I had these gloves and this whole floral print and I loved it. I thought it was so cool. It got a lot of criticism and I didn't care because I really loved it."
Year 1- 2013 Riccardo Tisci for Givenchy. I was Kanye's plus one & so nervous! I didn't know anyone & I'm sure no one wanted me there lol. I did my own lipstick & the color is so off. I went home & cried after of insecurity but this is one of my fave looks now. pic.twitter.com/M1so9DVEn4

— Kim Kardashian West (@KimKardashian) May 6, 2019
REPRISE IN 2014
In 2014, Kim was once again invited to the prestigious fashion celebration. The theme for 2014 was "Charles James: Beyond Fashion," a tribute to the British American designer known for his structurally complex garments and spectacular ball gowns.
Year 2- 2014 Alber Elbaz for Lanvin. I was invited on my own this year! We just had our Vogue cover & Alber gave me the dress I wore on the cover so Anna suggested I wear Lanvin. Not sure why we picked blue lol. Following our cover, this is a dream. pic.twitter.com/ZvC2ADyhcf

— Kim Kardashian West (@KimKardashian) May 6, 2019
TRIUMPH
Kim wore a stunning strapless blue satin dress by haute couture house Lanvin's designer Alber Elbaz. It was a resounding success. Kim revealed that she had hesitated over the material:
"My dress was originally made of this amazing leather with metallic detailing, but we decided at the last minute to redo it in blue satin."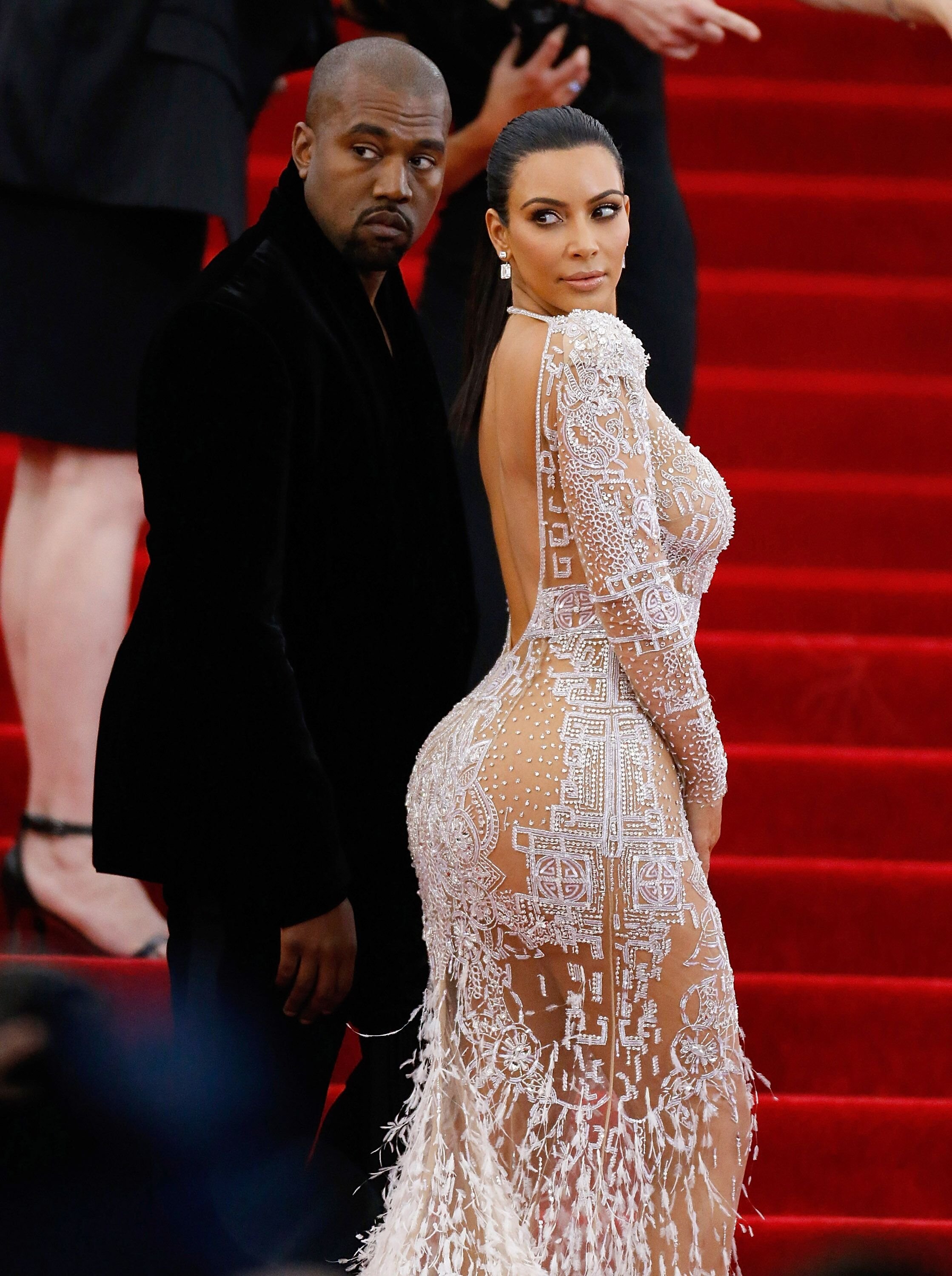 2015 - SHOWSTOPPER
For 2015, the "China: Through the Looking Glass" theme inspired designer Peter Dundas from Cavalli to create a dramatic almost-transparent intricately beaded white dress with a long ostrich feather train that smacked of oriental opulence and old Hollywood glamour.
Year 4- 2016 Olivier Rousteing for Balmain. I was back to insecure this year because I hadn't lost all of my baby weight. Big mistake to bleach the brows but Kanye looked so good this year with those blue eyes! It was super controversial that he wore denim. pic.twitter.com/Ry8FaBEvvn

— Kim Kardashian West (@KimKardashian) May 6, 2019
TAKING IT TO THE MAX IN 2016
The MET Gala's 2016 theme "Manus x Machina: Fashion in an Age of Technology" inspired Olivier Rousteing of Balmain to create one of Kim's most memorable fashion moments. Kim had only one request for Oliver. She wanted to wear silver, she revealed:
"I wanted a silver theme. I felt like everyone was going to go with that, but I still really wanted to do it. (...) I just wanted to really go for it and be a bling-y, sexy robot!"
The stunning metallic Balmain dress, which made her look like a futuristic Joan of Arc, was paired with a pair of Christian Louboutin sandals which made the outfit one of Kim's best ever. Anna Ponomarenko commented:
 "In terms of style and line, this dress is Kim's best run on the Met Gala red carpet."
Year 5-2017 Vivienne Westwood. This was my first year going solo. I was so nervous to go by myself I almost threw up on the way & I had to pee every second.. I was FaceTiming my sisters to meet up at the top of the stairs. Vivienne made me this beautiful dress from her archive. pic.twitter.com/X1yA0RW4g7

— Kim Kardashian West (@KimKardashian) May 6, 2019
UTTER SIMPLICITY IN 2017
The 2017 Met Gala theme was a tribute to "Rei Kawakubo/Comme des Garçons," in honor of the Japanese designer famous for challenging fashion's precepts and taking garments to the level of sheer art.
In a daring move, Kim opted for Vivienne Westwood, the creator of British Punk, and stepped out in a gown of supreme simplicity. The white floor-length dress was a blank canvas in white voile which invited the imagination.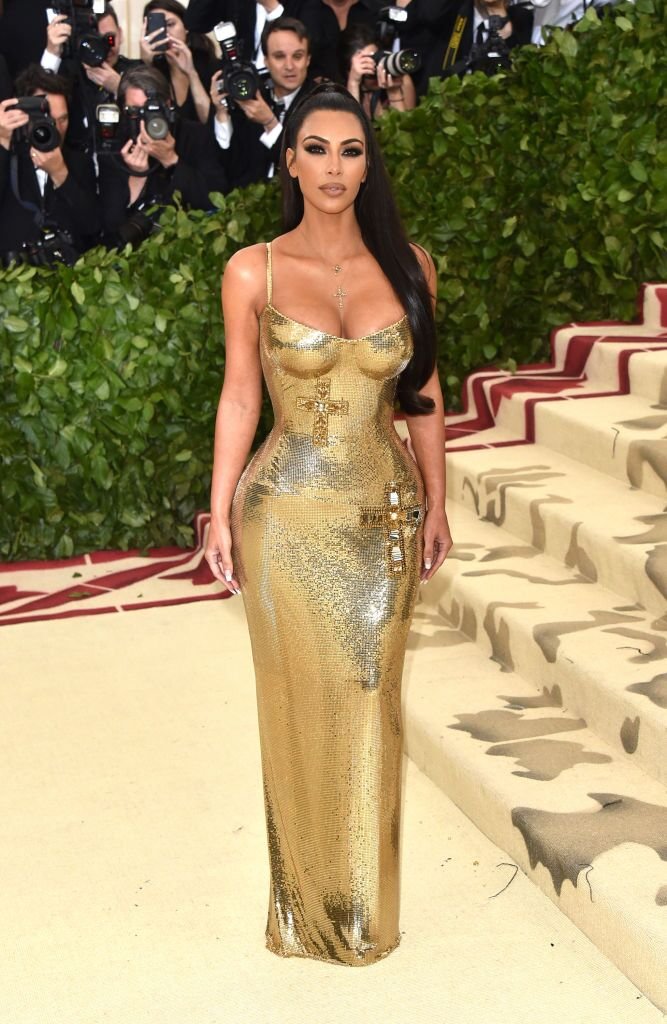 A GOLDEN ICON IN 2018
If Kim's dress was absolute simplicity in 2017, in 2018 it was sheer luxury. The Gala theme was "Heavenly Bodies: Fashion and the Catholic Imagination," and Kim stepped out in a Versace creation.
Kim's dress was a column of liquid gold that hugged each curve of her famously voluptuous figure, subtly appliqued with ton-sur-ton crosses echoing the only piece of jewelry she wore: a delicate gold cross on the finest link chain.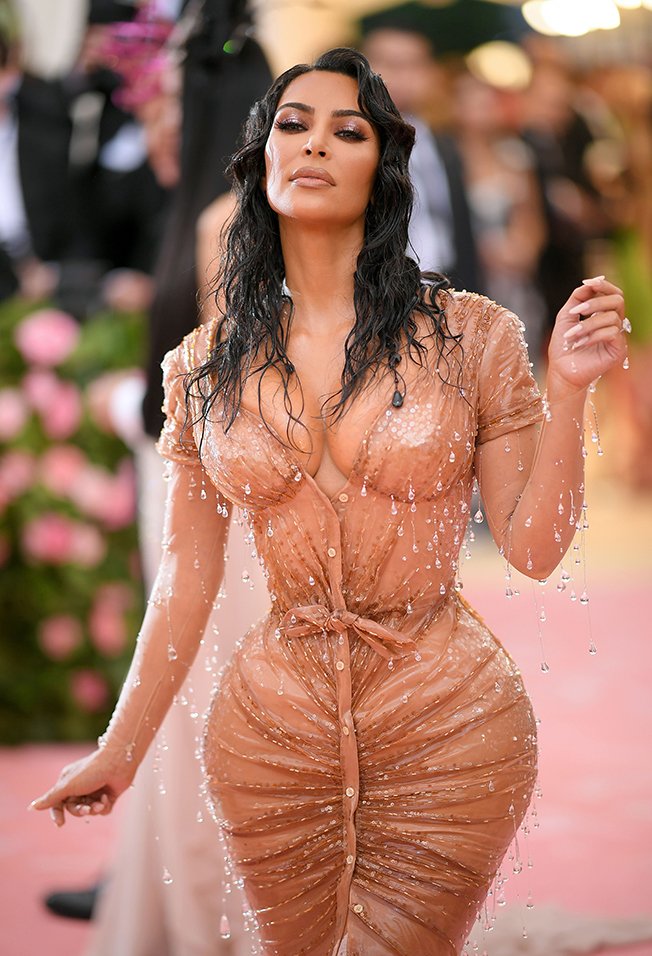 PULLING OUT ALL THE STOPS IN 2019
The MET Gala's 2019 theme, "Camp: Notes on Fashion," inspired Kim's designer of choice Thierry Mugler. Kim's dress was created by Mugler at the age of 20, and he drew his inspiration from Sophia Loren's movie "Boy On A Dolphin," in which she rises soaking wet from the ocean in a flesh-colored dress. Anna Ponomarenko complimented the dress, commenting:
"Drop beads and wet styling complement the image of the goddess who has just emerged from the water." 
The latex dress, with an incorporated corset that dwindled her waist to nothing, dripping crystals and beads like water droplets, was the most photographed outfit of the evening and took the Mugler team more than 8 months to create.
It was so tight-fitting that how Kim put it on has become one of those fashion mysteries for the ages. The sensual dress will be a hard act to follow in 2020. Anna Ponomarenko opined that it also shows Kim's personal taste:
"Kim carries latex fashion into the world, so this outfit has become a logical continuation of her line."
We can't wait to see what Kim and her designer of choice (still a secret) will make of the theme, "About Time: Fashion and Duration".
The theme was selected drawing on the work of writer Virginia Woolf and the theories of the French philosopher Henri Bergson for inspiration.