Toni Braxton Shares Photo of Herself in Cute Face Mask with Louis Vuitton Print Amid Coronavirus Scare
Amid the continuous spread of coronavirus, singer Toni Braxton was seen protecting herself with a Louis Vuitton face mask in a recent photo.
It appears Grammy award winner Toni Braxton is trying to protect herself from the ongoing coronavirus pandemic. In a recent Instagram photo, the "Un-break My Heart" singer was pictured wearing a Louis Vuitton face mask.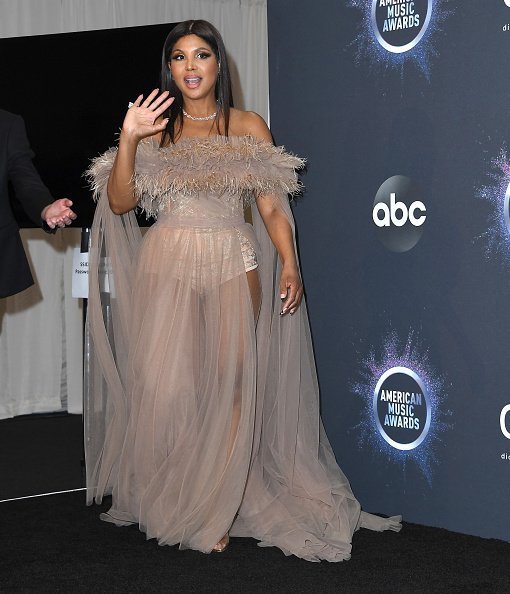 While the real reason for wearing the mask was not specified, fans of the singer took to her comment section to criticize her for the post. 
An Instagram user commented on the picture stating that the mask wasn't protecting a soul. Another user wrote that wearing the mask doesn't prevent getting infected with the virus, but it only prevents the spread if a person already has it. 
This is not the first time Braxton is coming under attack in recent times. The mother of two recently posted a video on her Instagram page where she was rocking red eyelashes along with red eyeliner. 
This latest beauty stirred up a negative response from her social media followers. A fan commented that the eye makeup made her look like she had coronavirus while another wrote that she didn't think Toni needed the eye makeup.
Fans may be attacking the "Braxton Family Values" reality star for her fashion and beauty choice, but that hasn't discouraged Braxton from fighting for a cause that's near and dear to her.
After doctors diagnosed her with systemic lupus in 2008, Toni became an advocate for people who suffer from the disease.
After Toni's diagnosis, she was told by the doctors that she would never be able to perform again. The doctors were wrong. In 2019, Braxton completed her "As Long As I Live Tour" without a hitch.
Toni disclosed that she could not have a performance without her Carolina Herrera fragrance.
Braxton revealed that she uses Uncle Bud's CBD oil to help manage her symptoms and flare-ups. The singer talked about the CBD products she uses for her aches and pains in the same video where fans were blasting her for her lashes.
The hitmaker previously disclosed the secret weapon she uses before she performs. Braxton explained that she had a fragrance she wore every day and another she wore for stage performances. 
She mentioned "Carolina Herrera's Good Girl" as her stage fragrance, adding that she couldn't have a performance without it. 
Toni also listed Nars red lipstick, a Tiffany diamond heart necklace, a Chanel bag, and an Aveda brilliant spray-on shine as part of her everyday essentials.