Meghan Reportedly Comforted Harry during Emotional Appearance Ahead of Their Royal Exit
A source revealed to PEOPLE that Meghan Markle comforted Prince Harry during his most touching moment ahead of the royal exit.
On March 7, the Duke and Duchess of Sussex attended a tribute to Britain's armed forces. To represent his role as Captain General of the Royal Marines, Harry wore his red military uniform for the last time.
According to an insider, the moment was extremely emotional for the 35-year-old prince. Harry served in the Army for a decade.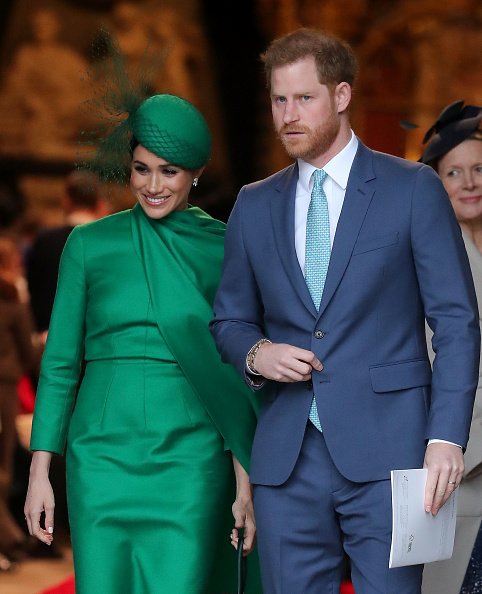 FAMILY FIRST
All through the event, Meghan kept a tight grip on Harry's hand. The source shared, "Deep down they are truly in love with each other, and what you see is truly who they are."
Another source said that Harry, who is sixth in the line of succession to the British throne, wanted to put his family first. Clearly, Harry is very devoted to his wife.
"This is what Meghan and Harry have always wanted to create their own life," the source explained. "It's got to feel like an immense relief to get out of the U.K. and go down their own path."
EMOTIONAL FAREWELL
After his royal exit, Harry's honorary military positions will be suspended. However, through his Invictus Games and other charity work, he will keep on supporting his service members.
Meanwhile, Meghan was said to have shed a tear in heartfelt goodbyes to staff, as reported by Daily Mail. As of late, the family have been living their son, Archie, at a waterside mansion in Vancouver Island.
Meghan and Harry would never again be using their HRH royal titles.
LIFE AFTER THEIR ROYAL EXIT
But Harry and Meghan will keep their Windsor home. They will begin commercial rent and will also pay the cost of renovating the property.
According to the outlet, the couple are also believed to have been looking at rental properties in California. That includes an eight-bedroom Malibu mansion.
On January 8, Meghan and Harry made headlines when they announced they would be stepping back as senior members of the royal family.
Queen Elizabeth II confirmed on January 13 that Meghan and Harry would never again be using their HRH royal titles, as reported by US Weekly.
Her Majesty also shared that the couple would be spending more time in Canada. She also said that Harry and Meghan have explained that they would prefer not to be dependent on public funds in their new lives.
A source previously disclosed to US Weekly that Meghan feels "free" after their royal exit. The "Suits" alum has never been more joyful.