Joy-Anna Duggar and Austin Forsyth Reveal How They Handle Criticism
Unfortunately, the Duggar family is the target of several people's critics, and Joy-Anna Duggar is no different. She and her husband, Austin, opened up about how they handle it.
Even though the couple created their YouTube channel back in January 2019, they stopped sharing content on it after only one video.
"You have to be confident in who you are in Christ."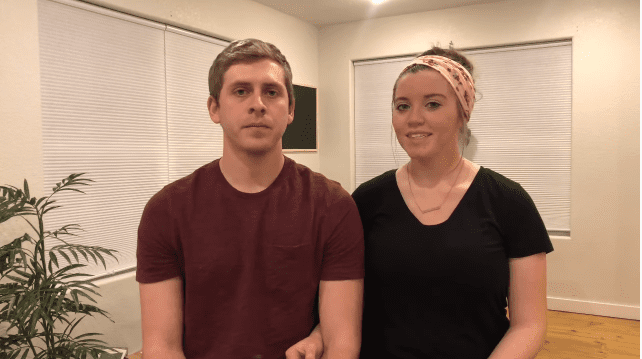 JOY-ANNA AND AUSTIN'S Q&A
On March 3, 2020, Joy-Anna and Austin finally uploaded a second clip that, so far, has gotten over 260,000 views. Scroll down to watch the video.
It was a Question & Answers post that, as the couple explained, had the most common inquiries from their followers.
As the "Counting On" star said, the most popular one they got was whether or not they wanted more children.
It is important to mention that the couple has one son named Gideon Martyn Forsyth. The toddler was born on February 23, 2018.
THE COUPLE WANTS MORE CHILDREN
In May last year, they announced that they were expecting another child. Sadly, their unborn daughter, named Annabell Elise, passed away at 20 weeks gestation in late-June 2019.
Taking that into consideration, they pointed out that they did want more kids. Joy-Anna added that the last eight months after losing Annabelle had been "long" but that they were looking forward to what God has prepared for them.
Another interesting question they got was about their dates. Joy-Anna Duggar's husband confessed that they didn't go out on dates that often, mainly because they spend a lot of time together on a regular basis. He added:
"As far as like, a date night, where we find a babysitter and just Joy and I go out, I would say that we do it a couple of times a month. But we are with each other every day."
HANDLING CRITICISM
The couple also talked about the way they handle all the criticism they get from people on social media. Austin was honest enough to say that doing so was "pretty hard sometimes."
Frequently, Joy-Anna and Austin try not to pay much attention to it. However, they tend to examine themselves to check if what they are being criticized for is actually real. Even when it is, they ask themselves if they really need to change that behavior.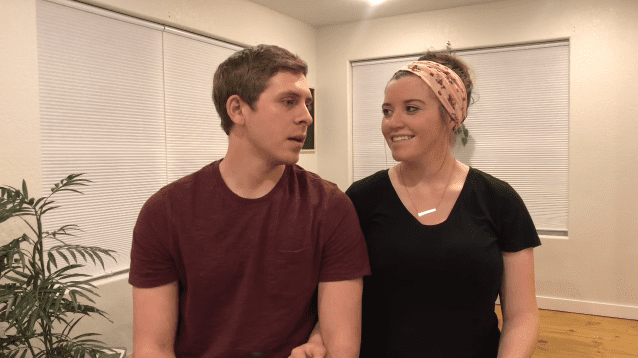 Austin admitted that he had asked Joy-Anna if she considered he had the problem that was being pointed out through social media, as well. He admitted:
"You have to be confident in who you are in Christ, and each other, and just realize, 'you know what? Not everybody's gonna like what we do.'"
JOY-ANNA DUGGAR GETTING BACKLASH
Speaking of criticism, Joy-Anna Duggar's baby Gideon was a matter of conversation on March 9 after his mom uploaded a photo that showed him and Austin holding a chainsaw.
In the caption, the mother-of-one wrote that her son was learning how to clear the land from her husband. However, some of her followers considered that it was a rather dangerous pic.
One of them wondered why Gideon was not wearing ear protection if Austin was, even adding that Joy-Anna was teaching her kid that such a deadly tool was a toy.
The Duggar family is known for replying to mean comments on social media, and that was exactly what Joy-Anna did. She tagged the user and said that the chainsaw was not running and that she just wanted a picture of Gideon and Austin together.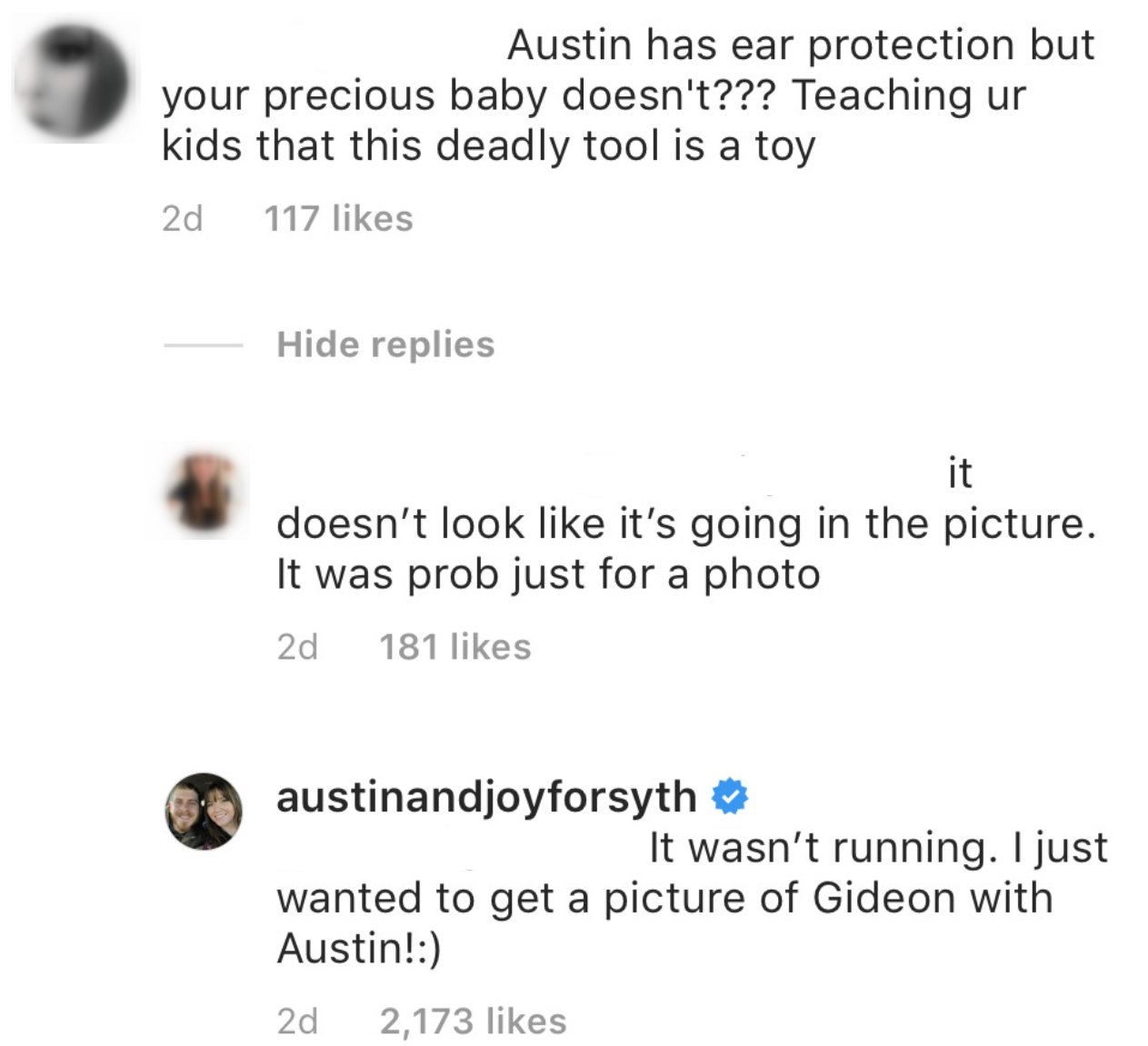 When it comes to clapping back at online critics, Jessa Duggar is probably the best one in the family as she has been doing it for a long time. From defending their birthday tradition to the way she raises her children, Jessa always stands for her family.
As per Joy-Anna Duggar, she is very likely to get pregnant soon as she said back in December that she was giving her body "time to heal" before doing so.