Joy-Anna Duggar of 'Counting On' Fame Responds to Mom-Shamer after Sharing Photo of Son Gideon Holding a Chainsaw
Joy-Anna Duggar knows how to handle herself when it comes to online critics. When one person thought she was putting her son in danger, she kept it together for a response. 
On Tuesday, Joy-Anna Duggar shared a sweet photo of her two-year-old son Gideon with dad Austin Forsyth. The father-son duo was bonding with some heavy machinery. 
Unfortunately, the heartwarming moment didn't sit well with a couple of followers who were concerned that the young boy was at risk of danger. The photo and comments are found below. 
A family of three bonding
The "19 Kids and Counting" star first shared a slide of young Gideon sitting in his mother's lap while she appeared to be sitting in some machinery. 
The little one wore a pair of red noise-canceling ear muffs and had his hand to his mouth. Behind him, Joy-Anna, 22, smiled brightly for the camera.
In the second slide, Gideon stood on some rough terrain while his father knelt behind him and held onto a large chainsaw. The tot was also holding the equipment. 
In the picture, just Austin wore protective earmuffs as he showed his son what to do. "Learning how to clear land from Papa!" wrote Joy-Anna in the caption. 
Joy-Anna reacts to mom-shaming
Most people in the comment section were elated to see the young boy bonding with his dad. However, at least one person rudely told off Joy-Anna for what she thought was a risk. 
"Austin has ear protection but your precious baby doesn't???" the user wrote. Joy-Anna didn't hesitate to kindly explain: "It wasn't running. I just wanted to get a picture of Gideon with Austin!:)" 
The comment thread became filled with fans coming to Joy-Anna's defense — though the mom-of-one had it handled. She chose to take the higher road with grace.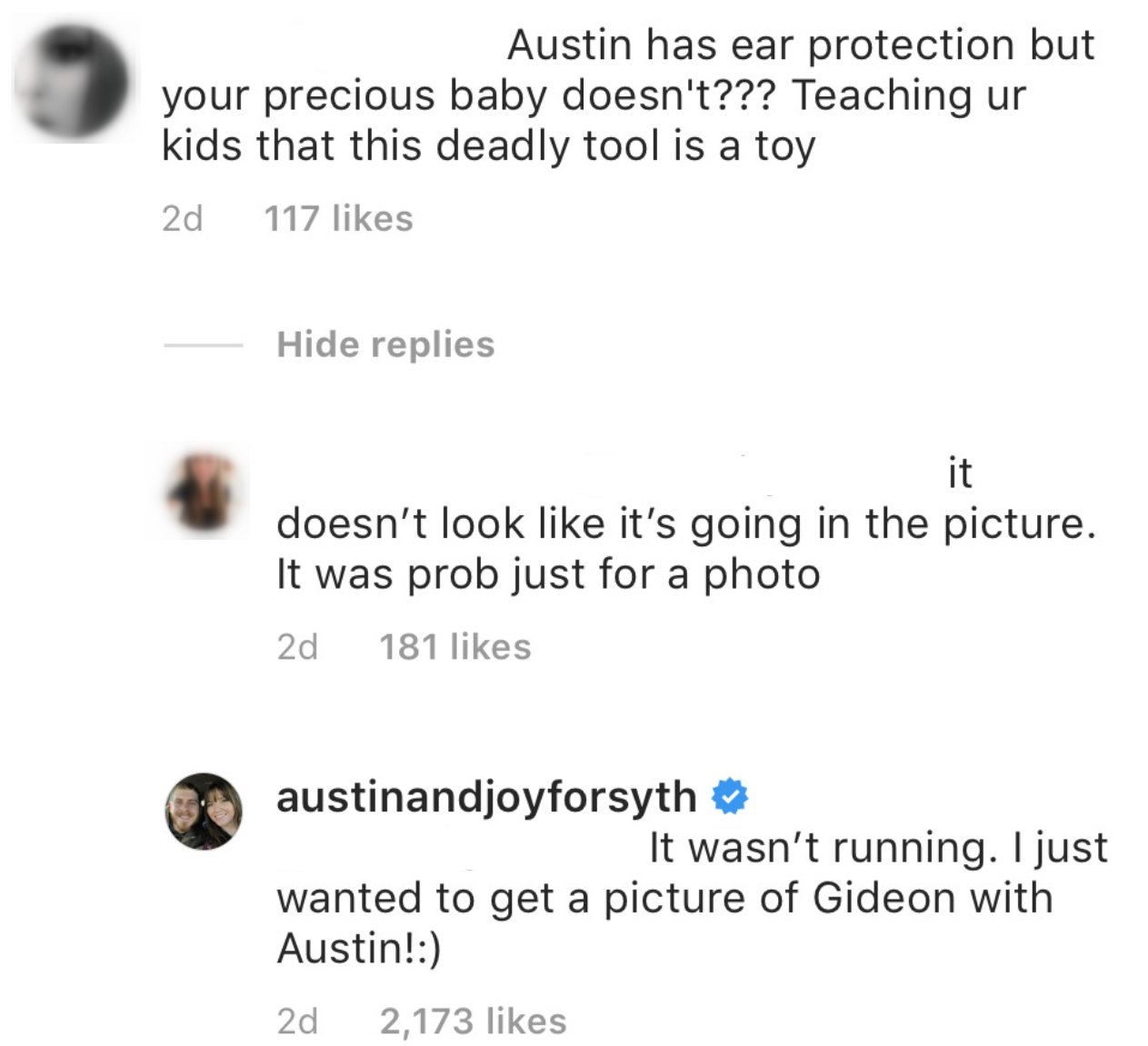 The couple no longer date often
The family of three seem to be doing well despite all the negativity that comes their way. The only thing is, the young couple reportedly no longer go on dates now that they're married.
In a YouTube video, Austin admitted that he and his wife rarely go out — maybe twice a month — now that they're married and have a child. Of course, they spend a lot of time at home. 
Austin is self-employed, so he has a lot of flexibility and can be with his family throughout the day. The couple also works together with house-flipping projects as a team. 
Fans speculate on another pregnancy
Sadly, the past few months were difficult for the pair since Joy-Anna's miscarriage last summer. Recently, though, fans have speculated that the couple might be pregnant again. 
Rumors began swirling when a few of the Duggar sisters shared a photo of the Duggar women during a reunion in Arkansas. Joy-Anna, who wore a black dress in the picture, appeared to have a slight bump. 
Back in December, Joy-Anna told Us Weekly that she was giving her body "time to heal" before getting pregnant again. She added that she looks forward to having another child when God decides.