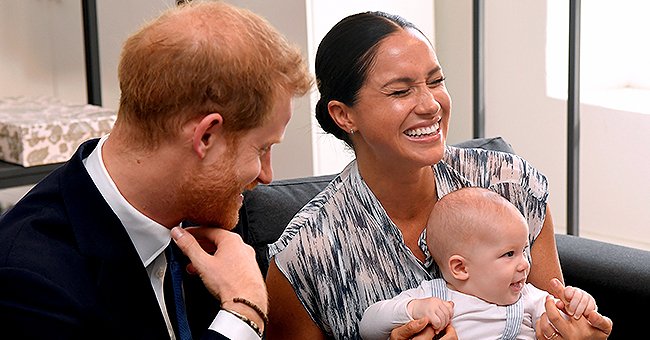 Getty Images
Harry Reportedly Chose to Move to Canada to Shield Son from Negative Attention He Would Have Been Exposed to in the UK
The alleged reason behind Prince Harry and Meghan Markle's decision to move to Canada is to ensure that they protect their son from undue public attention.
A good father always ensures that he does everything in his power to protect his children and family from anything that might discomfort them. This protection might come at a cost, but the result is often worth it.
Prince Harry, who has chosen to leave his royal status to be with his wife and son, reportedly decided to follow that path in order to protect his son from undue attention that plagued the royal family.
During their royal tour of South Africa Prince Harry, Meghan Markle and their son Archie Mountbatten-Windsor arrive at the Desmond & Leah Tutu Legacy Foundation to meet Archbishop Desmond Tutu on September 25, 2019, in Cape Town, South Africa | Photo: Getty Images
Harry and Meghan, who decided to step back as senior members of the royal family and also relocate to Canada, are doing all these to help their son Archie grow in a safe and media-free environment.
According to sources, it was revealed that Harry, who knew what it was like to grow up in the face of the public, did not want that for his son. The source told Us Weekly that:
"He wants to shield his son from the negativity and tension he would have been exposed to back in England."
A second source revealed that the couple wants to give Archie the most normal upbringing possible, claiming that it was not their intention to have Archie's life publicly documented.
The couple attended their last official engagement working for the Queen on March 9, which happened to be the Commonwealth Day Service that was held in London.
Harry and Meghan have sparked up yet another debate.
While body experts claimed that Harry looked tense due to the way he had his hands folded when he walked in for the commencement of the ceremony, they explain that Meghan looked confident.
Following the end of the engagement, the two moved back to Canada with their son and are observing social distance from the public amidst the coronavirus pandemic. According to a source:
"They are following the rules put forth by the World Health Organization."
Harry and Meghan, who moved back to Canada following the end of their duties as senior members, have sparked debates as to how their security detail will be handled.
While some feel the Canadian government should no longer pay for the security of the family, others express that they can pay for it provided, it does not become too burdensome.
Speaking on this, the government expressed that come March 31st, the security details of the couple will be handled by them henceforth.
With this move, Harry and Meghan have sparked up yet another debate, albeit an old one, as regards if Canada should dump the queen as its royal monarch and become a republic.
Please fill in your e-mail so we can share with you our top stories!