Danielle Busby from 'OutDaughtered' Shares Photo of Her Kids Hanging out outside Amid Quarantine
Reality star, Danielle Busby, showed that a little outdoorsy photo wouldn't hurt as she gave fans an update on what her family has been up to during this "stay at home" period. 
The "Outdaughtered" family is making the most of the self-quarantine period and wouldn't let COVID-19 dampen their moods.
A new Instagram update from Danielle Busby had her flaunting a lovely image of the girls enjoying an outdoor gathering.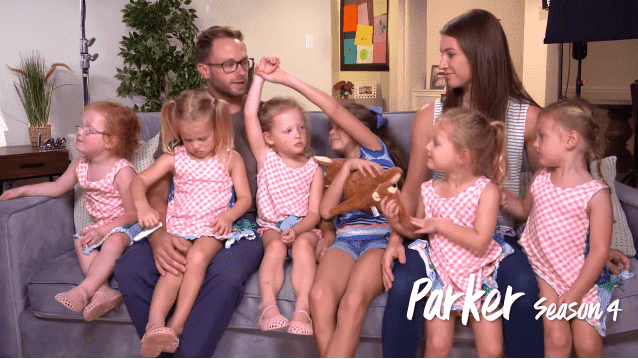 FAMILY FUN
The photo was taken in the open, but it still looked like they were in an enclosed area enough to assure fans that they weren't going against the "stay home" rules. Danielle wrote in her caption:
"Thank goodness, the rain passed over! It feels like summer today…#vitamind #stayhome…"
In the pleasing photo, the quintuplets and their older sibling, Blayke Louis, rocked colorful T-shirts and shorts while some spotted face caps for touch-ups. While the camera clicked, the girls wore heartwarming smiles.
WHAT HAVE FANS BEEN UP TO?
In her caption, the "Outdaughtered" mom asked fans how they have been handling the pandemic, and supporters sure had stories of their own. While some fans gushed over the celebrity girls, others filled Danielle in on their activities.
the star mom divulged that her girls were beginning to have separate personalities.
A mom wrote, "My girls rode their scooter while my little guy and I watched." A second person added," Well, I don't have kids, but I'm studying for my uni.." Another person chipped in, "Trying to work from home."
THE FASCINATING QUINTS 
Ever since Danielle and her hubby Adam, launched their daily live show, the "Outdaughtered" reality family have grown on viewers. And from time to time, fans are eager to learn new things about the famous girls.
Once on her blog post, the star mom divulged that her girls were beginning to have separate personalities. As opposed to when they were toddlers, and their parents couldn't tell them apart, the quints are beginning to identify as individuals.
GROWING UP AS MULTIPLES 
Adam Busby and his wife had infertility issues, and after undergoing remedial measures to boost fertility, the family welcomed a miracle in the form of five pretty girls.
After their birth, the quintuplets gained fame, and the public wanted to see more of them, the family's reality show was launched, and fans were able to follow their lives.
Although the family is in the limelight and are making substantial money from the show, the Busby adults admit it's not easy caring for six girls!