Kathy Griffin Thanks Her Friends for Honoring Her Late Mother with Flowers
On March 17, 2020, comedienne Kathy Griffin's mother passed away just before her 100th birthday. This week, the star took to social media to thank her famous friends for paying tribute to her late mother.
Taking to Twitter, Griffin uploaded two photos that showed some flowers and notes that she'd received from her celebrity friends who honored her late mother, Maggie. The Kardashian-Jenner family, and Gabrielle Union and Dwyane Wade, all sent white flowers with notes to Griffin.
In the caption of the post, the comedienne tagged her "beautiful friends" in the post and thanked them for the flowers. She revealed that she was "very touched."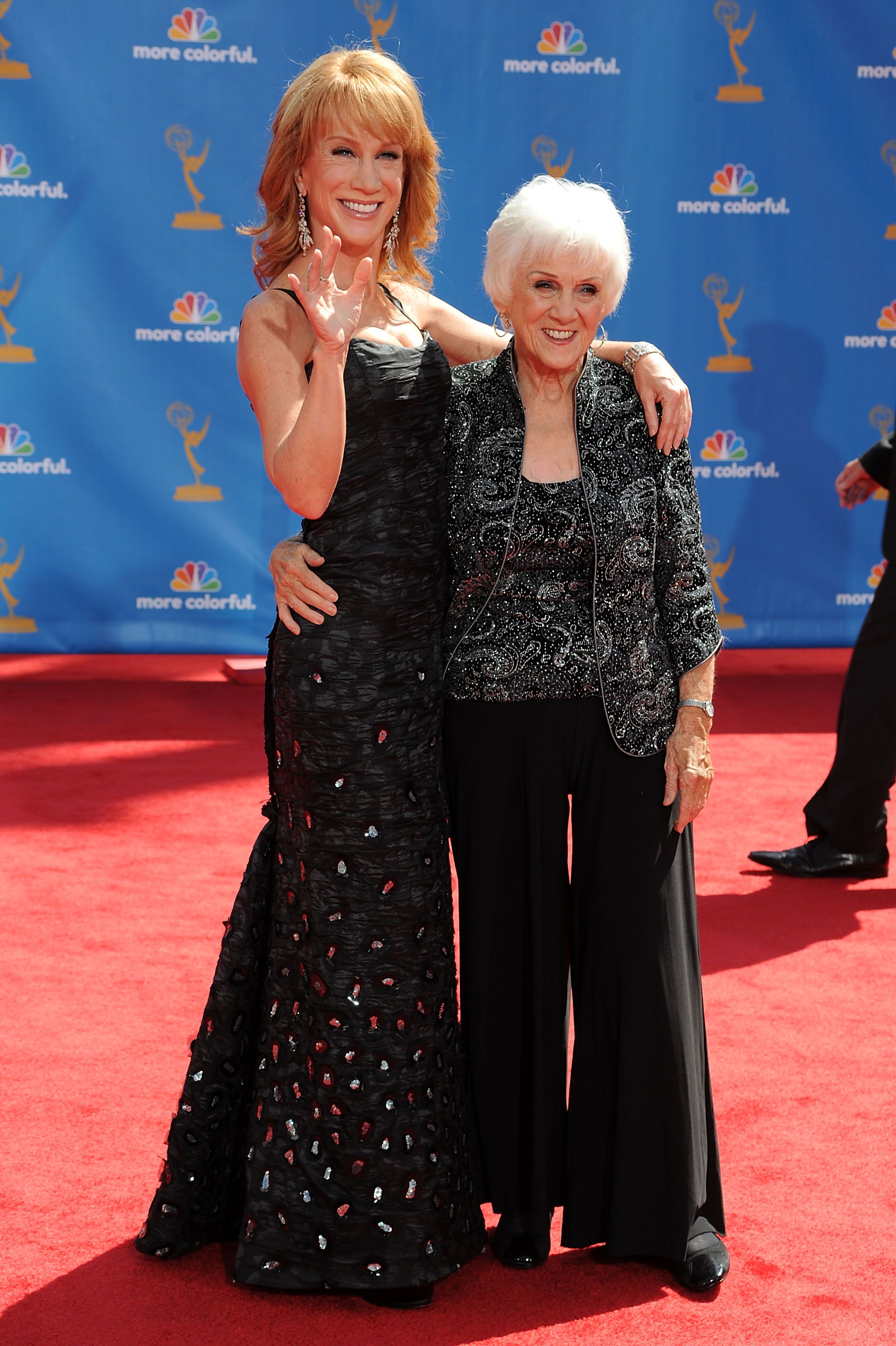 Bouquets to honor Maggie Griffin
The first bouquet of flowers was sent by Kris, Kendall, and Kylie Jenner. Included in the gift was also Kourtney, Kim, Khloé, and Rob Kardashian.
A week before, Griffin took to social media to announce the death of her "best friend." In the post, she wrote: "My mom, the one and only Maggie Griffin, passed away today. I am gutted."
Griffin shook by mom's death
She went on to reveal how she was shaken by the death and hadn't been prepared. She thanked those who'd been in her mother's life and revealed that Maggie knew they'd "loved her."
The star ended her post by noting how her mother had died on St. Patrick's Day. Griffin included an image of herself and her mother reclining on a chair while staring out at an amazing view.
Featuring on Griffin's show
In January this year, the comedienne shared how her mother was suffering from dementia. Some fans will recall seeing Maggie as a guest star on her daughter's reality show, "Kathy Griffin: My Life on the D-List."
She loved to plan her memorial! Pierce Brothers cemetery, where Marilyn Monroe, Jack Lemmon, Natalie Wood & Fanny Brice are. Be beside her husband John P Griffin. Play the song Someone to Watch Over Me.
"For Chrissake Kathleen, no big meal. Just wine and pass arounds"
Now what? pic.twitter.com/akrMpQ2g9g

— Kathy Griffin (@kathygriffin) March 19, 2020
Last proper conversation between Kathy & mom
Griffin explained in the caption of the post how she last had a "proper/coherent conversation" with her mother last September. Included in the post was a photo of Maggie lying in bed with Griffin perched next to her.
Thank you to my beautiful friends for these gorgeous flowers in honor of Maggie. I'm very touched. @KrisJenner @kourtneykardash @KimKardashian @khloekardashian @robkardashian @KendallJenner @KylieJenner @itsgabrielleu @DwyaneWade pic.twitter.com/QPZVUEsdSi

— Kathy Griffin (@kathygriffin) March 25, 2020
Maggie spiraled into dementia
The star revealed that time together was the last time her mother was coherent. Since then, Maggie had fallen deep into dementia.
They don't make women like Maggie Griffin anymore. You were an amazing daughter and showed her a whole new world outside of Oak Park. I feel so lucky that I got to spend time with her.

— Yashar Ali 🐘 (@yashar) March 18, 2020
Stars who paid tribute to Maggie
When Griffin announced her mother's passing, many celebrities took their time to pay tribute with messages of support and love. Yashar Ali, Chrissy Teigen, and Selma Blair were some of the stars who reached out.