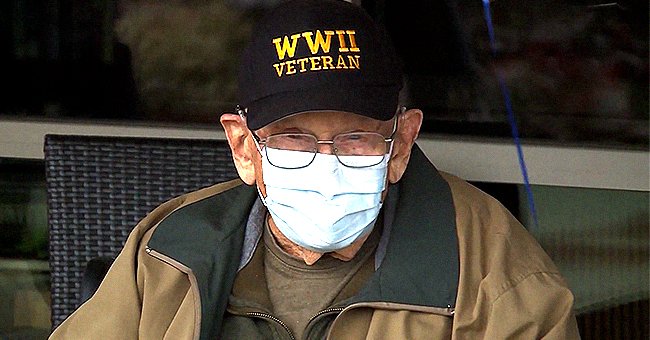 YouTube/KOIN 6
Oregon Man Aged 104 Believed to Be World's Oldest COVID-19 Survivor
A World War II veteran from Oregon celebrated his 104th birthday with a precious gift as he became one of the oldest people in the world to beat the novel coronavirus.
William Lapschies give hope to others vulnerable to the coronavirus as he just recovered from the respiratory disease in time to celebrate his 104th birthday.
WILLIAM'S BIRTHDAY
As one of the first Oregonians to be diagnosed with the disease, William might also be one of the oldest people to have survived after contracting the virus, OregonLive reports.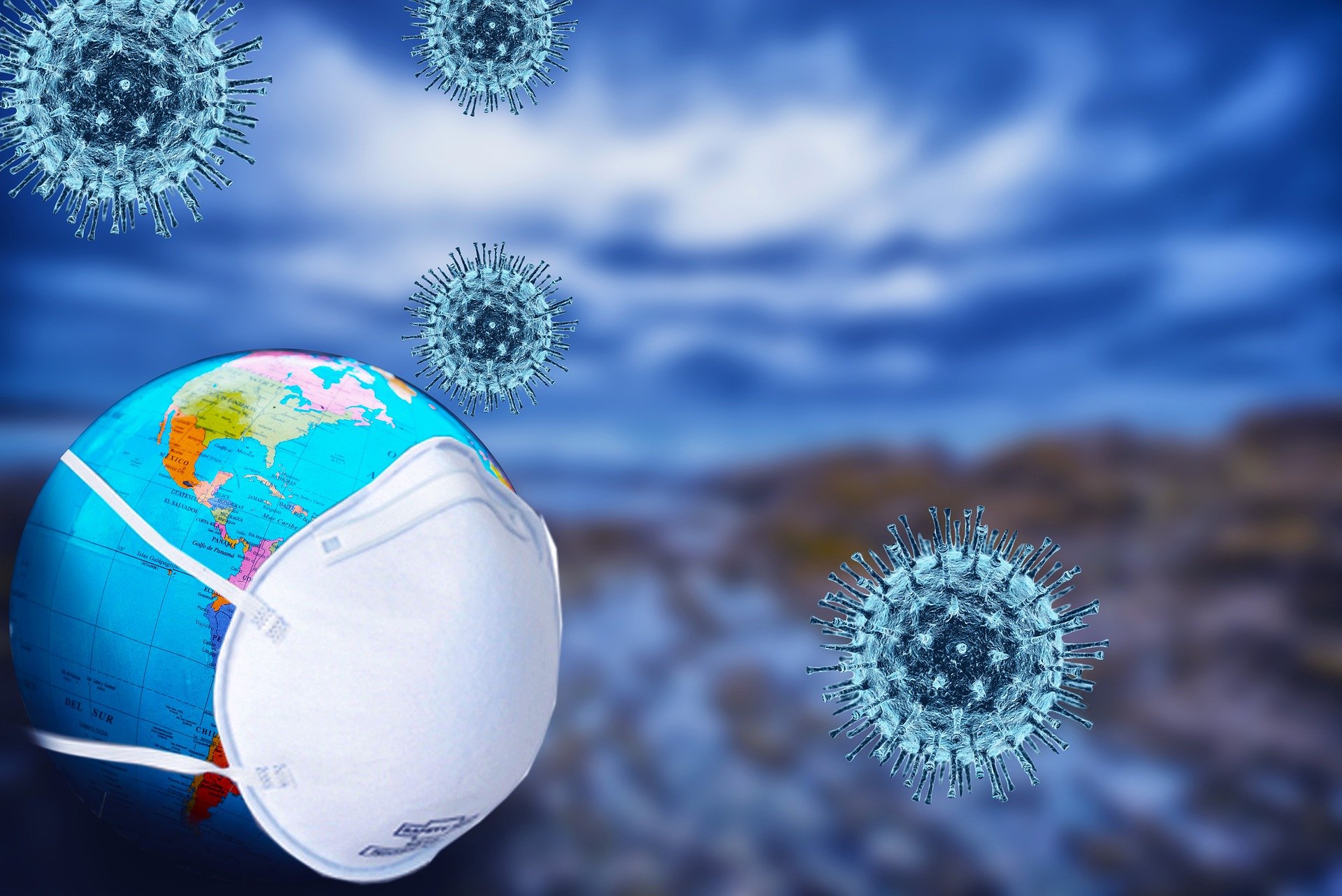 An illustration to encourage the wearing of masks amid the coronavirus pandemic. | Source: Pixabay.
The 104-year-old lives at the Edward C. Allworth Veterans' Home in Lebanon, roughly 80 miles south of Portland, and according to his daughter, Carolee Brown, William is "very perky" after having "fully recovered."
Family members gathered outside the veterans' home to maintain social distancing regulations while staff at the home wheeled William outside so they could sing him "Happy Birthday."
Elated that he "finally made it," William's smile could be seen from underneath the surgical face mask while his family made sure that he got festive balloons and a double-layered chocolate cake to celebrate.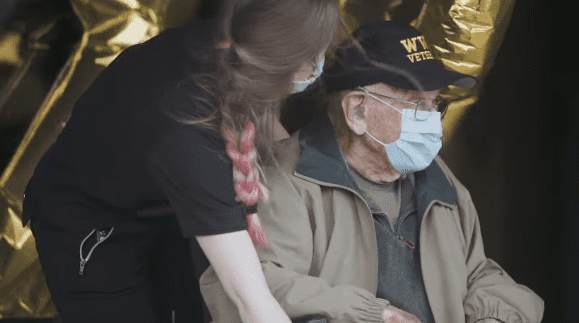 104-year-old coronavirus survivor William Lapschies celebrating his birthday on April 1, 2020 | Source: YouTube/ The Oregonian.
WILLIAM JOKES ABOUT BEATING THE VIRUS
Joking about his secret to surviving the novel coronavirus at the age of 104, William said:
"I don't know. It just went away. Sit out here and you can get rid of anything."
Diagnosed with the disease on March 10, William became one of fifteen residents at the home to have tested positive. Sadly, two of the residents have passed away.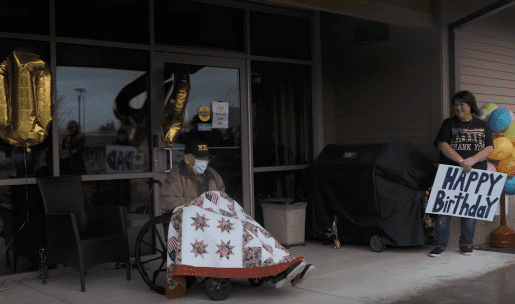 104-year-old coronavirus survivor William Lapschies spend time with his family at a safe distance in celebration of his birthday on April 1, 2020. | Source: YouTube/ The Oregonian.
The morning after William got diagnosed with the coronavirus, Carolee and her husband Jim Brown drove through from Lyons to be with her father.
HE RECOVERED QUICKLY
However, when they got there, William's condition had already started improving, and it continued until doctors cleared him medically.
The first thing Carolee would like to do when social distancing ends, its to give her father a "big hug," followed by a hair cut.
ANOTHER WAR VETERAN SURVIVES THE DISEASE
Another World War II veteran living in Oregon also kicked the coronavirus to the curb. According to reports from The Oregonian, 95-year-old Bill Kelly finished his recovery on Monday after being diagnosed on March 17.
Bill developed a low-grade fever two days before his diagnosis, and he went straight to the hospital after starting to feel unwell due to several underlying medical conditions.
The 95-year-old has a congenital heart condition, high blood pressure, and kidney disease, so the family wasn't about to take any chances. Back at home, Bill is back to feeling his usual self.
A 102-YEAR-OLD WOMAN SURVIVES THE VIRUS
Similarly, a 102-year-old woman from Italy also showed that those most vulnerable could survive the novel coronavirus.
Living in Genoa, Italica Grondona earned the nickname "Highlander - the immortal" from the doctors who treated her in the San Martino hospital. After spending over 20 days in the hospital, Italica completely recovered and went into a care home on March 26.
However, Italica is not the only one in Italy who survived the virus aged over a hundred. 101-year-old Mr. P. Guerre also recently recovered from the disease.
Italian Vice Mayor of Rimini, Gloria Lisi announced the news, and she was happy to report that he had since gone home to his family since being discharged from a hospital in Rimini.
Please fill in your e-mail so we can share with you our top stories!