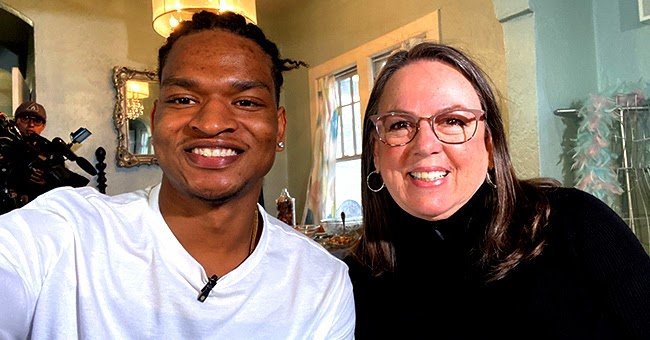 Twitter/kingjamal08
Viral Grandma Who Invited Stranger to Thanksgiving by Accident Tests Positive for Coronavirus

Viral grandma who invited a stranger to their Thanksgiving celebration by accident tests positive for Coronavirus.
Jamal Hinton was welcomed into a stranger's home for Thanksgiving after she sent a message to the wrong number. While it was an accident, it led to a friendship that has been going on for years.
The close relationship they've built through the years came after Wanda and Jamal exchanged a couple of text messages.
COVID-19 POSITIVE PATIENTS
Now, Jamal revealed that the kind grandma, Wanda Dench, is currently battling Coronavirus in the hospital alongside her relative, Lonnie. He asked their supporters to send words of love and encouragement their way during such a difficult time.
While Hinton shared that Wanda tested positive for Coronavirus, he further added that Lonnie is currently battling both COVID-19 and Pneumonia, which is a dangerous combination.
THEIR UNLIKELY RELATIONSHIP
The close relationship they've built through the years came after Wanda and Jamal exchanged a couple of text messages. Wanda meant to invite her grandson to Thanksgiving in 2016, but instead, she reached Hinton.
Although they did find out that Hinton wasn't her grandson, he was ultimately invited to their 2016 Thanksgiving dinner, and it's something that's been going on for the past four Thanksgiving celebrations.
A STRONG BOND THROUGH THE YEARS
Their friendship goes beyond Thanksgiving, as Dench and her husband once visited a pumpkin patch with Hinton and his girlfriend. To add to this, he says he's Dench's personal tech support, helping her set up her new phone when needed.
For the 2019 Thanksgiving dinner, Hinton decided to host it alongside his girlfriend Mikaela. Of course, Dench was in attendance as well, and it was a happy celebration of blended families. As for what their friendship has done for her, Wanda revealed:
"I just feel like my life has been enriched since he's come into it."
A DIFFICULT TIME FOR MANY
The Coronavirus pandemic has been a trying time for millions of people around the world. Even those who don't have the highly-contagious virus are affected, as they are asked to stop school and work to stay home and try to stop its spread.
Frontliners from around the world are also risking their lives in hopes of saving as much people as they can, even if it means being away from their family. Recently, Dr. Al Shahrani was seen in such a heartbreaking video where he broke down after coming home from his shift, with his son eager to give him a hug.
Instead of rushing to hug him back, he stepped back and told his son to keep his distance. He soon after broke down in tears, as his son watched him in silence. While it was difficult, it's him complying to the safety measures put in place to try and stop contagion.
Please fill in your e-mail so we can share with you our top stories!