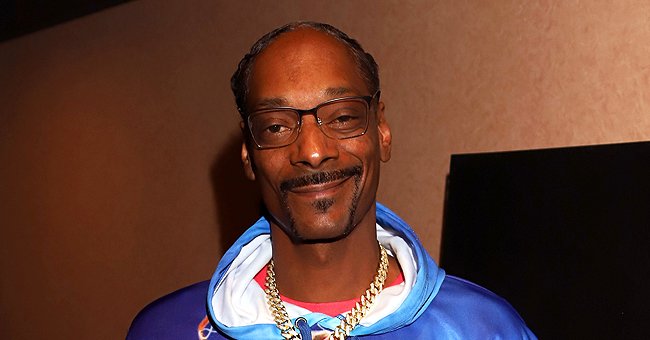 GettyImages
Snoop Dogg's Daughter Cori Broadus Hangs out on Backyard Amid COVID-19 Pandemic

Snoop Dogg's daughter Cori Broadus, recently took to Instagram to share a backyard picture of herself wearing a gold necklace, amid the ongoing self-isolation caused by the Coronavirus outbreak.
With more than half of the population of the world forced to stay at home in a bid to stop the spread of the rampaging Coronavirus pandemic, Snoop Dogg's daughter Cori Broadus took the time out to kick back and relax in her backyard.
Cori Broadus shared a picture of her afternoon out in the sun with her fans. The cute picture has already generated a lot of reactions from her ardent followers who flooded her comment section with words of admiration.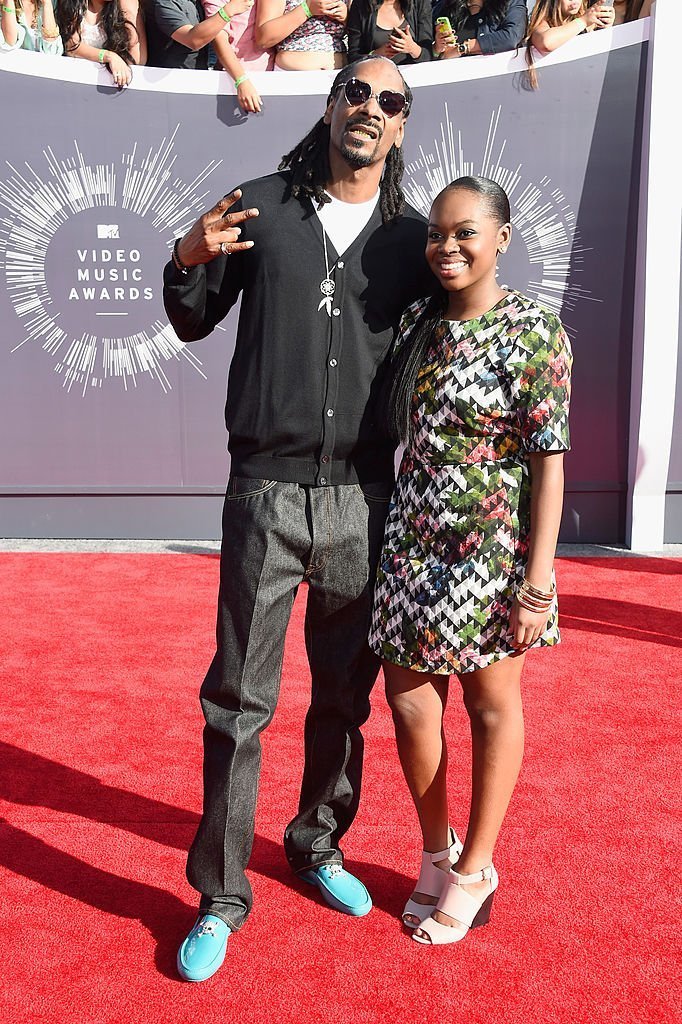 : Recording artist Snoop Dogg and Cori Broadus attend the 2014 MTV Video Music Awards at The Forum on August 24, 2014 in Inglewood, California. | Photo: Getty Images | Photo: Getty Images
In the picture, Cori can be seen wearing a blue t-shirt which had "GUNS N' ROSES" boldly inscribed on it. She paired it with brown shorts and finished up the look with her trademark low haircut.
The rising star has a love for jewelry, and it is impossible to miss the gold necklace and bracelet she had on as they sparkled through the sun. The photo was taken as she sat in her backyard and Cori posted alongside the caption:
"Backyard Vibez @fashionnovacurve fashionnovapartner."
Cori Broadus, who goes by the stage name "CHOC" is following her famous father's footsteps and taking the music industry by storm. Off the heels of her debut single "Same," the young singer has now dropped a hot new single, "New Phone, Who Dis?"
In the song, which is currently making waves, CHOC featured Bay Area sensation, Kamaiyah and brings back the old school R&B vibes, while also sending out a positive message to women across the world.
Kai was born on September 15 and tragically passed on ten days after on September 25.
Cori is the youngest child of Snoop and wife, Shante, but she isn't the only talented member of the family. The legendary rapper's youngest son, Cordell, walked the NYFW runway back in 2017 and continues to pursue a career in fashion.
Snoop Dogg's oldest son Corde enjoys life away from the spotlight, but the iconic rapper regularly shares photos of his grandson who Corde welcomed with his partner back in 2015.
Meanwhile, in September 2019, Corde took to social media to reveal the heartbreaking news of the death of his newborn son Kai, just ten days after delivery. Sharing a video of his son swaddled in a hospital blanket, Corde wrote in the caption,
"Kai Love 9/15/19 - 9/25/19. My Son Kai brought so much love and positivity into this world. His energy will live on, and these ten days of love will always be special to us."
Kai was born on September 15 and tragically passed on ten days after on September 25, throwing the family into mourning. The family didn't release the official cause of death. Corde, 25, has two other children – son, Zion, and daughter Eleven.
While Snoop Dogg remained silent, his wife Shante addressed the tragic death by sharing a video of herself dancing to Anita Baker and thanking those who reached out to offer their condolences.
Please fill in your e-mail so we can share with you our top stories!