Joe Exotic of 'Tiger King's Three-Way Wedding Featured on YouTube Video
Fans of the show "Tiger King" are in for good times with the news that they can now stream Joe Exotic's three-way wedding Ceremony on YouTube. 
With most of the world in lockdown due to the coronavirus pandemic, television entertainment and the internet has proved to be one way of keeping boredom at bay. 
Fans of the show, "Tiger King" will have more entertainment in store for them because they can now stream the 2014 wedding ceremony between Joe Exotic and his partners, John Finlay, and Travis Maldonado.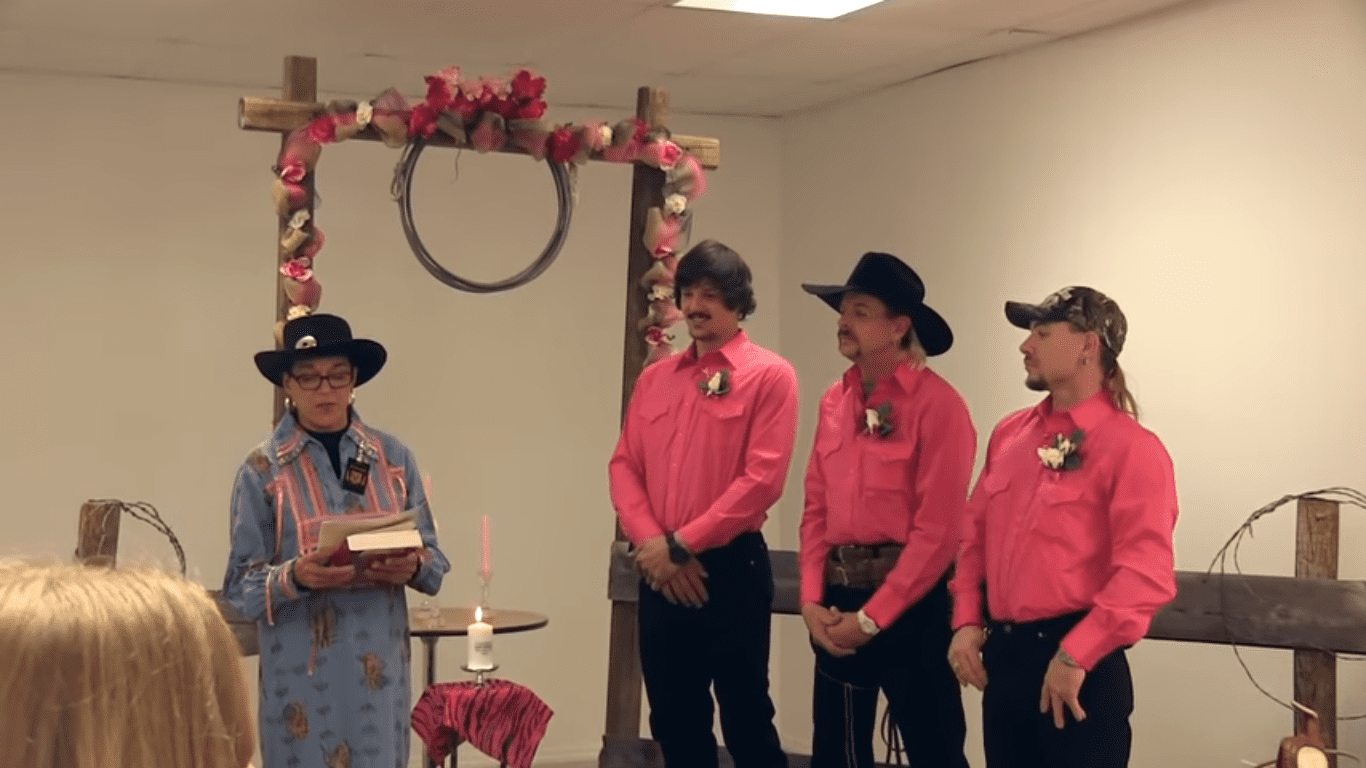 The wedding held in the series "Tiger King: Murder, Mayhem, and Madness?" Fans of the show who didn't have any time to catch it then can now do so, thanks to Netflix and YouTube. 
The documentary, which was divided into seven parts, shone a light on the bitter and long-standing rivalry between Joe Exotic, currently imprisoned, who founded Oklahoma's exotic animal park, and Carole Baskin, owner of Florida's Big Cat Rescue. 
Tiger King also told the story of the personal life of Joe Exotic's (real name Joseph Maldonado-Passage) private life, as well as his polygamous relationship with his partners, Finlay and Travis. 
The trio met while Finlay and Travis were working at Joe Exotic's zoo in Oklahoma. The Netflix documentary shows a few moments from their wedding in 2014, but the full wedding is available for streaming on YouTube. 
Two months after Travis' death, Joe Exotic married Dillon Passage but continues to serve his 22-year jail term
The 23-minute video on YouTube shows the happenings before the wedding, the wedding ceremony itself, and the afterparty. The ceremony was quite colorful, even if only considering the attire of the couples. 
Exotic, Finlay, and Travis wore similar pink shirts, which were accessorized with flowers pinned to their chests. The altar at the wedding ceremony was themed after an animal barn. 
The three men exchanged their vows, after which they sealed their union by saying, "We Do." That was then followed with the exchange of rings, making the three of them husbands to each other. 
Since the wedding, a lot has happened between the men, who remained married for some years, before finally falling out. The falling out led to Finlay walking out of the marriage and the park. 
Travis Maldonado died following a self-inflicted gunshot in October 2017. He was 23 years old.
Two months after Travis' death, Joe Exotic married Dillon Passage but continues to serve his 22-year jail term, after he was found guilty of plotting Baskin's murder. 
Joe Exotic was also found guilty of killing tigers, giving false wildlife records, and the violation of the Endangered Species Act. The seven-part docuseries on Netflix would allow fans to find out more about the "Tiger King."