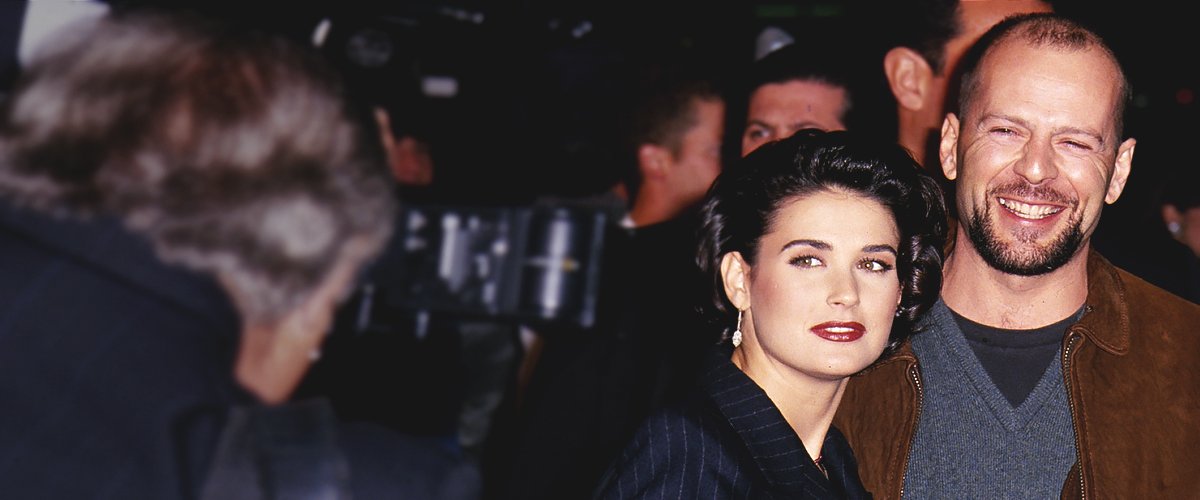 Getty images
Bruce Willis and Demi Moore's Divorce Ended in a Friendship — a Look Back at Their Relationship
When Demi Moore and Bruce Willis got married in 1987, everyone in Hollywood took notice, but their love story wasn't meant to last forever. The couple divorced 13 years later, giving birth to a renewed life-long friendship. Here is a look at their unique relationship.
Bruce Willis and Demi Moore met at the premiere of the movie "Stakeout." Following a whirlwind romance that lasted about four months, the one-time couple got married on November 21, 1987, in Las Vegas.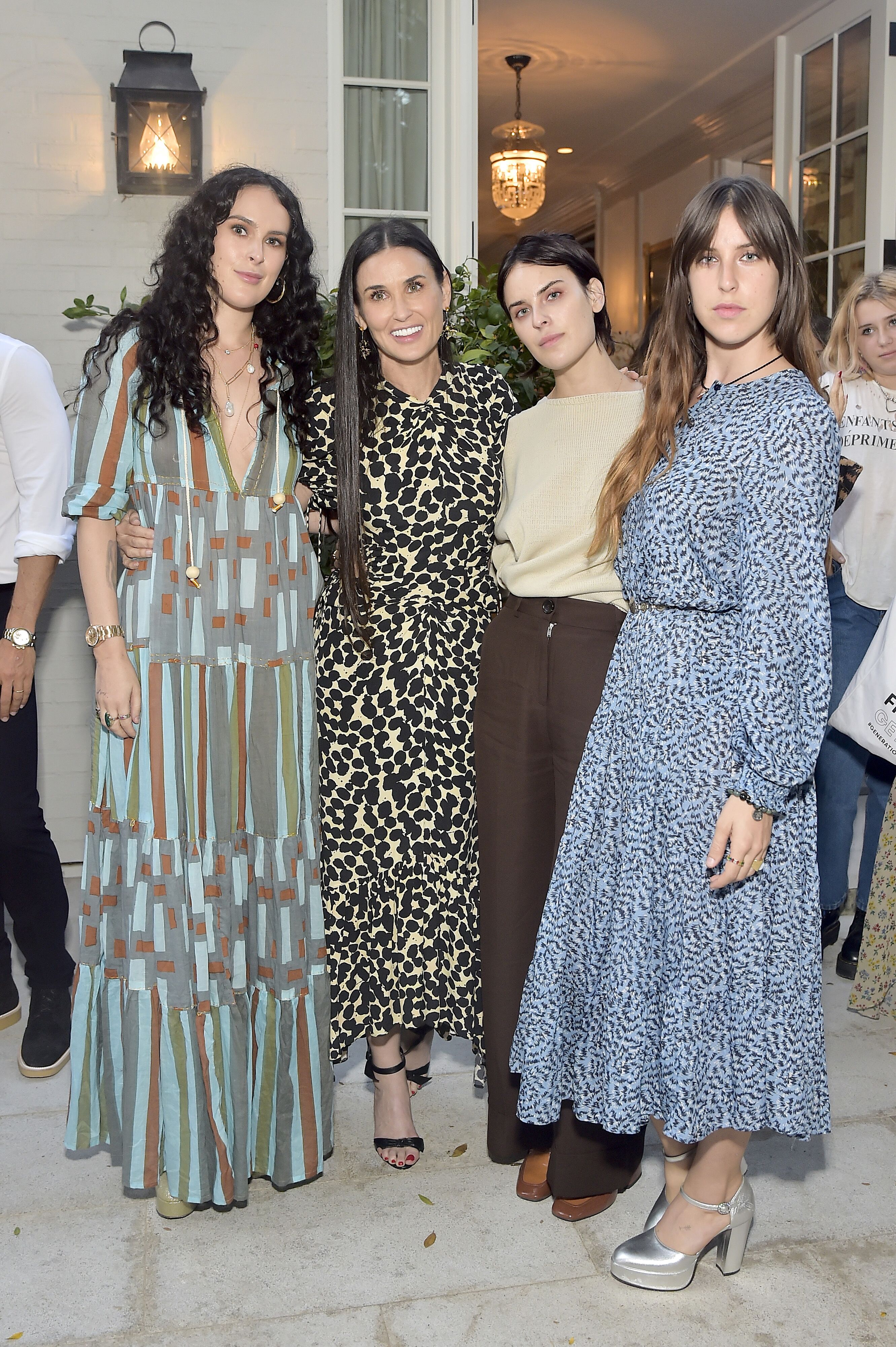 Demi Moore with daughters Rumer, Tallulah and Scout Willis at her 'Inside Out' Book Party in September 2019 | Source: Getty Images
The "Die Hard" franchise star was 33 while Moore was 25. At the time, she had already been married to singer Freddy Moore at the age of 18.
The legendary actor and his ex-wife were both at the peak of their acting careers at the time and quickly became Hollywood's most admired couple, dominating the headlines with their every move.
The massive media scrutiny and invasion of their private lives have been pointed out as one of the factors that contributed to the eventual breakdown of their marriage.
Willis and Moore announced their separation on June 24, 1998, barely a decade after they tied the knot. In a statement addressing the separation from his super-couple partner Demi Moore, the "Armageddon" star said:
"...I would just like to be on my own for a little while."
The former power couple filed for divorce on October 18, 2000, and all the divorce proceedings were finalized on that same day.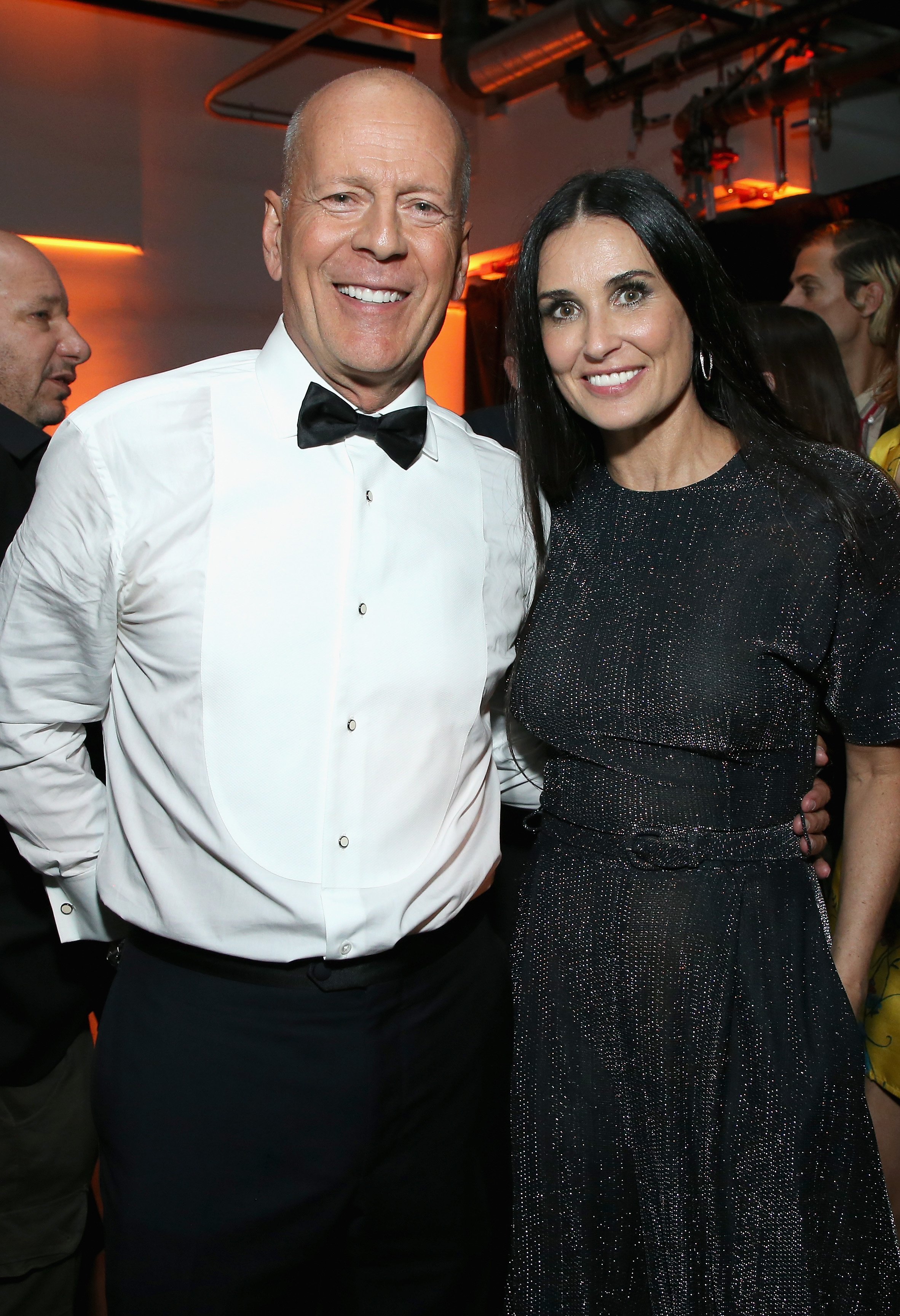 Bruce Willis and Demi Moore attend the after party for the Comedy Central Roast of Bruce Willis at NeueHouse on July 14, 2018 | Photo: Getty Images
BRUCE WILLIS AND DEMI MOORE'S SPLIT
The divorce of Hollywood's power couple broke many hearts, but the handwriting was always on the wall. Before the couple confirmed the separation, rumors had already begun to spread that the once loved up pair were no longer living together.
Many factors have been pointed out as responsible for the breakdown of their marriage, from the pair's extravagant and unreal lifestyle to the gap created by the time they spent apart working on different movie locations.
Speaking about her marriage to Bruce Willis in her memoir "Inside Out," Moore, 57, claimed that he was controlling during their marriage and wanted her to become a stay-at-home mom, despite her becoming the highest-paid woman in Hollywood at the time.
Their constant disagreement over her career, coupled with their individual issues and levels of commitment, ultimately led to their divorce in 2000.
The "Inside Out" author revealed that Willis initially feared that she would make the split difficult and obstruct him from having access to their kids. But thankfully, that wasn't the case.
Moore revealed that it wasn't easy at first but that they both understood that they needed to put their daughters first and give them an environment where they can feel the love of both parents.
The "Ghost" star seems to be pleased with her new friendship with her ex-husband, even admitting that she is proud of their divorce as it gave them a new lease of life. In her tell-all memoir, she wrote:
"It's a funny thing to say, but I'm very proud of our divorce."
BRUCE WILLIS AND DEMI MOORE REMAIN LIFE-LONG FRIENDS
After their divorce, the pair have gone on to remarry, with different outcomes. Willis, 65, got married to model Emma Heming on March 21, 2009, and together they have two daughters. The couple recently renewed their vows, and Moore was in attendance to give them support.
Moore, on her part, got married to actor Ashton Kutcher who was 15 years younger than her in 2005. The pair later separated in 2011 and finalized their divorce in 2013.
Over the years since their divorce, Bruce Willis and Demi Moore have remained friendly and supported each other whenever the opportunity arises.
The veteran actress recently admitted that she was brought to tears when her ex-husband called her to congratulate her on her headline-making memoir.
She said she was about to make an appearance on "The Tonight Show" to promote the candid "Inside Out," when she received a call from Willis. The actress who admitted she felt Bruce Willis might be offended by some of the things she wrote in her book, said:
"I was prepared for there, maybe, to be some sensitivities, and he called, and he got very emotional. He said, 'I'm so proud of you.'"
Following the success of her candid memoir, "Inside Out," Moore has continued to reveal juicy details about her past relationships, and one person who isn't particularly pleased about some of the information being let out by the mother of three is her ex-husband Ashton Kutcher who reacted by posting a veiled tweet.
The beautiful brunette previously opened up about her body image struggles, and her strength to get through it all serves as an inspiration to many.
Meanwhile, the former couple's youngest daughter Tallulah Willis recently shared a picture of the divorcees isolating together amid the coronavirus pandemic.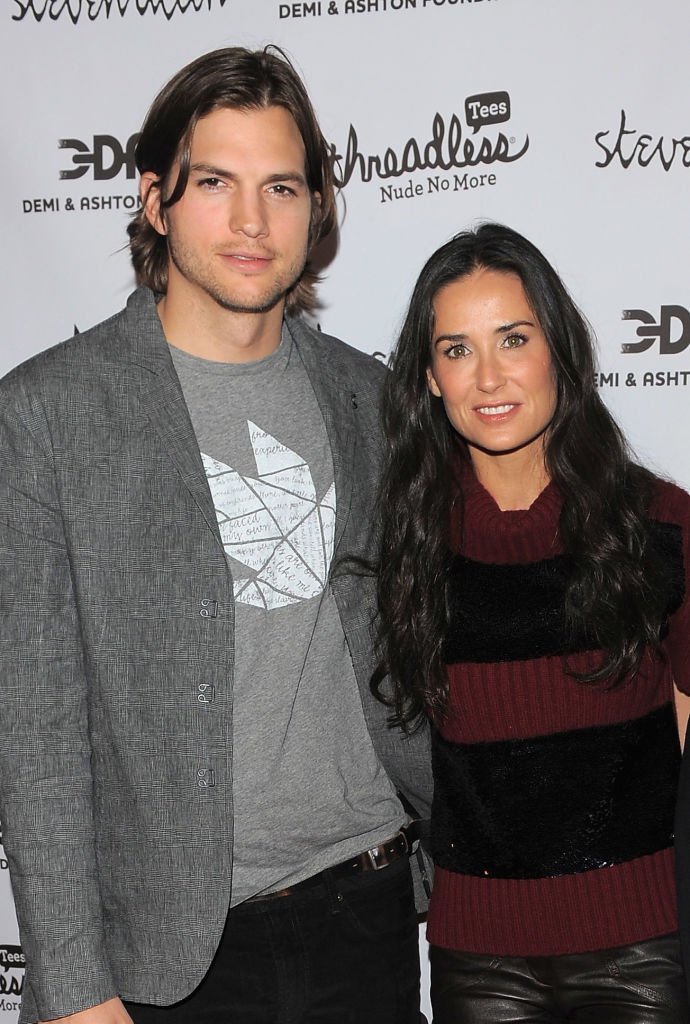 Ashton Kutcher and Demi Moore attend the launch party for "Real Men Don't Buy Girls" at Steven Alan Annex. | Photo: Getty Images
The picture sees the one-time couple and their kids pose in matching pajamas for a group picture. Bruce Willis' wife Emma, is conspicuously missing in the group photo but she posts a comment saying:
"Not many can pull that colour off! Lookin good squad."
BRUCE WILLIS' CHILDREN
Bruce Willis' daughters from his first marriage are Rumer 30, Scout 27, and Tallulah 25. Eldest daughter Rumer Willis has followed in her famous parents' footsteps and began to make her mark in Hollywood.
The 30-year-old actress has earned roles in "Empire," "The House Bunny, Striptease," and more. She is also a talented singer, and her hit song "Crazy 4 U" was featured on the "Empire: Original Soundtrack Season 3."
Rumer was the season 20 winner of "Dancing with the Stars," alongside partner Val Chmerkovskiy in May 2015. Scout Willis has also had a taste of the movie industry with movie credits in "Bandits," "Breakfast of Champions," and 1995's "The Scarlet Letter," which was her acting debut.
Scout also dedicates a lot of her time to activism, working with so many non-profit organizations like Bruce Willis Foundation, ONE Campaign, Habitat For Humanity, and Save the Children.
She also launched her clothing line, "Scout's Genera," in February 2016. Tallulah Willis is the last daughter of the former power couple and was born and raised in Los Angeles.
Actress Demi Moore and her daughters Scout Willis and Tallulah Willis attend the Saint Laurent show at The Hollywood Palladium on February 10, 2016 in Los Angeles, California | Photo: Getty Images
The 25-year-old followed in her sister's footsteps by making an appearance in "The Scarlet Letter" and "Bandits." She also got a role in "The Whole Ten Yards."
The beautiful brunette previously opened up about her body image struggles, and her strength to get through it all serves as an inspiration to many.
In 2013, actor Bruce Willis welcomed baby no 5 with his wife, Emma. The couple got married in 2009, and together they share two beautiful daughters, Mabel, 7, and Evelyn, 5.
Please fill in your e-mail so we can share with you our top stories!