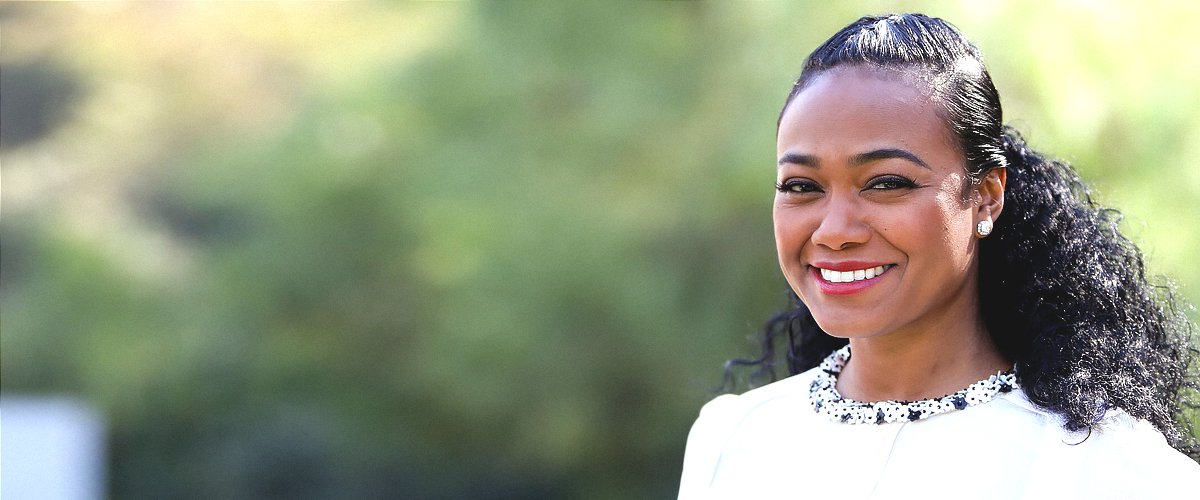 Getty Images
Tatyana Ali Shared Her Thoughts on the Possibility of a 'Fresh Prince' Reunion

Talented actress Tatyana Ali who recently stars in the holiday film, "Christmas Hotel," was a guest on "Good Morning America," where she bared her thoughts on rumors about a "Fresh Prince" reunion. Since warming her way into the hearts of fans of the hit sitcom, she has gone on to have a successful singing career and build a happy home.
Tatyana Marisol Ali is an American actress and singer famously known for her role as Ashley Banks in the NBC television sitcom "The Fresh Prince of Bel-Air" from 1990 to 1996.
Ali wowed viewers with her vocal talent, which was featured on several episodes of "Fresh Prince" in later seasons.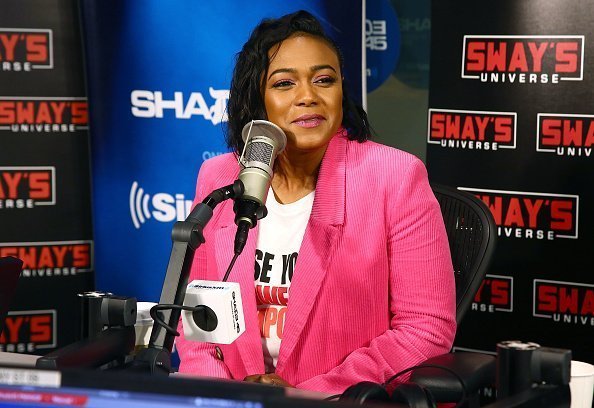 Actress Tatyana Ali visits the SiriusXM studios on November 20, 2018 in New York City. | Photo: Getty Images
It's been three decades since she got her big acting break in the NBC sitcom, and even though the hit television series came to an end in its sixth season on May 20, 1996, fans and former cast members are still talking about the possibility of a reunion.
In December 2019, the singer/actress was a guest on GMA, and she talked about her time on the sitcom and relationship with co-stars of the 90s hit series.
When asked by the host about the possibility of a reunion, Ali admitted that she would be very interested in doing it, but added that it wasn't her call to make.
The "Glory Road" star also revealed the excellent relationship that exists between cast members of the "The Fresh Prince of Bel-Air." She said:
"We loved each other; we still do. It was so much fun."
Ali has often spoken about working with co-star Will Smith who portrays a fictionalized version of himself in the series, describing him as "extremely funny" and an "explosion of energy" whenever he walks into a room.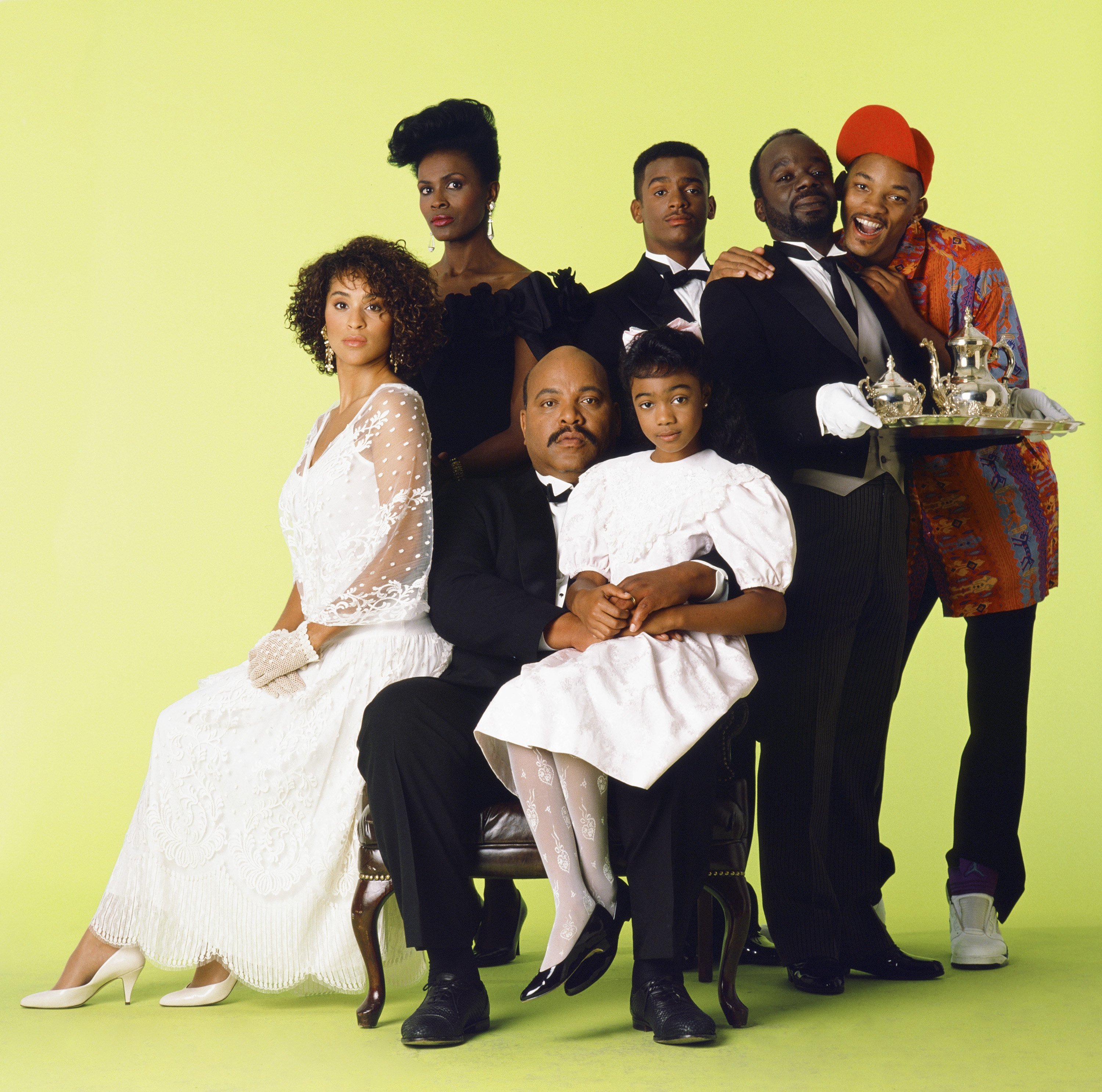 Karyn Parsons, Janet Hubert, James Avery, Tatyana Ali, Alfonso Ribeiro, Joseph Marcell, and Will Smith on the set of "Fresh Prince of Bel-Air" on August 15, 1992 | Photo: Getty Images
"The Fresh Prince of Bel-Air," centers around Will Smith, who is a street-wise teenager from West Philadelphia that is shipped off to live with his wealthy uncle and aunt in their Bel Air mansion after getting into a fight at home.
However, things didn't always go as planned, with his lifestyle consistently clashing with the lifestyle of his upper-class relatives. The show ran for 148 episodes and ended in its sixth season.
Other cast members of the sitcom include James Avery (Philip Banks), Janet Hubert (Vivian Banks), Alfonso Ribeiro (Carlton Banks), Karyn Parsons (Hilary Banks), amongst others.
LIFE AFTER "FRESH PRINCE OF BEL-AIR"
Following her successful six-year spell on the show, Tatyana Ali has blossomed into a household name in Hollywood. In 1998, she launched her music career with her debut album "Kiss The Sky" which was certified gold in early 1999, barely a few months after its release.
The album had the song "Boy You Knock Me Out" featuring Will Smith — which peaked at No. 3 on the UK singles chart and is her biggest hit to date.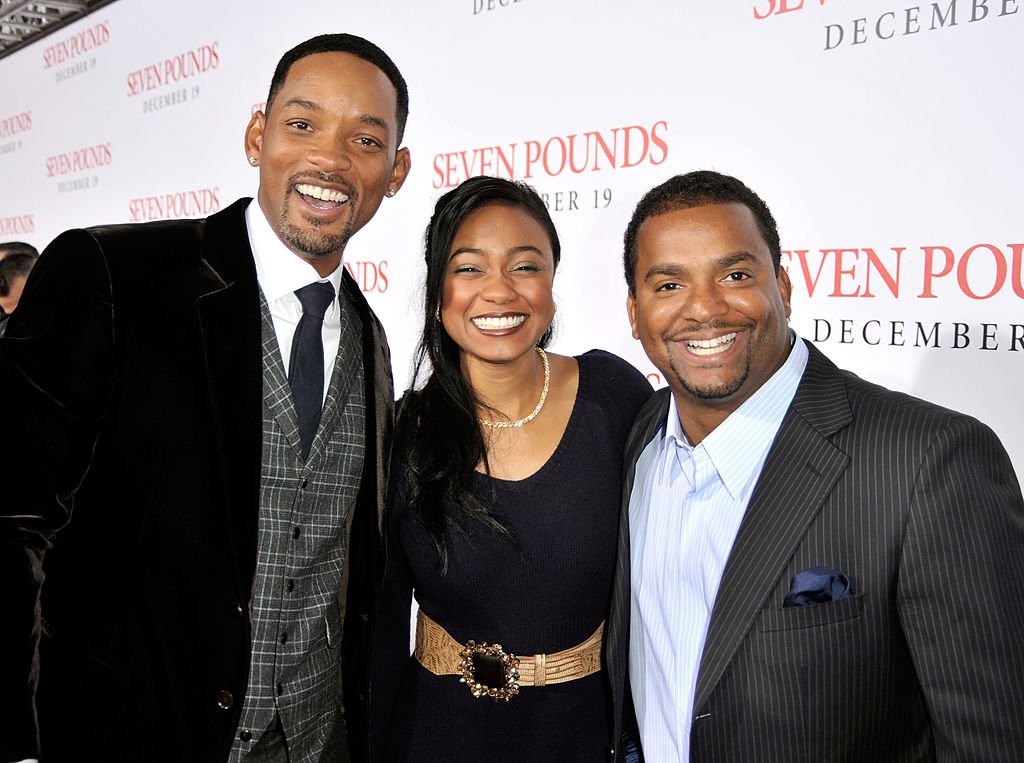 Will Smith, Tatyana Ali and Alfonso Ribeiro arrive at the premiere of Columbia Pictures' "Seven Pounds" held at Mann's Village Theatre on December 16, 2008 | Photo: Getty Images
The actress also continued to land roles in movies such as "The Brothers," "Nora's Hair Salon" (and its sequel), "Glory Road," among others.
Despite her solid profile in the entertainment industry, the 41-year-old actress admitted that her greatest achievement is her family.
TATYANA ALI'S PERSONAL LIFE
Tatyana Marisol Ali was born on January 24, 1979, to Sheriff Ali, a retired police officer from Trinidad and Sonia, who was a nurse from Panama.
The beautiful actress started singing at the age of four, and Tatyana Ali's parents, especially her mom Sonia, was very supportive of her daughter's talent, and even taking her to an audition for "Sesame Street" in 1969.
Ali is married to Dr. Vaughn Rasberry, and the couple shares two sons, Edward Aszard Rasberry, 3, and 5-month-old baby Alejandro Vaughn Rasberry.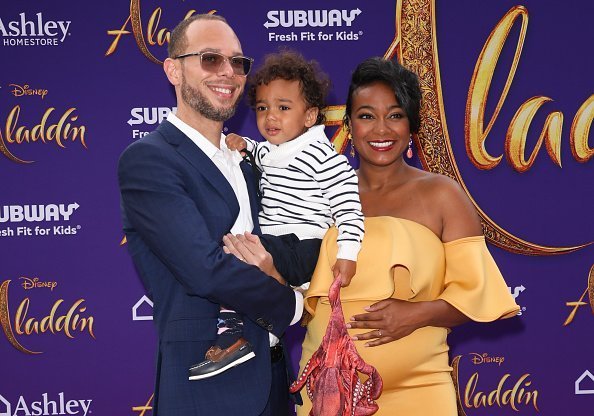 Vaughn Rasberry, Edward Aszard Rasberry, and Tatyana Al attend the premiere of Disney's "Aladdin" on May 21, 2019 | Photo: Getty Images
Tatyana Ali's husband, Dr. Vaughn Rasberry, is a college professor. The pair met on popular dating site eHarmony and announced that they were engaged and expecting their first child together in April 2015.
Ali and Rasberry tied the knot months later on July 17, 2016, and welcomed their first child Edward Aszard Rasberry that same year on September 16, 2016.
In 2017, during an interview with ET's Courtney Tezeno, the new mom talked about her first year in marriage, adjusting to the demands of motherhood, and opened up about her and husband, Dr. Vaughn Rasberry's plans for their upcoming first wedding anniversary. In her words:
"Hopefully, there will be some traveling, but I would love to have my post-baby body back. I just need to be on a beach in a bathing suit somewhere, so I hit my [weight loss] target."
Ali, though admitted that chasing around her 9-month old son, Edward around the house, has been a beneficial workout routine.
In 2019, the couple announced the birth of their second son, baby Alejandro Vaughn Rasberry, into the world on August 15. The notoriously private couple had been keeping the news of their baby secret for the most part of the pregnancy, but they revealed that the new addition to their family overjoys them.
FRESH PRINCE REUNION
NBC's hit sitcom "The Fresh Prince of Bel-Air" was a fan favorite through the early 90s. The television series garnered massive following during its active days, and nearly 30 years after its debut, fans are still calling for a reunion. And the original cast of the show seems to agree!
Alfonso Ribeiro, who plays Carlton Banks in the sitcom, during a live interview on Steve TV Show, expressed his willingness to be involved in a reunion but admitted that it would largely depend on Will Smith's availability.
Will Smith hasn't offered much of a confirmation or shut down the rumors, but he did explain the challenge in replacing the late James Avery, who passed away in 2012.
The cast of the popular sitcom bonded during the show's 148 episodes, and over the years, most of the original cast members still come together regularly to catch up.
Last year, "Fresh Prince of Bel-Air" co-stars Alfonso Ribeiro and Tatyana Ali came out with their families to offer support to their colleague and friend Will Smith (who played the Genie) during the Los Angeles premiere of "Aladdin."
Please fill in your e-mail so we can share with you our top stories!