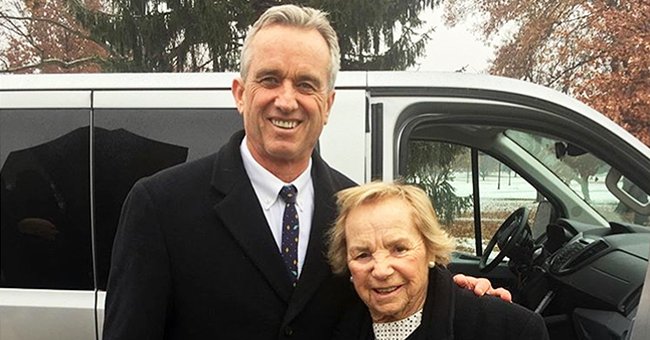 instagram.com/robertfkennedyjr
RFK's Son Robert F Kennedy Jr Paid Tribute to Mother Ethel Kennedy on Her 92nd Birthday
Robert F. Kennedy Jr. recently celebrated his mother, Ethel, on her 92nd birthday. He rendered a credible appraisal of the celebrant and called her a "template for reckless courage."
Ethel Kennedy, the wife of former U.S. Attorney General Robert F. Kennedy, recently celebrated her 92nd birthday. The family matriarch was remembered by her son Robert F. Kennedy Jr. in his recent post on social media.
The 66-year-old environmental attorney took to his Instagram to share throwback photos of his mother. One of the images was a recent one of her and RFK Jr. He also paid tribute to Ethel in the caption where he commended the mother of 11 on,
"her humor and storytelling, her consuming curiosity about people, history and the world...her deep sense of propriety combined with irreverence toward authority."
Robert F. Kennedy Jr. added that the celebrant was a stickler for courage, whether physical or moral. He praised the 92-year-old for raising her children to cherish unpopular ideals like love and justice.
Kennedy is highly commended in the country for her philanthropic work with her husband over the years.
The Kennedy family may not be able to be all present together for the celebration due to the nationwide lockdown caused by the novel coronavirus pandemic.
However, it's expected that they show their love and support via telecommunications, just as they recently did for the memorial of Meave McKean, Ethel's granddaughter.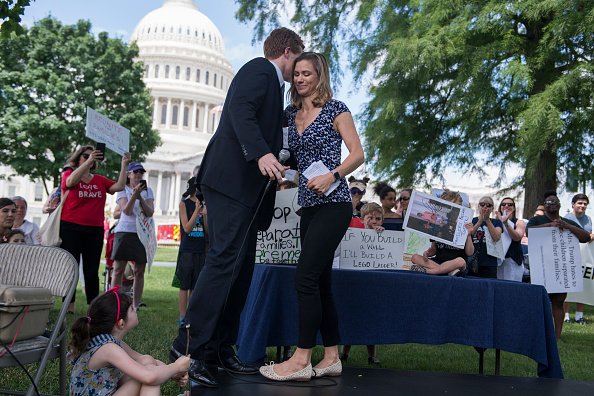 Maeve Kennedy McKean greets Rep. Joe Kennedy, D-Mass., during a rally on the East Front lawn of the Capitol to condemn the separation and detention of families at the border of the U.S. and Mexico on June 21, 2018 | Photo: Getty Images
The service which was held over video call featured over 3000 participants. Ethel Kennedy spoke at the virtual memorial in honor of Maeve and her son, Gideon, who are presumed dead after being victims of a canoe accident. She said,
"God bless Maeve and Gideon, who is up there in heaven… You have all my love — and you are in my heart, and my arms are around you."
Ethel birthed 11 children with her late husband RFK — Rory, Douglas, Matthew, Christopher, Mary, Michael (late), Courtney, David(late), Robert Jr., Joseph II, and Kathleen.
Kennedy is highly commended in the country for her philanthropic work with her husband over the years, as shown by her getting decorated with a Presidential Medal of Freedom in 2014 by the former POTUS, Barack Obama.
In 2016, she honored an invitation by the U.S. Navy to a naming ceremony of a Navy refueling ship. The ship was named after the late RFK, who passed in 1968 after getting shot during an L.A. campaign.
Please fill in your e-mail so we can share with you our top stories!