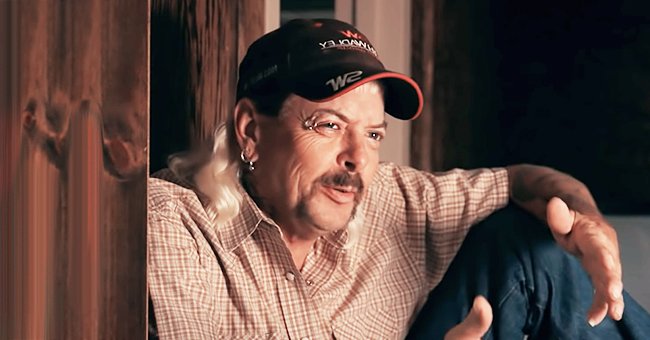 youtube.com/Netflix UK & Ireland
Joe Exotic's Ex-Husband John Finlay Says His New Love Gave Him a Better Life
Joe Exotic's ex-staffer John Finlay has turned his life around thanks to his new love and a change of ways. He's still letting go of the past but is doing much better.
John Finlay, 35, was one-third of an untraditional three-way marriage, which aired in the popular Netflix drama, "Tiger King: Murder, Mayhem Madness."
He was one of two young men back then who got married to the now infamous Tiger King known as Joseph Maldonado-Passage, or Joe Exotic. Finlay is now speaking out about his new life.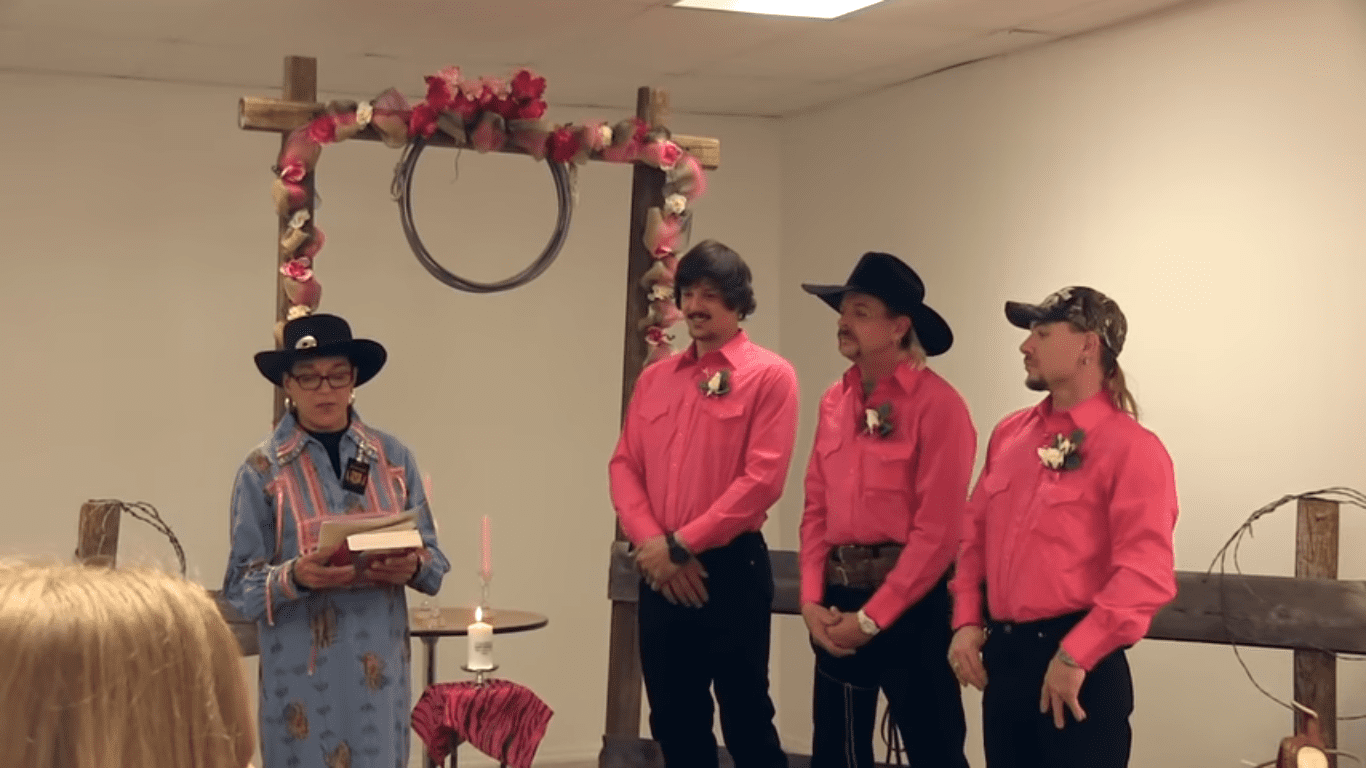 The wedding ceremony of Joe Exotic and his partners, John Finlay, and Travis Maldonado. | Photo: YouTube/JoeExoticTV
Finlay doing much better with new life
The former exotic animal zoo worker was only married to Exotic for a few months. While his ex-boss is now serving 22 years for a murder-for-hire plot, Finlay is growing with his new girlfriend, Stormey.
The pair met online, Finlay reveals to People. Now six years clean from drugs, he spoke about how Stormey is helping him improve his self-esteem and brighten his outlook on life.
"I just quit thinking about the past and the negative stuff that's happened to me, and now I'm engaged, and we're having a really good life," he explained.
The coronavirus delays wedding
Unfortunately, the wedding the couple planned for this summer was postponed due to the coronavirus. The couple, who met in 2019, don't seem too worried about it.
Now working as a welder while his fiancée is an accountant, Finlay still resides in Oklahoma, where Exotic's zoo is under new ownership. He's hoping to help the youth fight addiction just as he was able to do.
The son that wasn't brought up
While Finlay was a main focus in the "Tiger King" story as told by Netflix, viewers weren't made aware of Exotic's son, Brandon Chappell. He appeared on the show with little attention given to him.
Furthermore, the series seemed to pay no mind to Exotic's ex-wife, whose identity we're still unsure of. Producer Rick Kirkham mentioned that Exotic had a wife in a Q&A session on Saturday.
According to the New York Post, a woman named Kim was Chappell's mother and Exotic's old girlfriend. Chappell is 38 years old and has three children, reported the outlet.
Exotic happy with fame in jail
Of course, Exotic seems to care less about the storyline and its characters, and more about the fact that he's now widely known. In a reunion episode aired Sunday, the cast weighed in.
Joshua Dial, Joe's campaign manager at one point, said that Exotic knows what's going on and is "loving every minute of it." The former zoo owner has always craved attention and praise.
During the reunion, Kirkham also revealed the funny fact that Exotic was scared of big cats, especially the lions and tigers. Finlay, who appeared in the reunion, criticized his false portrayal as an addict.
Three-way marriage now on YouTube
For anyone interested, the marriage between Finlay, Exotic, and Travis Maldonado is available for viewing on YouTube. The trio had their wedding in 2014.
During the ceremony, the trio all wore pink shirts and black pants. Exotic also wore a black cowboy hat and Finlay a military trucker hat. Travis died in 2017 due to a self-inflicted gunshot at just 23 years old.
By then, Finlay had long left the marriage. Exotic remarried in December 2017 to a Dillon Passage. More about the complicated story can be found on the Netflix limited series.
Please fill in your e-mail so we can share with you our top stories!