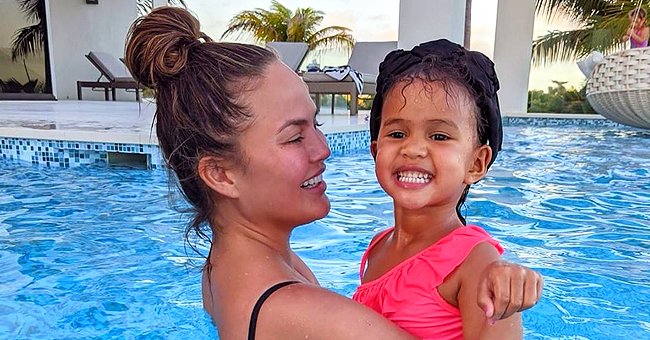 Instagram/chrissyteigen
Chrissy Teigen Makes Delicious Ice Cream Treat for Daughter Luna

Chrissy Teigen treated her daughter Luna to a special dessert while trying to make the most of the lockdown.
Sometimes all that is required to have a good day is a cup of ice cream and all the goodies in them. That delicious scoop of goodness goes a long way in making one's day.
Chrissy Teigen decided to treat her daughter, Luna Legend, who just turned four to a special delight of ice cream with chocolate and whipped cream.
Chrissy shared the videos of herself making the fudge sundae that included icecream, whipped cream, sprinkles, and waffle cones dipped in chocolate.
She also posted another video on her Instagram story, which showed her feeding Luna the ice cream, and the toddler was excited at the yummy goodness.
It seems Luna is keen on getting all the sweetness she needs because her mom also shared a picture of her in the pantry, enjoying snacks. Teigen captioned the photo saying: "Walked into this odd situation."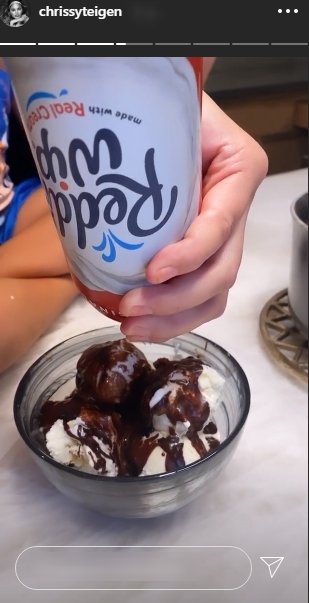 Photo of the ice cream Chrissy Teigen made for her daughter, Luna | Photo: Instagram/@Chrissyteigen
Luna, who recently turned four on the 14th of April, had a wonderful birthday celebration with her parents going all out to ensure that she enjoyed most of her day despite the lockdown.
For her birthday, the four-year-old was treated to breakfast in bed with her favorite meal of waffles, berries, and fruit salad.
Following that, the toddler got ready for the day by changing into a Belle dress. With three cakes from her mom and some family friends, the toddler expressed that age 3 was good to her.
Chrissy and John both sent heartfelt tribute to their daughter thanking Luna for being such a sweet little daughter whom they were blessed and grateful to God for.
Detailing the lengths that they went to pull off the day, John said although the preschooler did not have any friends around, most of them sent their wishes and prayers via video messages.
Chrissy and John, who have been practicing social distancing with their family at home, ensured that they made the best of the situation to give Luna a beautiful and unique spring birthday, despite the quarantine.
Speaking of the lockdown, Chrissy expressed that she was grateful for the people who were around them, helping them out with the kids and things around the house.
While the situation is not ideal and she wants things to return to normal, Chrissy mentioned that she could not complain as she had wonderful people and her mom Vilailuck with her.
In all, it is lovely to note that Chrissy and her family are doing the best they can to flatten the curve while having a good time.
Please fill in your e-mail so we can share with you our top stories!