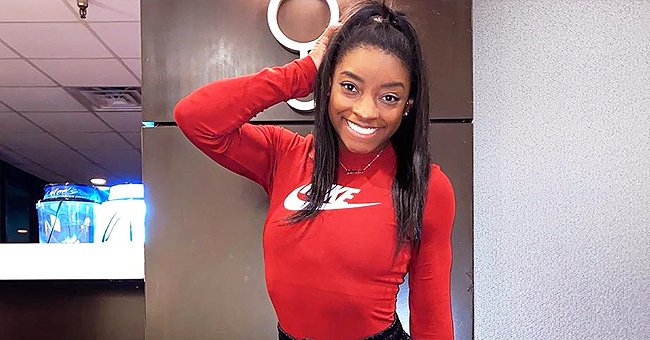 Instagram/simonebiles
Simone Biles Enjoys Sun Outdoors During Quarantine in a New Post

The four-times gold Olympic medalist is trying to keep in shape while staying at home amid coronavirus pandemic. Though the Olympic Games have been postponed until next year, she manages between working out and having some fun at home.
We might guess what normal people do at home while quarantining, but we wonder what an Olympic medalist like Simone Biles would do during this time, and came up with a really certain idea as she posted on her social media.
Many activities are on the list of Simone while the coronavirus crisis is keeping her at home, but one of the tops is having time to enjoy the sun. She recently posted a photo on her Instagram sitting at her backyard in front of a mirror and she looks gorgeous.
Next to the photo, where she is smiling, she wrote a very optimistic message:
"whatever makes you feel the sun from the inside out chase that"
WORKING OUT AT HOME
Last month it was announced that the 2020 Tokyo Olympic Games would be postponed until 2021 due to the pandemic. This was devastating news for Simone, who was already getting ready to be on top of the competition.
The 23-year-old gymnast has been dominating her field for seven years. At only 19, she won four gold medals and one bronze in Rio Olympic Games in 2016. Since breaking through in the 2013 World Championships, her total medal haul stands at 25, 19 of them are gold.
So even though she's not going to the big games this year, she still manages to do the best work out possible at home, by doing some ab work, arm work, walking her dog, and something called a "twerk out", to keep in shape.
Simone is also doing some charitable actions, by offering a signed leotard as a prize in a drawing for people who donate at least $25 to the Center for Disaster Philanthropy's COVID-19 Response Fund.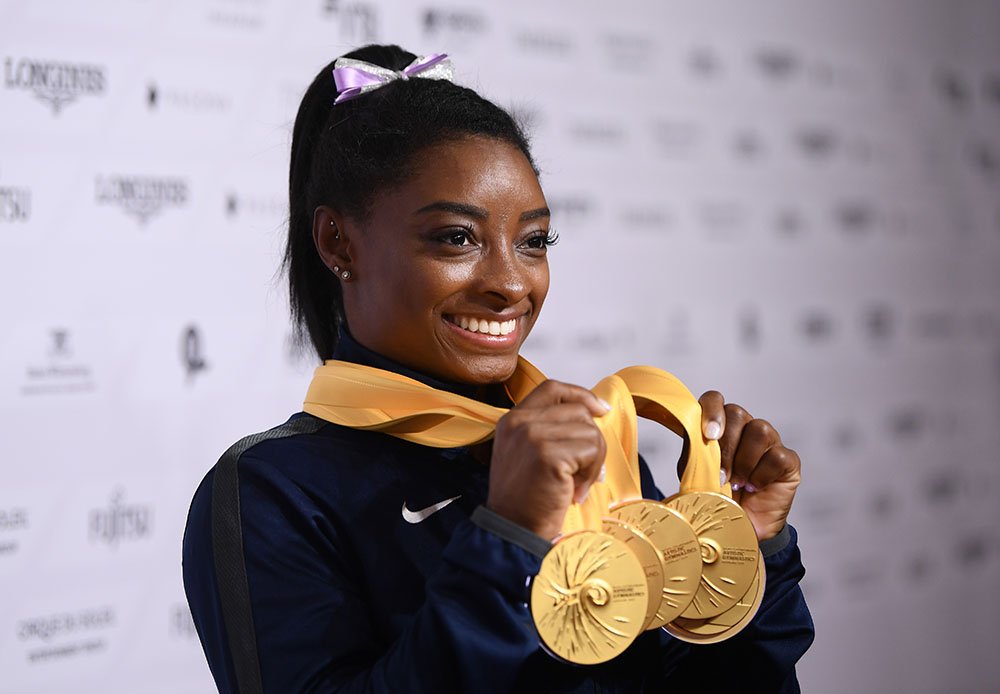 Simone Biles of The United States poses for photos with her multiple gold medals during day 10 of the 49th FIG Artistic Gymnastics World Championships at Hanns-Martin-Schleyer-Halle on October 13, 2019 in Stuttgart, Germany. I Image: Getty Images.
OLYMPIC CHALLENGE
But work is not everything for the Olympic medalist, she is also having fun at home while coronavirus crisis hit the world. In fact, she accepted the challenge proposed by Tom Holland of putting on a shirt while doing a handstand and took it to a whole different level.
With her unique Olympic style she did a handstand without wall support, and instead of putting on a shirt, she took off her pink pants. Her steadiness and ability left us all in awe, and we doubt someone can even challenge that.
It seems it's going to be a while until Simone is back on track with her best moves on the gymnastic carpet, meanwhile, we can see her through her social media with new workouts and even new hairdos.
Please fill in your e-mail so we can share with you our top stories!