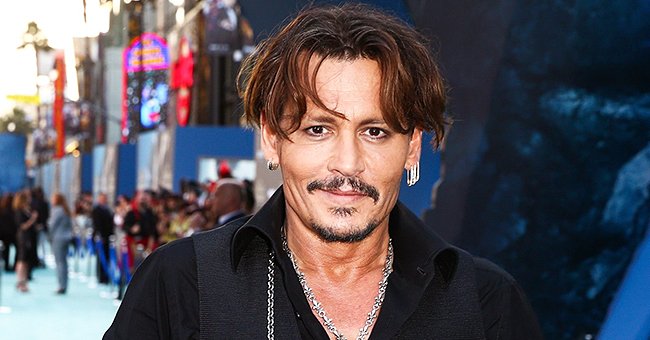 Getty Images
Johnny Depp Finally Joins Instagram & Releases Cover of John Lennon's 'Isolation'
A-List actor Johnny Depp finally joins Instagram much to everyone's surprise and shares some insight into a project he's working on.
"Pirates of the Caribbean" star actor Johnny Depp made his Instagram debut on April 16, and the novelty thrilled the internet to no end. The actor did not take long to share his first post. Captioning his picture, he wrote:
"Hello everyone... filming something for you now... gimme a minute."
Johnny Depp attends the premiere of Disney's "Pirates Of The Caribbean: Dead Men Tell No Tales" on May 18, 2017. | Photo: Getty Images
The actor teased his fans with words of a new project and the photo, which featured him sitting on an old wooden bench in a cave, dressed in a buttoned shirt, with glasses on.
In front of Depp, was a table filled with lit candles while the area around him was illuminated with professional lights, giving away the fact that he was on the set of a film.
Before his first post, fans had reportedly started monitoring the account, unsure if it was real, as soon as they saw the username "johnnydepp" displayed on their screens.
Johnny's post rocked the entire platform.
The actor's post didn't take long before he started amassing thousands of followers. In 15 minutes, he had a whopping number of 176,000 followers. By three hours, the actor was well on his way to a million followers at 600,000 already.
Depp's post quickly toppled Jennifer Aniston's, which momentarily crashed Instagram in January and was tagged the fastest account to hit 1 million followers with the post, which she captioned:
"And now we're Instagram FRIENDS," too. Hi, Instagram."
Jennifer knocked out the previous record holders, Prince Harry and Meghan Markle's Instagram account, SussexRoyal, with a photo of a reunion with her former cast members on "Friends."
The Duke and Duchess' account hit one million followers in five hours and forty-five minutes, only twenty-nine minutes short of Aniston's record with a series of pictures of Meghan and Harry.
Previous record holders were the popular K-Pop icon Kang Daniel, and Pope Francis. Depp's post hinted to a possible project with his music band "The Hollywood Vampires."
Johnny joined the social media platform noticeably after a judge ruled that he could go ahead with his defamation lawsuit against his former wife, Amber Heard.
Depp has moved on from the legal mess and the drama that came with it and has returned his focus to working and entertaining his fans.
Please fill in your e-mail so we can share with you our top stories!