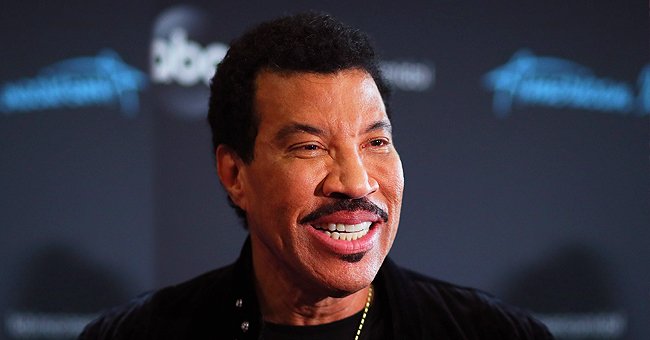 Getty Images
Lionel Richie's Young Girlfriend Lisa Parigi Looks Flawless in White Outfit
Lionel Richie's girlfriend, Lisa Parigi, shared a picture from one of her travels around the world and looked gorgeous, admiring some local flowers while posing in a white top.
Recently, she was feeling a little nostalgic and posted a photo of herself from one of her to trips across the globe.
In the photo, Lisa struck her best model pose as she starred directly into the camera while resting her hand in low hanging flowers.
She was dressed in a white embroidered dress that had ruffled shoulders and a high neck. She kept her make-up chic with a cat-eye and dark blush. One fan thanked her for the beautiful photo and said the flowers were uplifting.

A fan commented on a picture of Lisa Parigi posing in a white top next to pink flowers | Source: Instagram.com/lisaparigi_
Lisa had initially posted the picture of herself wearing the white embroidered dress during a trip to Dubai, where she enjoyed a meal at Al Fahidi Historical Neighbourhood. Gushing over the place, she
"Probably the best food I had on the entire trip. ?Beautiful and simple design and the friendliest group of people."
Lisa is a jet-setter in her own right, even before meeting her famous boyfriend. It is reported, her heritage is Chinese, Swiss and Caribbean. She had always been a traveller from a young age.
In an interview with Hedonist Magazine, she revealed that she could speak four languages fluently, which include English, Swiss-German, French and German.
Her flair for languages is something she considered normal growing up in Switzerland because most children were multilingual in the country. Explaining the benefits of her languages skills now that she is older, she said:
"[People] are intrigued and curious of where I come from. I love that I do not fit a typical mold or label."
Lisa has brought some welcomed changes to Lionel's life since they started dating in 2014. According to PEOPLE, he admitted that after two divorces, he was feeling "jaded" about love.
The Grammy winner admitted that his negative outlook changed when he met his girlfriend, and she made him feel "safe" over the years.
Please fill in your e-mail so we can share with you our top stories!