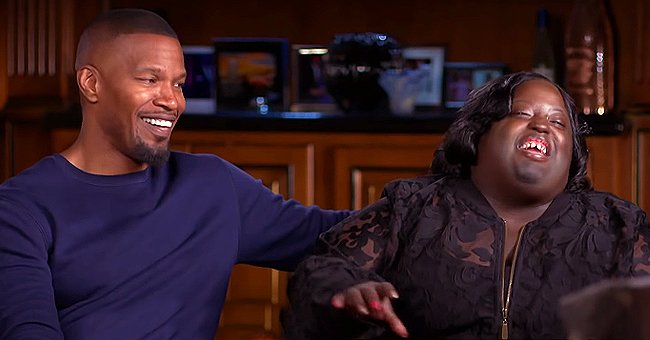 YouTube/TODAY
Jamie Foxx's Sister with Down Syndrome Sings Song That She Wrote
Actor Jamie Foxx took to Instagram to share a video of his sister, DeOndra, who has hs Down Syndrome, making music.
"My little sister @deondra1984 has been writing music since she was a young en. Y'all give her a go own gurrrl!!!"
Jamie Foxx attends the premiere of Showtime's "White Famous" in West Hollywood, California on September 27, 2017 | Photo: Getty Images
Foxx added that his sister became the Down Syndrome ambassador of the National Down Syndrome Foundation after popular producer Quincy Jones spotted her dancing in Foxx's "Blame It On The Alcohol" music video.
The actor's sister had fought her way into making sure her brother remembered to put her in the video, saying it was her time to show the world her talents.
Jamie's fans and followers took to the comment section of the post to show a tremendous amount of support for the young star, commending her for how brave and amazing she was.
He described the experience as "nonstop laughter and just kickin' it."
The actor often refers to his sister as the star of the family and says that she knows in her mind that there is nothing that she can't do. The pair share an amazing sibling bond.
The bond the pair shares has been a huge part of Jamie's life. A longtime family friend, Hanna Abounader, revealed that DeOndra's presence was often soothing to her brother. She said:
"He will be running around crazy with all these things to do, and DeOndra will walk up, grab him, and hug him."
Jamie described the love that people with special needs often gave as unfiltered, adding that most people did not realize or understand that there was nothing that could stand in the way of their love towards people.
In an NBC interview with Kate Snow, the Oscar-winning actor said that the dynamic between the pair was like every other brother-sister relationship, even with the frequent light-hearted jabs.
The actor continued, saying that DeOndra taught him to live and love always. In 2002, when she graduated from high school, Foxx quickly asked her to relocate and live with him.
Jamie also has another sister, Deidre, who he also invited to live with him in his home near Los Angeles as soon as they were of age. He described the experience as "nonstop laughter and just kickin' it."
Jamie's love and respect for his family, especially his sister, has been an inspiring story for many to appreciate and admire. The incredible pair have continued to flourish in their personal relationships as well as their careers.
Please fill in your e-mail so we can share with you our top stories!