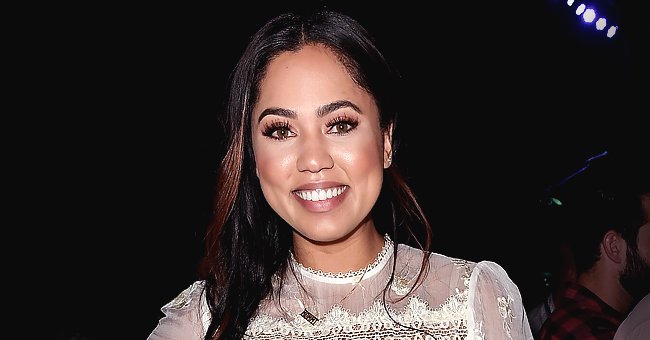 Getty Images
Stephen Curry's Wife Ayesha Cooks Paella for Family Wearing Silk Pajamas during Quarantine
Ayesha Curry gushed over her love for cooking for Stephen Curry and their family as she whipped up a large dish of paella in her kitchen while wearing silk pajamas.
With the NBA season at a temporary halt amid the COVID-19 outbreak, six-time all-star, Stephen Curry has the benefits of taking a break from his busy career to relax with his family.
While under quarantine, he has enjoyed pajamas parties and dance battles with his children. He even celebrated an intimate 32nd birthday party at home.
His wife, Ayesha Curry, is also getting the perks of the much-needed family time, so much so that she cooked up a storm in the kitchen recently, she revealed:
"Made paella today. It was a success! I freaking love cooking and making my family smile with just one bite."
Ayesha started her passion for cooking by sharing recipes on a blog. Her notoriety soon landed her a New York Times best-selling cookbook titled "The Seasoned Life: Food, Family, Faith, and the Joy of Eating Well."
In 2016, she premiered her show, "Ayesha's Home Kitchen" on the Food Network. Recently, she joined "Family Food Fight" as a judge.
However, despite all her success as a food critique, celebrity chef, and author, Ayesha revealed that her greatest accomplishment is feeding her family.
While dressed in pink and black silk panther pajamas, she admitted, "nothing like [cooking for my family]. So grateful to God for this bright spot today." One fan loved the recipe so much she admitted to being glued to her updates.
A fan commented on a video of Ayesha Curry cooking paella in pink silk pajamas | Source: Instagram.com/ayeshacurry
Ayesha has been keeping herself busy with her family and endless business endeavors. On April 1, she announced that she would be creating a magazine.
The big reveal was made with the help of her family, who acted out a scene from "The Devil Wears Prada."
Ayesha revealed that her Magazine would be called "Sweet July" in honor of her three children, who were all born in July, and it is also the month she got married.
She explained that she hoped to use the magazine to help uplift people with positive and inspiring content amid the challenging times they are experiencing with the COVID-19 pandemic.
Please fill in your e-mail so we can share with you our top stories!