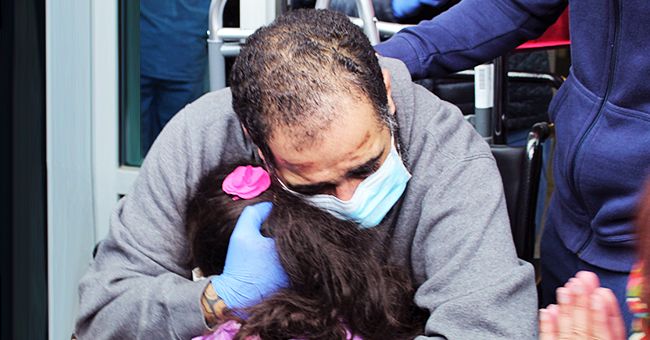 twitter.com/bostonpolice
Boston Police Officer Reunites with Family after a Long Battle with COVID-19

Officer Omar Borges of the Boston Police Department was reunited with his loved ones after beating the novel coronavirus disease.
Borges was released from Beth Israel Hospital recently after the COVID-19 battle, according to CBS Boston. He was greeted by his family and by Boston Police Commissioner William Gross.
"Oh my goodness, it feels like Christmas, New Year's, all the holidays put together," said Borges' sister, Nilsa Borges-Cruz, as reported by NBC Boston.
VERY THANKFUL
Gross, on the other hand, said that they didn't think Borges was going to make it. He was in the hospital for twenty-eight days.
Outside the hospital, Borges was also greeted by the medical staff that spared him. The medical director of the intensive care unit at Beth Israel Deaconess Medical Center, Molly Hayes, said that they were worried about him, adding:
"He was really sick when he first came in, and we are all just so glad that he is discharged today, and this is just a beautiful day."
OVERWHELMING FEELING
On the way home, Borges made a quick stop by the Boston Police headquarters, where officers cheered.
As reported by Boston 25 News, it was an amazing feeling for these officers who have just lost one of their own to the deadly disease.
Borges has been with the Boston Police Department since 2005.
A DAY OF CELEBRATION
Gross said that the COVID-19 "has already taken the life of one of our officers Jose Fontanez and many citizens in the city so it is a day of celebration that when we work together especially our healthcare providers that we can save a lives."
Borges' sister, Nilsa, said that it's very overwhelming yet very excited he's getting back home with them. Borges has been with the Boston Police Department since 2005.
Meanwhile, in the United Kingdom, 94-year-old Joy managed to return home after being admitted to James Paget Hospital in Gorleston, Norfolk. She battled the novel coronavirus disease for nine days.
Joy, now called the "Supergran," credited the nursing staff with their brilliant care during her stay in the hospital. Joy's family was thrilled with her fast recovery. Aside from being called "Supergran," they also call her the "miracle lady."
She has three children, seven grandchildren, and another seven great-grandchildren. Her large family got worried when they learned that Joy fell ill last March 20 in her home in North Suffolk.
After being discharged from the hospital, Joy was in isolation again for 14 days. This was to make sure she would not pass the virus to other people.
Please fill in your e-mail so we can share with you our top stories!