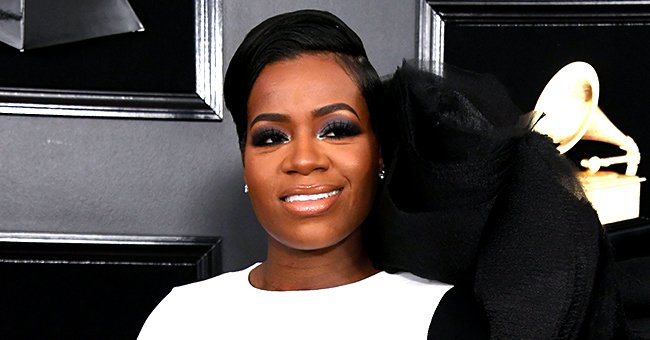 Getty Images
Fantasia Barrino's Daughter Zion Dances with Friend during Quarantine (Video)
'American Idol' star Fantasia Barrino's daughter had some fun with her friend as she shared a video of themselves dancing hand-in-hand in her living room amid quarantine.
Fantasia Barrino's daughter, Zion, is finding ways to keep herself entertained while quarantined at home amid the COVID-19 outbreak.
Recently, the 18-year-old had a friend over, and they let loose dancing together hand-in-hand in her living room. The black a white video showed the girls share a hug at the end before Zion blew a kiss at the camera.
The video comes only days after Zion showed off her new hairstyle. The teenager normally wears elbow-length weaves and braided hair extensions.
For her new look, she went for a simple yet easy to maintain natural bob. Zion showed it off in a video as she twirled her head to admire the layers.
Quarantine hasn't been all about staying indoors for Zion. A few weeks ago, Fantasia shared a picture of her daughter exploring a riverside.
In the post, she revealed that her family has decided to enjoy the fresh air by taking a walk for some outdoor activity. Zion was pictured sitting on a pile of rocks while poking a stick into the water below her.
Fantasia rarely shares pictures of her daughter, and the post had her fans gushing over how beautiful they thought her teenager looked.
One fan said, "she's gorgeous! Growing so beautifully." Another fan was completely shocked to see how grown Zion looked in the picture.
A fan commented on a photo of Fantasia Barrino's daughter sitting by the riverside | Source: Instagram.com/tasiasworld
Audiences were first introduced to Zion when Fantasia told her story on American Idol in 2004 about
becoming a teenage mother
and raising her daughter on her own.
After surviving suicide and a public break-up with a married man, who fathered her second child, Fantasia has found her happy ending since marrying her husband, Kendal Taylor, in 2015.
According to Essence, Fantasia and Kendall reaffirmed their love for each other when they married again a year later.
The coupled decided on Christmas day of 2016, to celebrate their wedding a second time with an intimate waterside ceremony.
Please fill in your e-mail so we can share with you our top stories!