Getty Images
Scott Disick Still Struggles to Talk about Late Parents Who Died 3 Months Apart
On the Thursday episode of "Keeping Up With The Kardashians," Scott Disick opened up about the struggles he faces in talking about his parents, who died three months apart.
The loss of one's parents is an experience that is difficult to go through, and when both parents die within a short space of time, that throws up a different level of challenge.
That is the sort of situation that American model Scott Disick found himself six years ago after he lost his mom and dad three months apart — he still struggles to talk about it.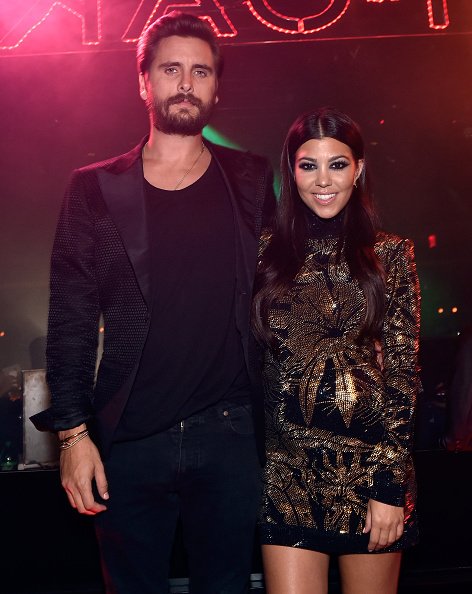 Scott Disick and Kourtney Kardashian at The Mirage Hotel & Casino on May 23, 2015. | Photo: Getty Images
The 36-year-old opened up about his ordeal in the last episode of KUWTK, where Scott admitted that he has been going through some personal problems.
The model shares three children with his former partner, Kourtney Kardashian, and when her sister, Kim, visited him at home, he revealed to her that his kids have begun asking about his parents, something he was having a hard time dealing with.
Scott's mom, Bonnie, died in 2013, following a battle with a long illness, while his father died in 2014, of unknown causes. Being an only child, Scott was very close to them, which has made it even harder for him to revisit their memories.
Scott Disick told Kim that talking about his parents wasn't an easy subject for him because it put the model in a very vulnerable position to have to think about or remember them.
Scott said that the pictures brought a lot of good memories that he had forgotten.
While Scott spoke to Kim, footage of his parents visiting his bar mitzvah also played, after which he called Dave Hecker, his father's best friend, asking him to visit when next the latter was in California.
Hecker visited Scott later in the episode, sharing dinner with the model, his four kids, as well as Kardashian sisters, Kim and Khloé. Hecker told everyone there that Scott was fearless and good at everything while he was a kid.
Hecker also explained that the reason why he hadn't seen Scott for a long number of years was that his presence would remind the latter of his parents' absence.
They also ended up going through a box of family pictures that Scott hadn't seen in decades. In the confessional, Scott said that the images brought a lot of good memories that he had forgotten, though he dreaded looking at them at first.
The reality star also said that if he continued to talk about his parents to the children, they would remember the deceased more and feel connected to them.
Scott Disick was born on May 26, 1983, in Eastport, Long Island, New York. He is mostly known for his relationship with Kourtney Kardashian, and his appearances in KUWTK. They ended their relationship in 2015, but have remained good friends.
Please fill in your e-mail so we can share with you our top stories!