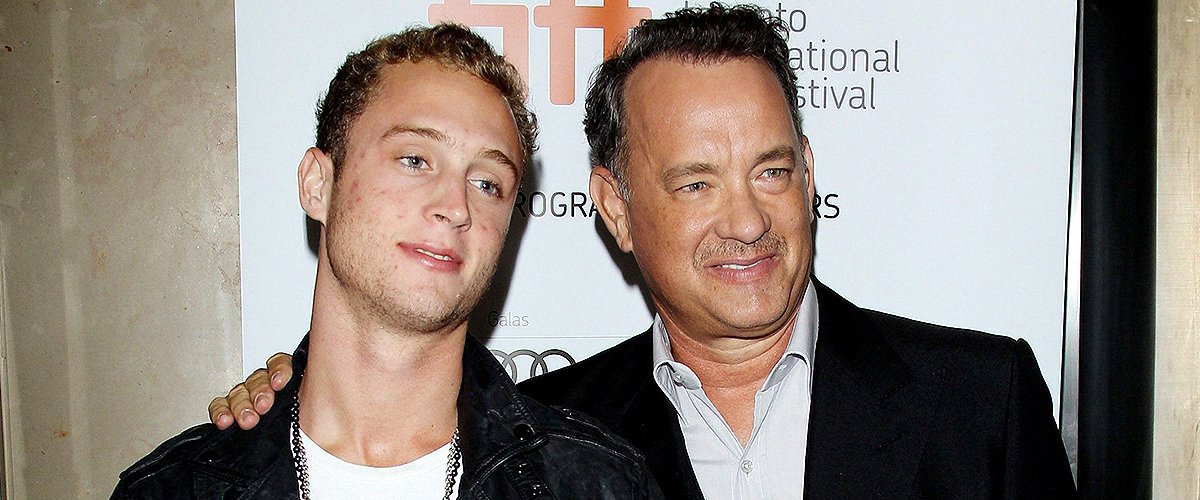 GettyImages
Chet Hanks Battled Addiction — inside Tom Hanks' Son's Journey to Becoming Sober
Tom Hanks is one of the most respected actors in Hollywood, and he has an untainted reputation. However, the same can't be said about his son, Chet Hanks, who has dubbed himself as the black sheep of the family after battling drug addiction.
Chet Hanks is the son of actors Tom Hanks and Rita Wilson. He was born when Tom was at the top of his career, so he and his little brother, Truman Theodore Hanks, didn't live the same struggles that Hank's oldest kids did.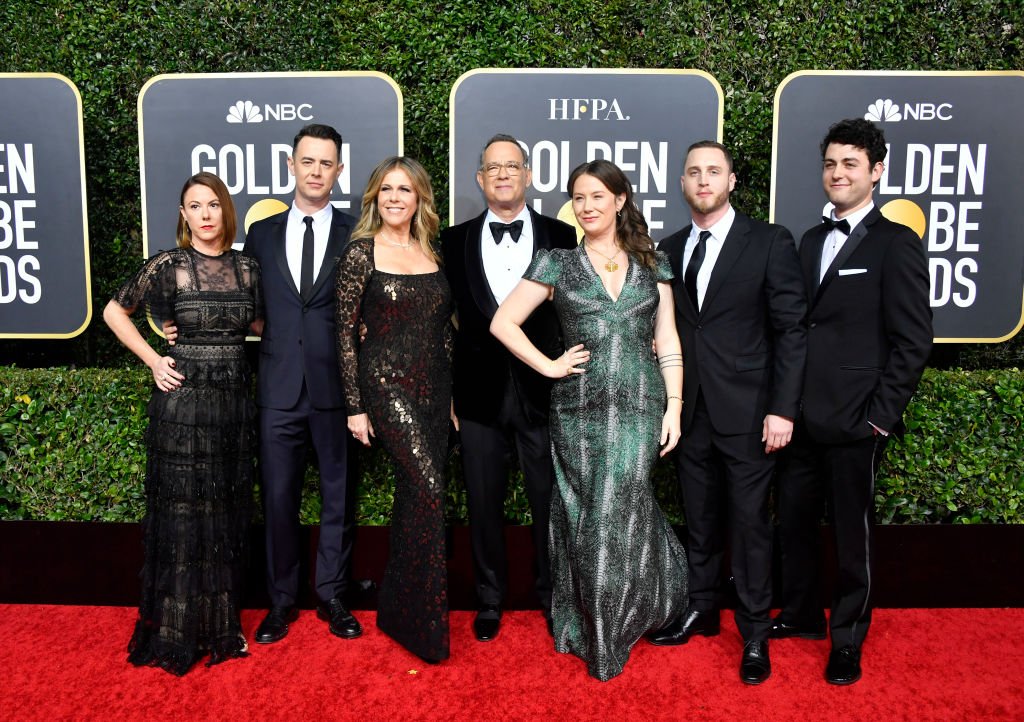 Samantha Bryant, Colin Hanks, Rita Wilson, Tom Hanks, Elizabeth Ann Hanks, Chet Hanks, and Truman Theodore Hanks attend the 77th Annual Golden Globe Awards at The Beverly Hilton Hotel on January 05, 2020 in Beverly Hills, California. | Photo: GettyImages
Although Chet has mentioned before that his parents tried their best to give him and his brother a regular life without too many privileges, he still grew up surrounded by the glitz and bliss of Hollywood.
Chet claims she saved his life because he would've probably ended up dead or in jail if it wasn't for her.
At some point, Chet's life got derailed, and drugs came into the picture. Soon, he was spiraling down into the abyss of addiction, and only the birth of his daughter was strong enough a reason to pull him out.
CHET HANK'S ROAD TO RECOVERY
Chet took his first step into the entertainment industry at 17, when he landed his first acting role in the film "Bratz."
He also had small appearances in "Indiana Jones and the Kingdom of the Crystal Skull," and his dad's directorial debut, "Larry Crowne."
During his time at Northwestern College, Chet developed an interest in a rap career, so he started doing covers and some original songs.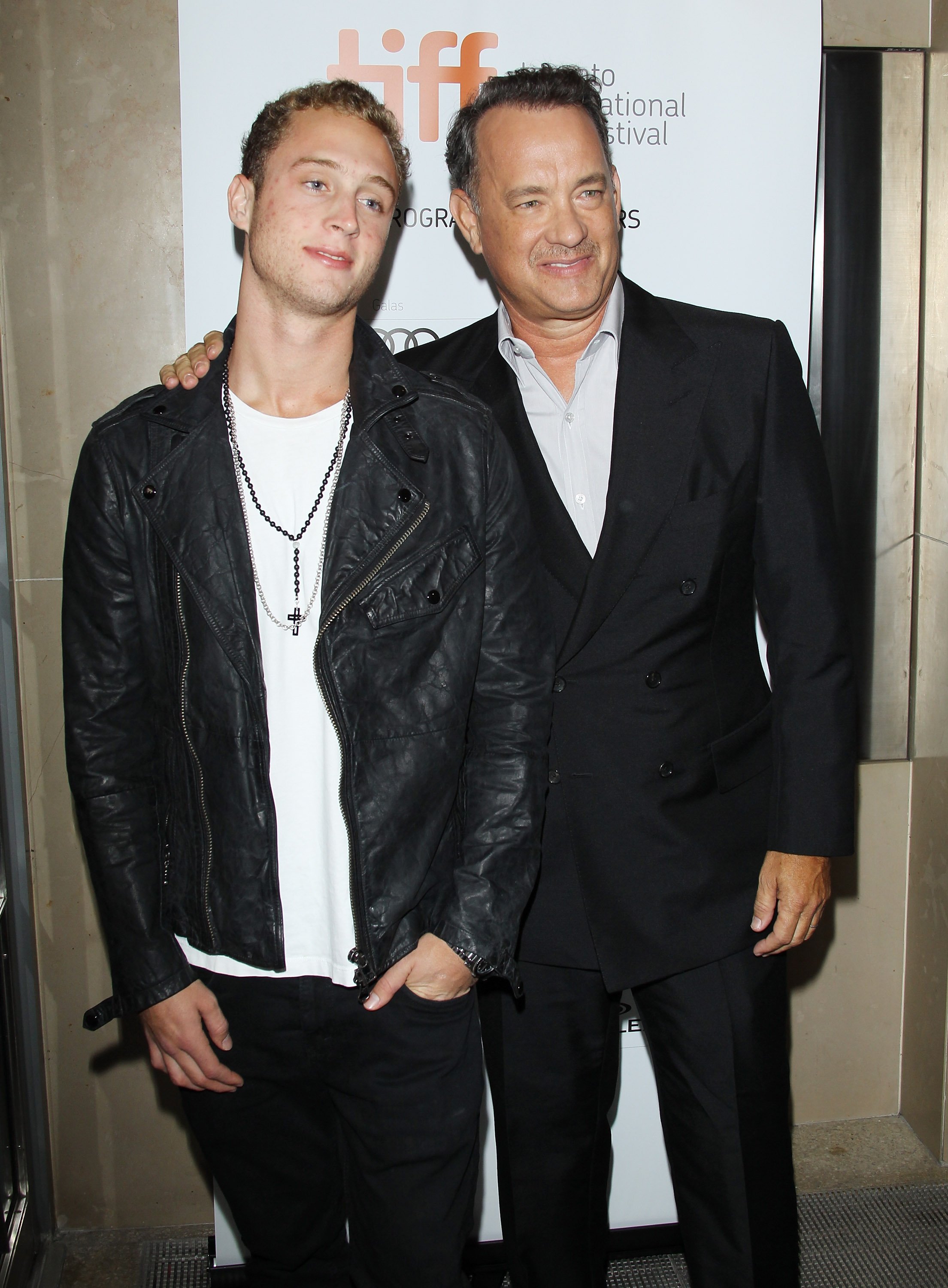 Tom Hanks and Chet Hanks arrive at "Cloud Atlas" premiere during the 2012 Toronto International Film Festival on September 8, 2012 in Toronto, Canada | Photo: GettyImages
However, he was already consuming drugs, and after graduating, things only got worse for him, as he once recalled in an honest Instagram video:
"I was selling coke, doing coke until I couldn't even snort it up my nose anymore because it was so clogged. I even smoked crack."
It was when his then-girlfriend Tiffany Miles told him she was pregnant that Chet decided it was time to turn his life around and checked into rehab late 2015.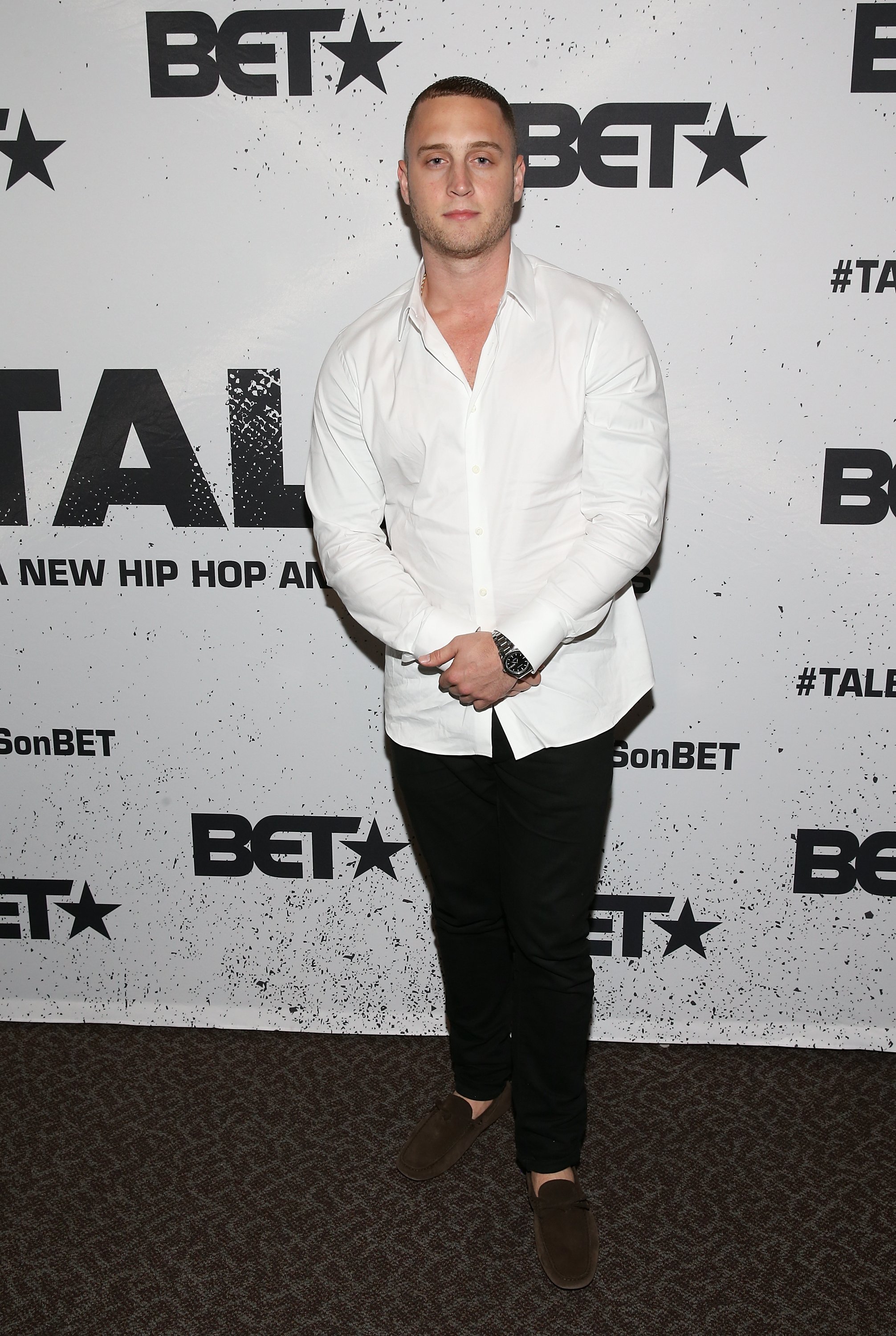 Chet Hanks attends the Screening of the BET Series "Tales" at DGA Theater on June 26, 2017 in Los Angeles, California | Photo: GettyImages
Chet admitted during an interview with Entertainment Tonight that he had known for a while he needed help, but said that it was hard for him to take the final step to start changing his life.
"There's a part of you that knows that you need to make a change, but you can't really shut that door on your life and just move on to a new chapter," he said and added:
"For me, it took something drastic happening, like becoming a father, for me to make the change."
CHET'S DAUGHTER SAVED HIM
Michaiah Hanks was born in April 2016, and Chet claims she saved his life because he would've probably ended up dead or in jail if it wasn't for her.
Although Chet is believed not to be with his daughter's mother anymore, he has taken his fatherly duties seriously. He says Tom and Rita love being grandparents, and more often than not, they offer to babysit.
"It's awesome seeing them being grandparents as well because I was really close with my grandparents, and now my daughter gets to have the same experience," he told ET.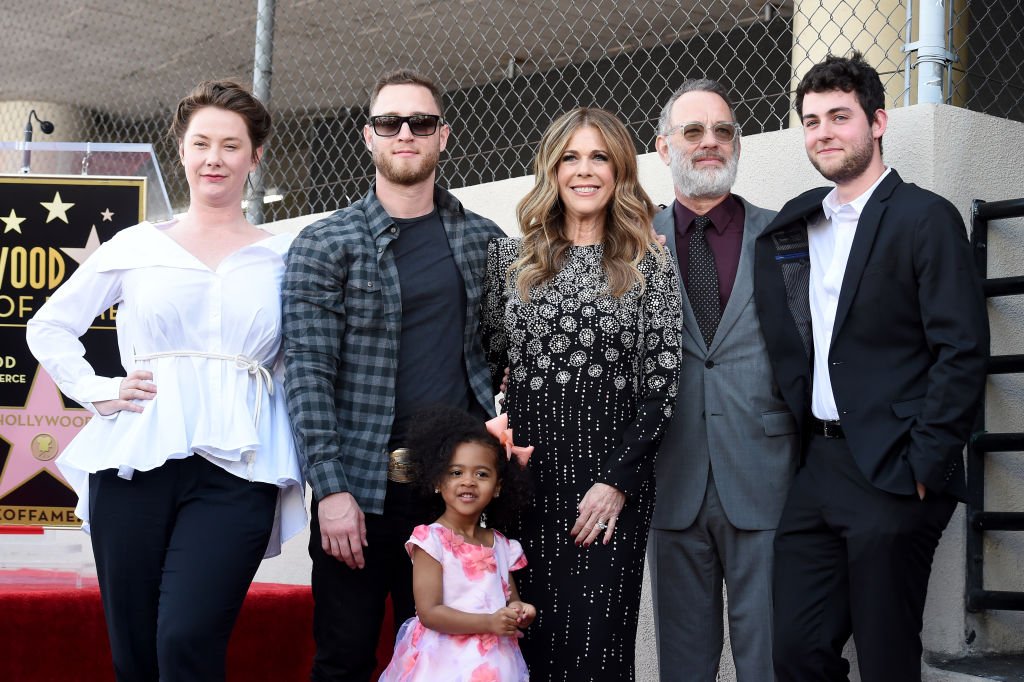 Chet Hanks, his daughter Michaiah Hanks, Rita Wilson, Tom Hanks and Truman Hanks attend the ceremony honoring Rita Wilson with Star on the Hollywood Walk of Fame on March 29, 2019 in Hollywood, California. | Photo: GettyImages
On top of that, Rita and Tom were incredibly supportive of his journey in rehabilitation, with Chet admitting that his mom knew even before him that he would have drug-related problems.
Still, the power couple offered nothing but love and support for their son, and after Chet took to Instagram to share his experience in rehab, Tom told ET that as a parent, he loved his kids unconditionally.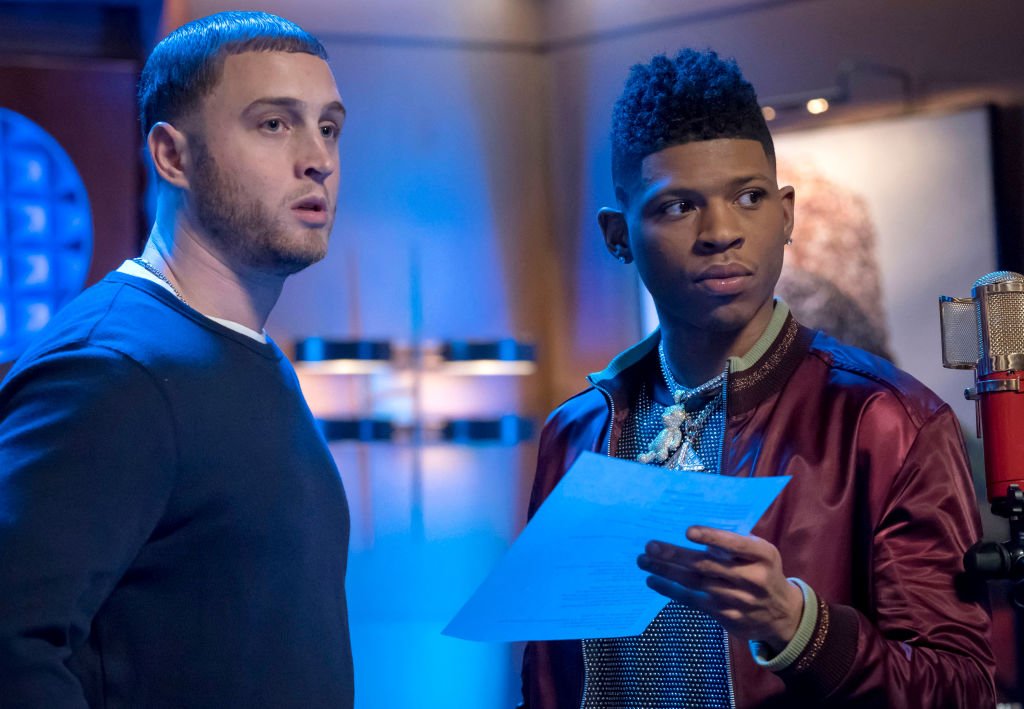 Chest Hanks and Bryshere Gray in the "A Lean & Hungry Look" episode of "EMPIRE" airing Wednesday, May 2, 2018 | Photo: GettyImages
The two-time Academy Award winner praised his son's courage to share his story so publicly on social media, saying,
"You got to applaud the bravery and honesty when it actually comes out of your own house."
Chet has been sober for the last five years, and it didn't take long for him to get back on track and start building a career for himself, making his parents proud.
CHET'S MUSIC & ACTING CAREER
Chet, also known as Chet Haze, met Drew Arthur, a reformed addict and musician, through some mutual friends. Soon, the two young men decided to team up in a group, FTRZ, and release an EP.
Their first single, "Models," talked about both Chet and Drew's struggles with addiction and how they managed to get out of that world and reclaim their lives after rehab to follow their dreams.
Chet and Drew explained to ET that they hoped their music could help people going through the same struggles they did.
Chet said that it was important for him to be honest and share his story because there's a stigma around people who get sober.
"If you just get sober and try to keep it a secret, you're not really helping anybody," the now 29-year-old said.
Aside from his music career, Chet also continued pursuing an acting career. That's how he landed recurrent roles on "Shameless," and Fox's "Empire," where he got the part of a rapper and had the chance to showcase his two talents.
Please fill in your e-mail so we can share with you our top stories!