Tichina Arnold of 'Martin' Teaches Daughter Alijah Kai Haggins How to Drive and It Was Intense
Tichina Arnold shared a hilarious clip revealing her distress while teaching her daughter how to drive. She panicked at one point because of what her daughter unexpectedly did.                    
Tichina Arnold had some important lessons to impart about teaching your teen how to drive. In a recent post, the "Daytime Divas" actress admits, it "could be intense."
Tichina has been teaching her daughter, Alijah Kai how to drive and she recently shared one of the clips she filmed during their lessons to prove a point.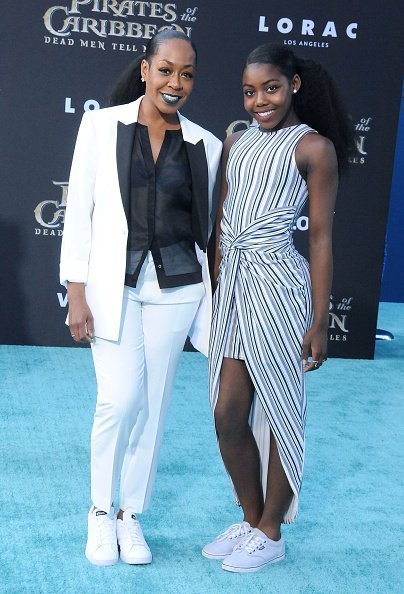 The clip showed Tichina sitting in the passenger seat of the car while Alijah took the wheel. The "Martin" star was quiet in the beginning, appearing cautious of what might go wrong. Alijah seemed to be intent on getting it right, she sat quietly and focused on the road.
Tichina is a single mother to Alijah who shocked her when she came into her life.
WHY TICHINA PANICKED
Tichina coached Alijah to stay on her lane and avoid swerving like other cars on the road then she mouthed the words "Help me" to the camera.  But not too long after, Tichina panics when she realizes her daughter shifted abruptly to the right.
She asks Alijah why and the teen explains that she had to fix her blouse because her breasts were popping out. Tichina was obviously dismayed when she looked at the camera to signal her distress. 
A LESSON FOR HER FOLLOWERS
The clip ended there but the 50-year-old singer had something to say to her Instagram followers in her message that accompanied it.
"Please excuse the graphic language between @alijahkai and I…but teaching a teen to drive, could be a bit intense," she wrote and explained that she usually films their driving lessons for others to enjoy it. However, she added, "that didn't go so well this day."
 SINGLE MOM
Tichina is a single mother to Alijah who shocked her when she came into her life.  She knew her chances to get pregnant were slim due to her endometriosis but somehow, she was blessed with a daughter.
Tichina admitted in the past that it was a challenge raising her child alone. But she is grateful for the help she got from her mother, aunt, and sister.
Growing up, Alijah was tied to her mom in every possible way. She even inherited her mom's singing and acting skills. Having grown up on the sets her mother used to work on, Alijah later dipped into acting herself appearing in most of her mother's shows.
As for singing, if you're a fan of Tichina, you'd catch their many mother-daughter singing clips on her Instagram. The two can just break into song anywhere including the car.