The Sun: Duane 'Dog' Chapman's Fiancee Francie Frane Reportedly Had No Idea Who He Is
For the first time, Francie Frane revealed the curious set of events that lead to her meeting Duane Chapman, blissfully unaware of his celebrity status or how he got it.
Little did Francie know that a prayer she sent last year would be answered in the most unlikely of ways. That what she wanted most would literally call her up on the phone, but that is a small part of Francie and Duane's fascinating love story.
During an exclusive interview with The Sun, Francie explained how the events unfolded last summer after "god gave her a message."
THE MESSAGE 
Francie and a close girlfriend went to Arizona for ministry work, but as they sat in the hotel room listening to music, Francie's friend noted that Beth Chapman passed away from throat cancer two days before.
Without context on Beth's celebrity status, Francie recalled her response, "And I said, 'Oh my gosh, that's so sucky. I hate cancer'. We had that conversation for a minute, and then I said to her, 'Who's Beth Chapman?'"
THINGS MUST HAVE GOTTEN 'TWISTED'
Stunned, Francie's friend soon learned that she had no idea who "Dog The Bounty Hunter" is either. Convinced that Francie would recognize a picture, her friend showed her one, but all that Francie thought of the man in the picture is that the "guy needs a haircut."
When her friend said the next morning that Francie would meet Duane Chapman, she merely laughed and told her friend that her "God antennas are all twisted."
THEN THINGS GOT WEIRD
However, when Francie received a voicemail from a man named Doug Chapman in August a few months later, it marked the start of her prayers becoming a reality.
It had been six months since her late husband Bob passed away due to cancer, just as Beth Chapman had. By then, answering any calls or voicemails that came through on Bob's phone had become too "difficult," so she usually deleted whatever came through without looking.
But Francie's 8-year-old grandson had taken over her late husband's phone, and then she spotted that three messages had come through while it laid on the couch beside her. 
Francie deleted the first two, but before she could do the same with the third, it just popped up and started playing over the phone's speaker.
A man named Doug wanted to talk to her late husband about doing work on his property after a mutual friend made the referral, and Francie decided to call the man back.
IT ALL BECAME CLEAR
When Francie told Doug that her husband had passed away, both started crying, and that's when Francie realized her friend's prediction had come true.
I hear him take this big, deep breath, and he says, 'My name's not Doug, it's Dog The Bounty Hunter,'" Francie told the publication. "I take the phone away from my ear, and I'm looking at it, and I'm going, 'What's going on right now?'"
After that, everything fell into place. Francie and Duane bonded over their shared grief and found new hope of love and life in each other.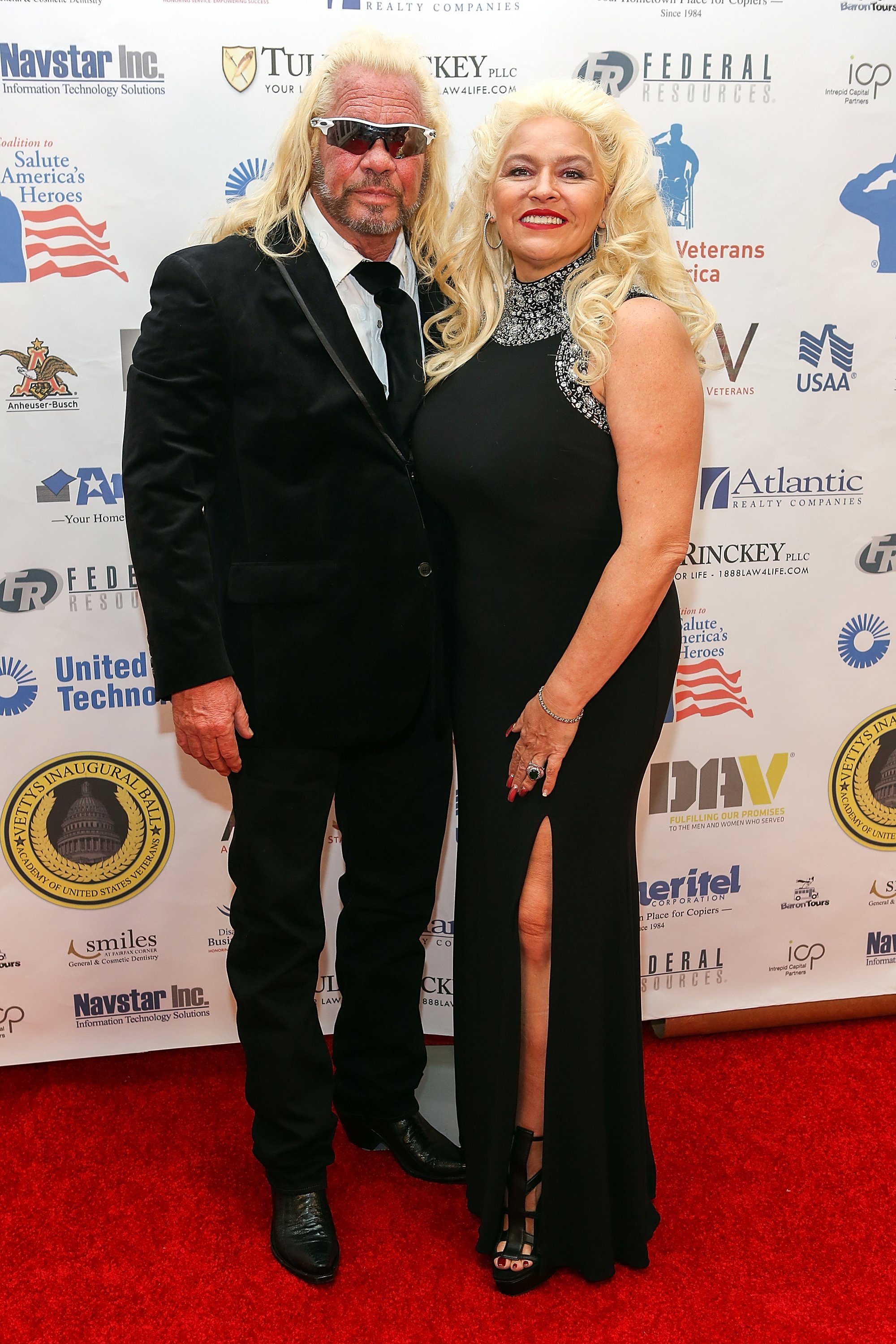 BETH WOULD APPROVE
When Duane proposed to the 51-year-old rancher last weekend, she "wasn't expecting it at all." While at their Colorado home, the reality star made sure to set the tone with candlelight before popping the question.
Neither Francie nor Duane want to replace the spouse the other had lost, but they deserve love, and to be loved, as Duane previously told PEOPLE that he needs a partner in his life.
Since the pair make each other happy and Francie's morality is in line with their perspective, Duane knows that Beth would approve of their union and would tell her "Big daddy" not to "lose her."
MEMBERS OF DUANE'S FAMILY APPROVE TOO
Two other women in Duane Chapman's life also approve of his new love. After the couple got engaged, Duane's daughter Bonnie and Lyssa gushed about the new development in their dad's life.
Of the opinion that Francie is good for their father, it also "means the world" to the two sisters to see their father happy again, knowing that he deserves to find love again.