Duane 'Dog' Chapman's Daughters Lyssa and Bonnie React to His Engagement to Francie Frane
Duane "Dog" Chapman and his girlfriend Francie Frane got engaged, and the bounty hunter's daughters Bonnie and Lyssa are welcoming her to the family with open arms.
Ten months after Beth Chapman died following her battle with cancer in June last year, Duane proposed to his new girlfriend Francie Frane at his Colorado home while candlelight set the tone.
Even though Duane's daughter Lyssa, who had been outspoken about her father's love life, admitted that she found it "hard" to see her father move on, she is grateful to see a smile on his face again.
Lyssa told The Sun that Francie and Duane are "really cute" together, and added that it had been selfish of her and other people, to pass judgement on her father moving on and added:
"It's selfish to put your judgment on someone and say, 'You didn't wait long enough.' You don't know what someone's going through."
To congratulate the couple, Lyssa took to social media with a snapshot of an article and wrote a short but sweet caption over it: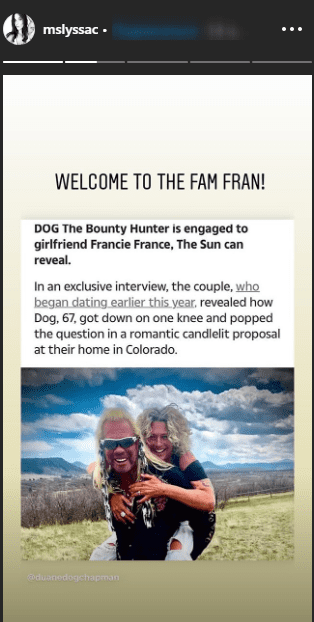 The couple met last year when Duane tried contacting her husband to do some work around his home and ended up speaking with Francie instead.
However, Duane soon found out that Francie had lost her husband due to cancer just like he had lost Beth, and the pair started bonding.
After the pair became Instagram official, Francie also posted an update on her feelings for Duane while thanking everyone for their "encouraging comments."
Stating that God brought them together while showing them that finding love again is possible, Francie said she had no doubts about the future of their relationship.
Because the pair are crazy in love, seeing her father happy means the world to Bonnie. And in response to a comment posted by one of Duane's followers, Bonnie made her feelings known.
Sharing her appreciation for the support her father receives from his fans and the realization she had also come to, Bonnie wrote: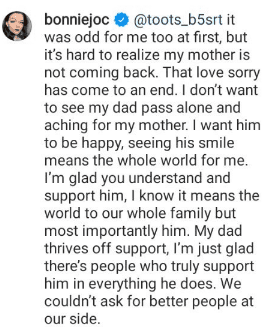 Lyssa previously gushed about Francie and said that she is a "good woman for [her] dad." The couple attends church together three times a week, and in addition, Duane Chapman even tackled giving up smoking.
Since both Francie and Duane don't expect to replace each other's lost spouses and have fallen in love, Lyssa is sure that her mom Beth approves of Duane being happy again, and "watching down over them."