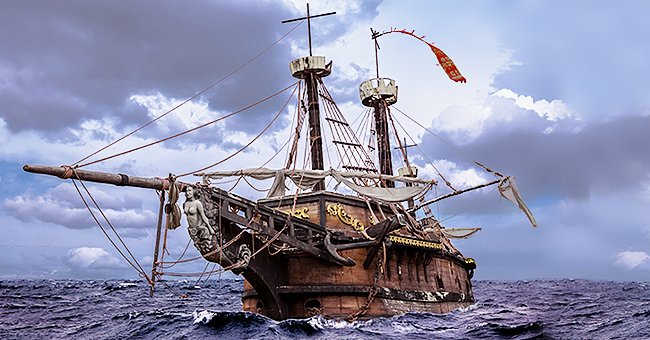 shutterstock.com
Daily Joke: Brave Captain and His Sailor Crew Were Sailing the Ocean
A captain and his sailor crew were sailing the ocean when they came across unfortunate circumstances, but the brave captain inspired his men to be courageous using strange tactics.
On a beautiful and sunny day, a captain and his sailor crew were sailing the ocean and having a good time when they spotted danger looming towards them.
Ahead of the men was a pirate's ship advancing towards them. The pirate's ship looked fearful as it advanced with a skull and crossbones raised on the mast.
Sensing the impending doom approach, the sailors went to their captain and asked what they were going to do as everyone on board was becoming frantic.
Understanding the fear of his men, the brave captain asked that they bring him his red-colored shirt while he contemplated what to do.
Noting the urgency in the captain's voice, a cabin boy ran to get the shirt and wondered why the captain needed the shirt to fight off the pirates.
As soon as the captain had the shirt in his possession, he ordered the sailor at the wheel to head straight for the pirate ship while arranging his other men in strategic positions.
Charged and ready for war, the men engaged the pirate's ship in a gruesome fight and were victorious as they destroyed the ship.
When the peace had been restored, the sailors began recounting their individual triumphs during which someone asked the captain why he had requested for his red-colored shirt before the battle. Smiling, the captain responded, saying:
"If I was wounded, I did not want your confidence to wane. This way, you would keep fighting no matter what happened to me."
Following his explanation, the crew had a newfound admiration for their captain and talked about his bravery all night long.
About a week after their victory, the crew looked ahead and noticed that on the horizon, ten pirate ships were waiting for them.
Once again, the men looked to their captain for leadership and direction on what to do. Calmly, the captain turned to them and said: "Boys, bring me my brown pants!"
For more interesting jokes, click here.
Source: Startsat60
Please fill in your e-mail so we can share with you our top stories!