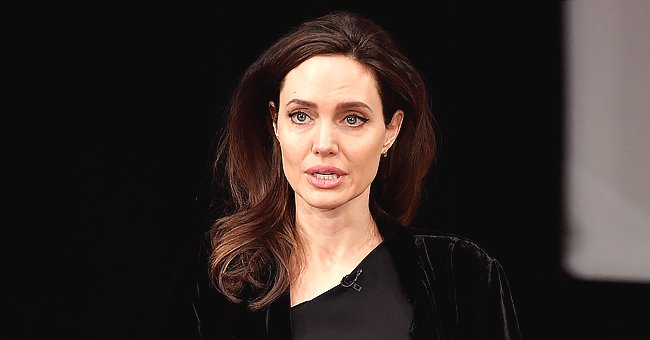 Getty Images
Angelina Jolie Opens up about Losing Mom Marcheline Bertrand

Angelina Jolie is more of a private person when it comes to her family. This Mother's Day, however, she opened up about her late mom in an empathetic writeup for the New York Times.
Angelina Jolie, 44, celebrated Mother's Day with the rest of the world on Sunday. For her, things were a bit different as her mom, Marcheline Bertrand, is no longer with her.
Jolie did a written interview for the New York Times about what others are going through today, and how she can relate since she lost her mom years ago.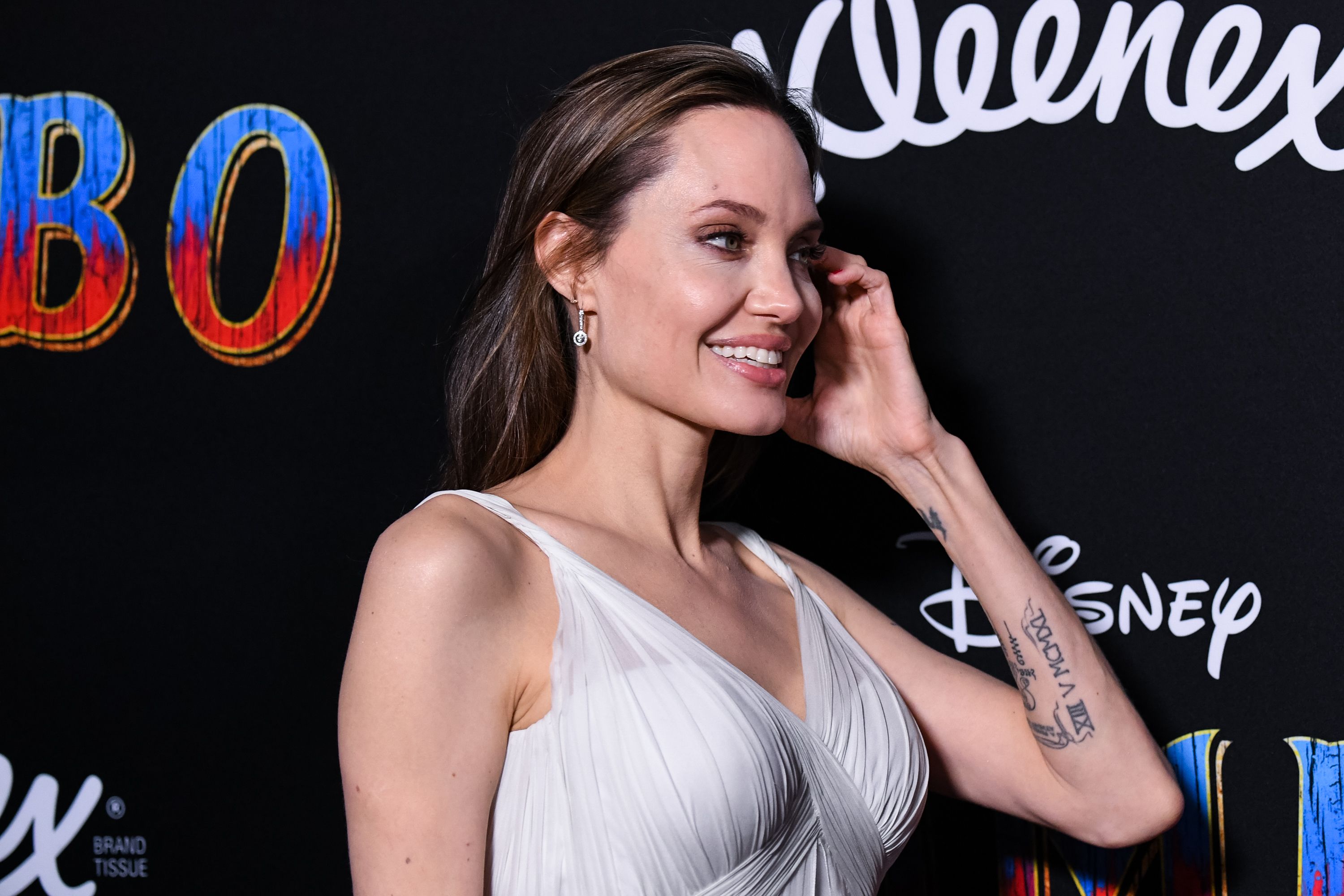 Angelina Jolie at the premiere of Disney's "Dumbo" on March 11, 2019, in Los Angeles, California | Photo: Getty Images
ANGELINA REMEMBER'S HER LATE MOM
As a result of the coronavirus pandemic, many people have unexpectedly lost loved ones in the past few months. Jolie, however, lost her mom in her thirties.
The actress acknowledged that the loss of a mother is always difficult, but things are even more challenging these days since people are dying without someone by their side during their departure.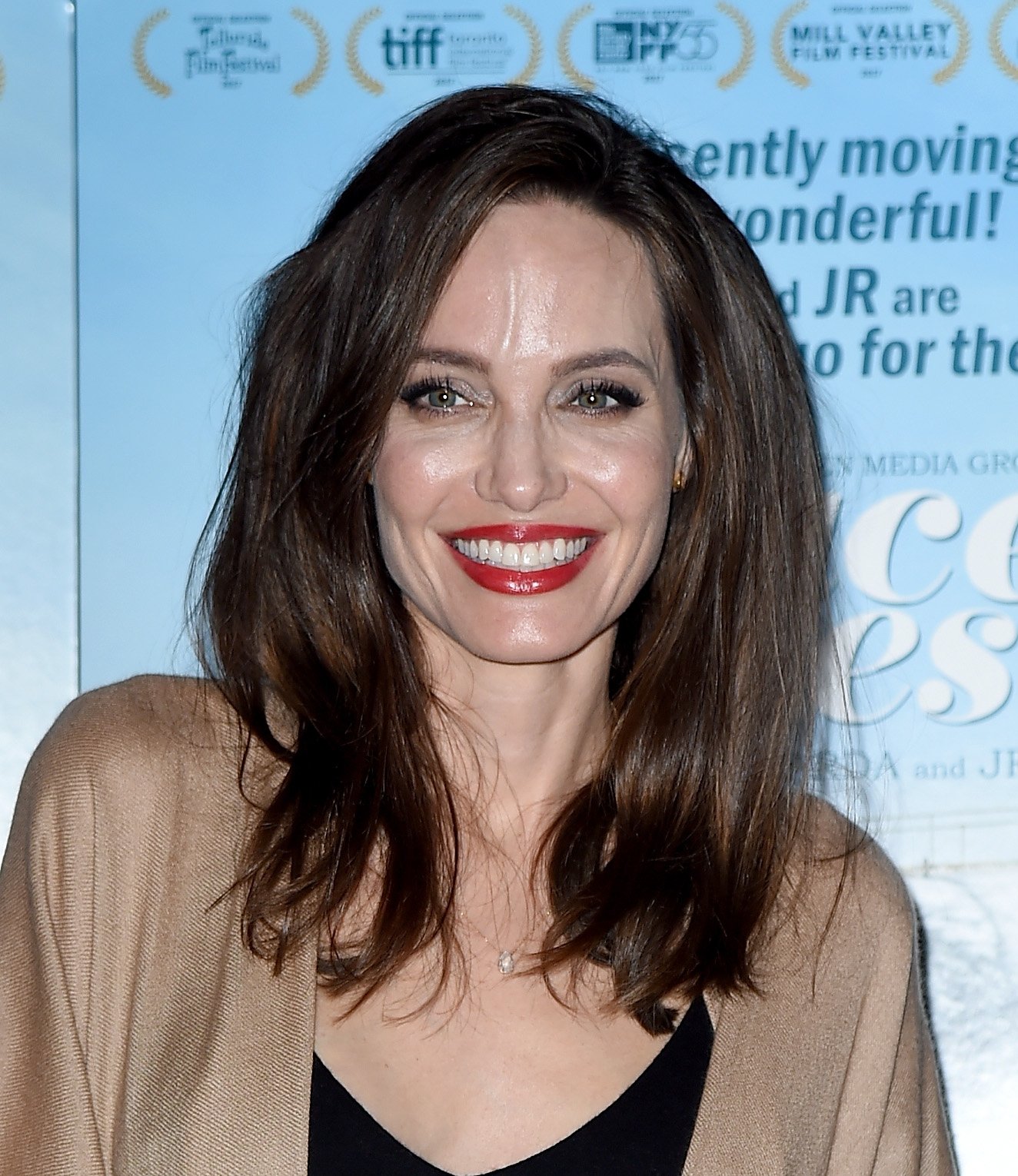 Angelina Jolie attends the premiere of Cohen Media Group's "Faces Places" on October 11, 2017, in West Hollywood, California. | Source: Getty Images.
A TATTOO THAT HOLDS MEANING
Jolie knows how death can change a person, as it's happened to her. She writes, "It was not sudden, but so much shifted inside." To remember her mom, Jolie got a small tattoo on her right hand.
Although it looks like an "m" that most people think represents Bertrand, the tattoo is actually a "w" for "Winter," the Rolling Stone song Jolie's mom would sing to her as a young girl.
She continued: "Losing a mother's love and warm, soft embrace is like having someone rip away a protective blanket." Yet Bertrand wasn't just motherly. She was fierce, too.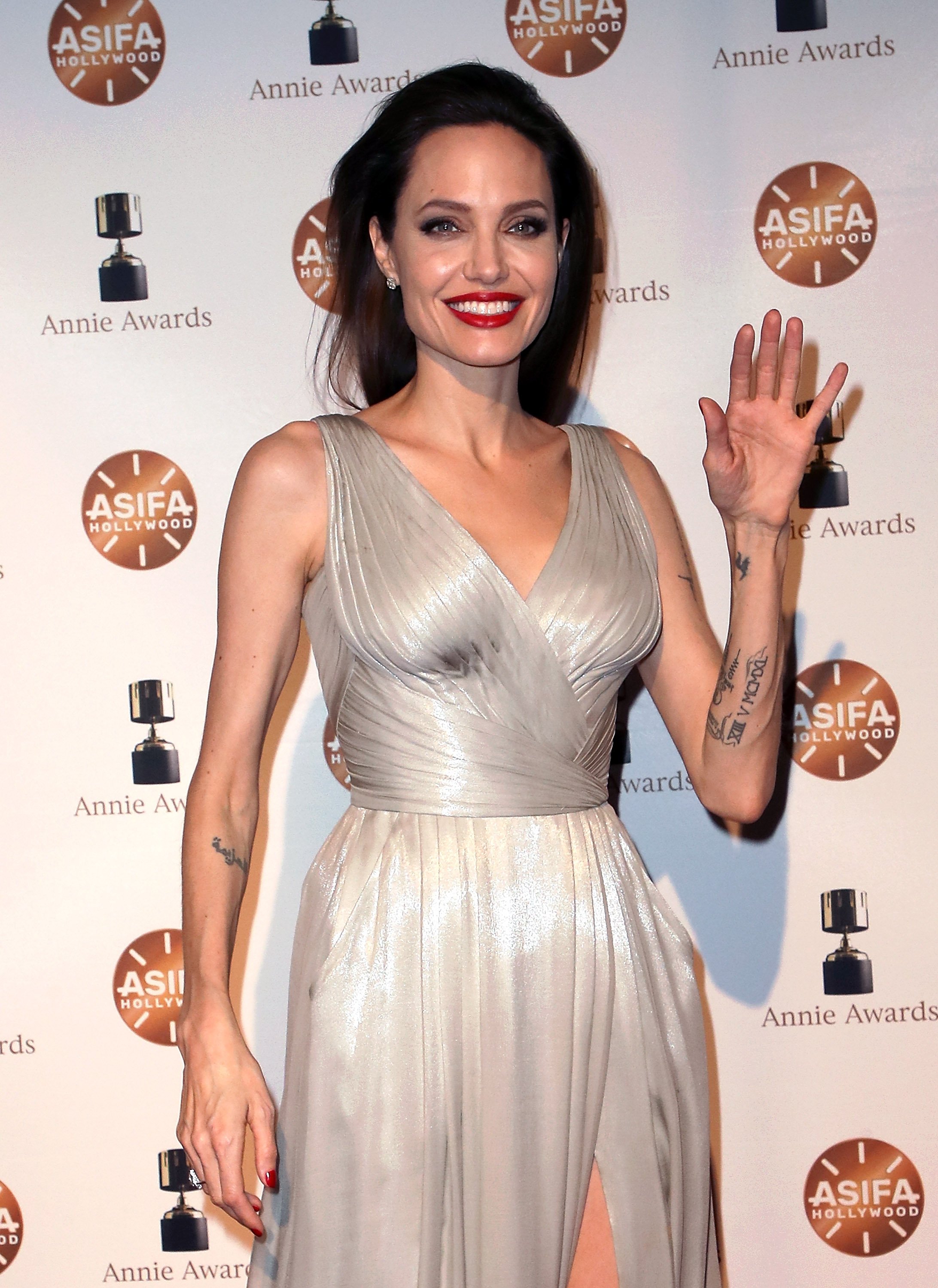 Angelina Jolie attends the 45th Annual Annie Awards on February 3, 2018, in Los Angeles, California. | Source: Getty Images.
The "Tomb Raider" actress noted: "She loved to feel alive. She loved to laugh. When I was down, she would break out those rock songs and remind me of the fire within."
CREDIT TO MOM'S FIGHTING
Raised in Chicago, Bertrand also lost her mom early on — in her twenties. Jolie's mom aspired to become an actress but found herself raising two children and pushed aside by a powerful ex-partner.
Jolie went on to talk about the refugee mothers she'd met in activism who were doing everything they could for their children. She said a mother was "the strongest person on earth."
GETTING SURGERY FOR HER KIDS
The "Maleficent" actress did not touch on her mom's cause of death. Yet last October, she discussed how her mom's breast cancer affected her and her family.
In another written interview, Jolie revealed that her mom, aunt, and grandmother all died because of breast cancer. When she tested positive for the gene, the actress underwent a double mastectomy herself.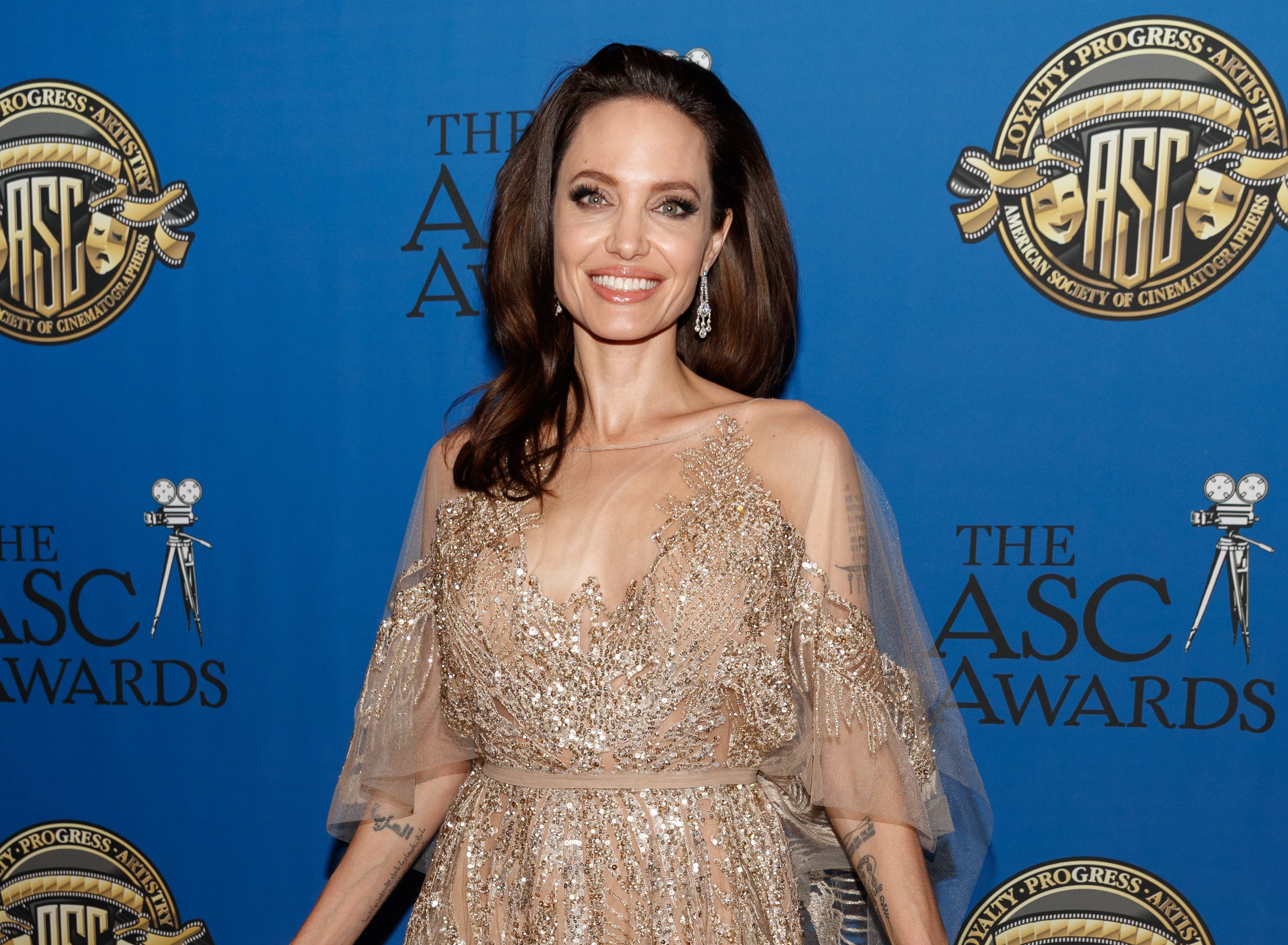 Angelina Jolie attends the 32nd Annual American Society Of Cinematographers Awards on February 17, 2018, in Hollywood, California. | Source: Getty Images.
Regarding her decision, she said, "I simply feel I made choices to improve my odds of being here to see my children grow into adults, and of meeting my grandchildren."
Jolie also did an operation to remove her ovaries and fallopian tubes. She shares six children, Maddox, 18, Pax, 15, Zahara, 14, Shiloh, 13, and Knox and Vivienne, 11, with ex-husband Brad Pitt.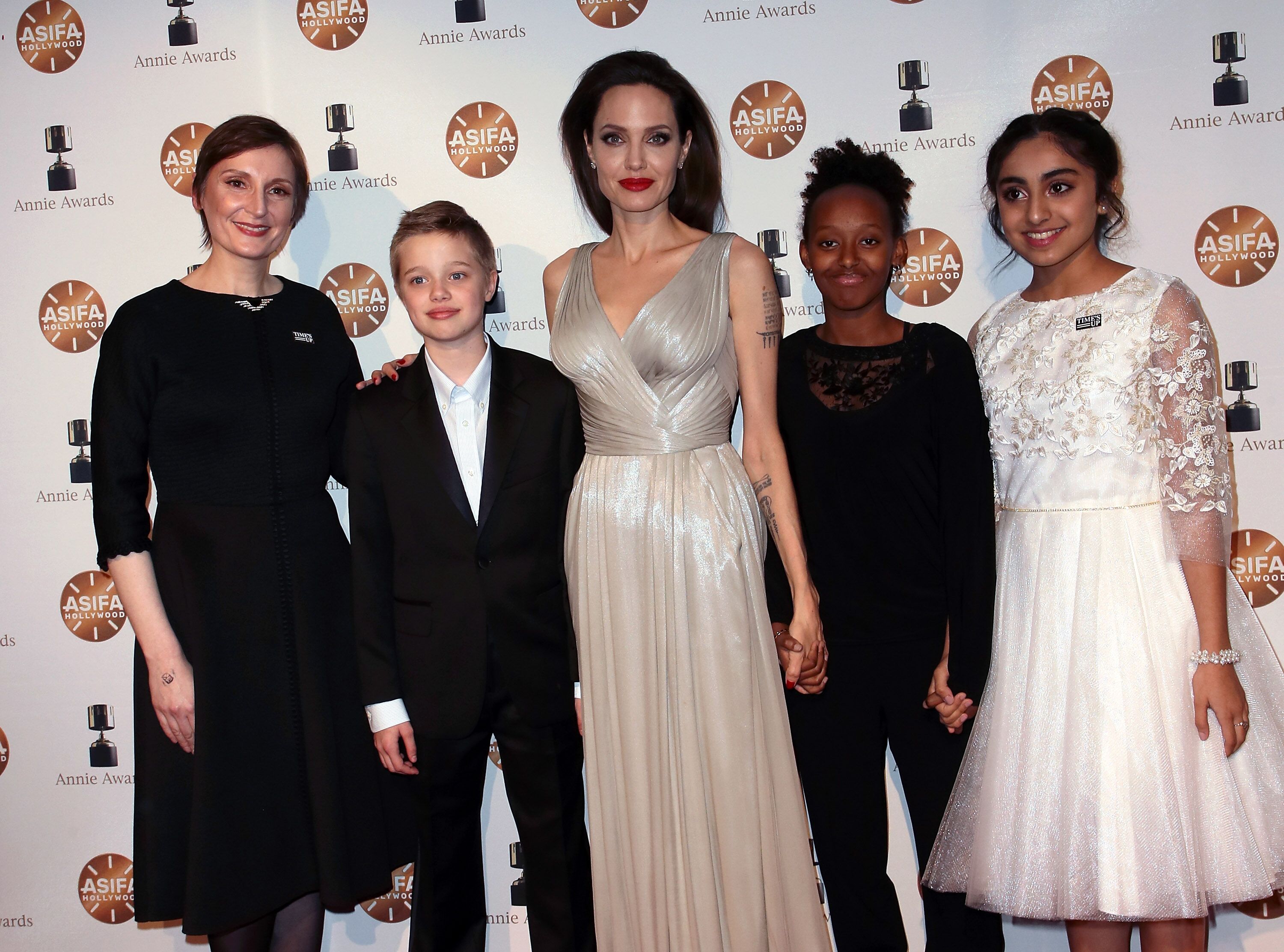 Nora Twomey, Saara Chaudry, with Angelina Jolie and her kids at the 45th Annual Annie Awards in Los Angeles. | Photo: Getty Images
ANGELINA TALKS QUARANTINE AND AID
Earlier this month, the actress talked about quarantining with her kids amid the COVID-19 lockdowns. The situation follows a series of hospital visits for Zahara and Shiloh.
Jolie confirmed that the family was doing alright on a virtual segment with Time magazine. She also talked about her activism for children around the world, especially with school shutdowns in place.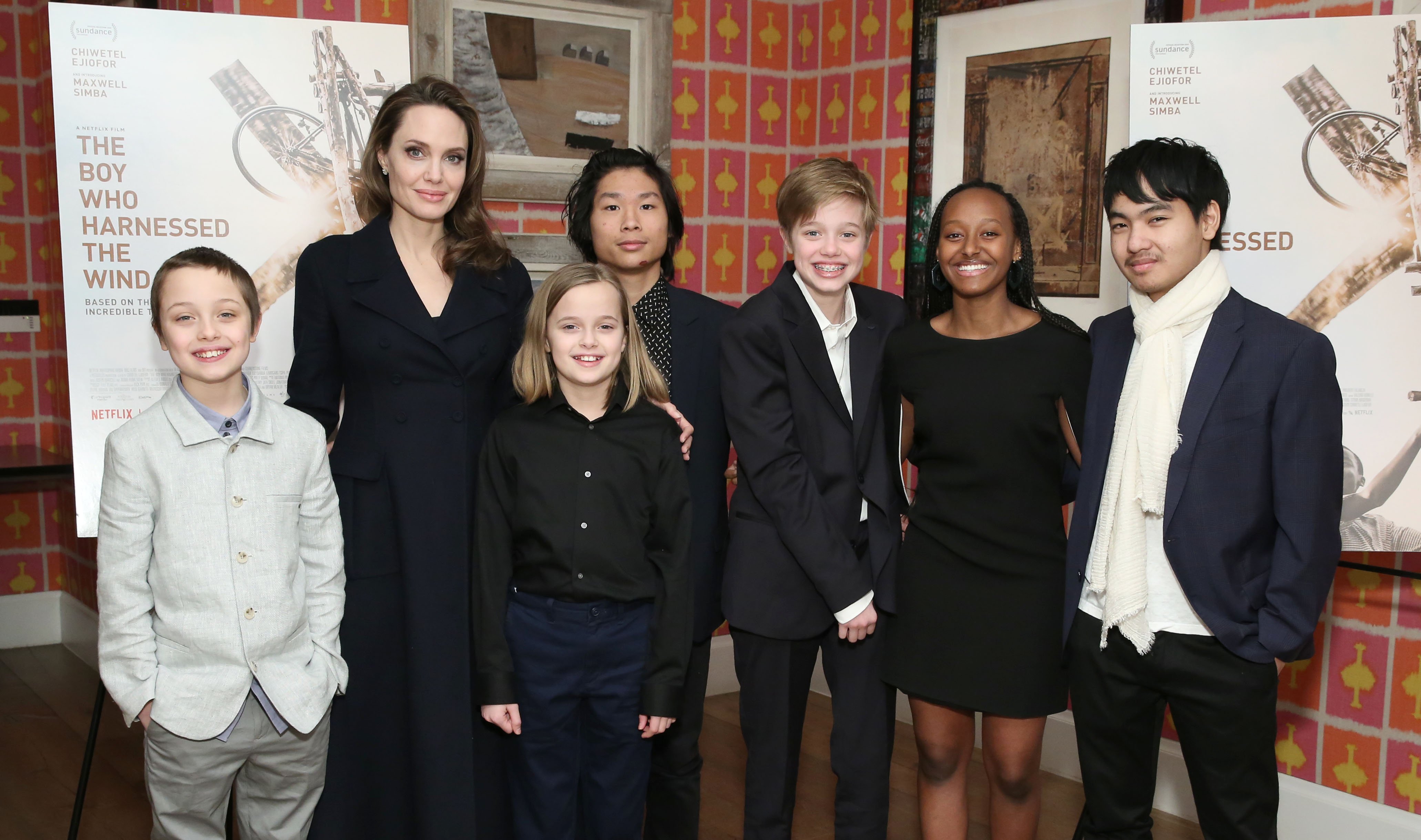 Angelina Jolie with children Knox, Vivienne, Pax, Shiloh, Zahara and Maddox attend "The Boy Who Harnessed The Wind" Screening on February 25, 2019, in New York City. | Source: Getty Images.
For her part, Jolie sent aid amounting to a million dollars to the No Kid Hungry organization. She also encouraged everyone to continue supporting each other. We're happy she has her kids for support.
Please fill in your e-mail so we can share with you our top stories!