Shutterstock.
Kelly Ripa and Mark Consuelos' Son Michael Looks like His Dad's Twin in a New Photo
Kelly Ripa and husband Mark Consuelos are the proud parents of a college graduate as their son Michael just graduated from NYU. However, there is no doubt where the 22-year-old's good looks come from.
Overjoyed with her son Michael's milestone achievement, Kelly Ripa took to social media to commemorate his graduation from college with a sweet snap.
In the picture, Kelly sat next to Michael holding up her "proud mom" tassel, but it's his likeness to dad Mark that really catches the eye. Above their smiling faces, Kelly wrote, "This kid! #NYU #2020," with a big arrow pointing down at Michael.
With social distancing regulations in place, graduates from all over the country had to make do without the customary celebrations alongside their peers, and instead attended online graduation.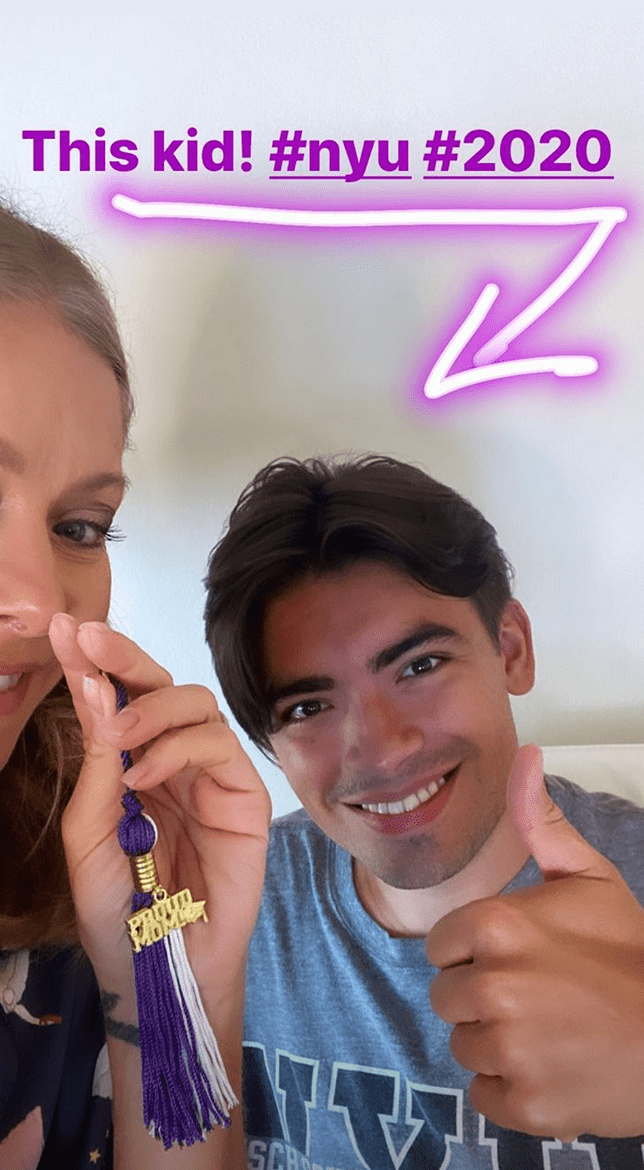 Kelly Ripa congratulating her son Michael on his graduation in May 2020. | Source: InstagramStories/kellyripa.
In a throwback picture Kelly later posted to social media, she got nostalgic in the caption - a feeling the endearing image already brings about. Brother Joaquin, dad Mark, and Michael wearing his gown all had their backs to the camera. Noting the fleetness of time, Kelly wrote:
"Four years passed in the blink of an eye and today you take your final exam. Congratulations Michael! You're a virtual graduate. Literally!"
Michael's skills already earned him a job on "Live With Kelly and Ryan," as this period, his mom spent filming remotely the 22-year-old practically produced her end of the show.
When Kelly shared the happy news of Michael's new job with co-host Ryan Seacrest on their show earlier in the month, she added that he doesn't think it's a big deal. Kelly thought that Michael would be over the moon, having secured a job in his field before he even graduated, but all Michael had to say was, "Uh, yeah."
Understandably Kelly felt disappointed that she won't see her firstborn walk across the stage to accept his diploma, but Michael took the change to this year's proceedings in his stride.
Earlier this month, Kelly Ripa and Mark Consuelos celebrated a magical 24 years of marriage. They are the first ones to admit that it takes hard work to keep a marriage thriving, but they are still as in love with each other now as back then.
To celebrate the day, Kelly posted a heartwarming video montage that showed highlights of her life with Mark over the years, including family vacations and the births of their three children.
Please fill in your e-mail so we can share with you our top stories!