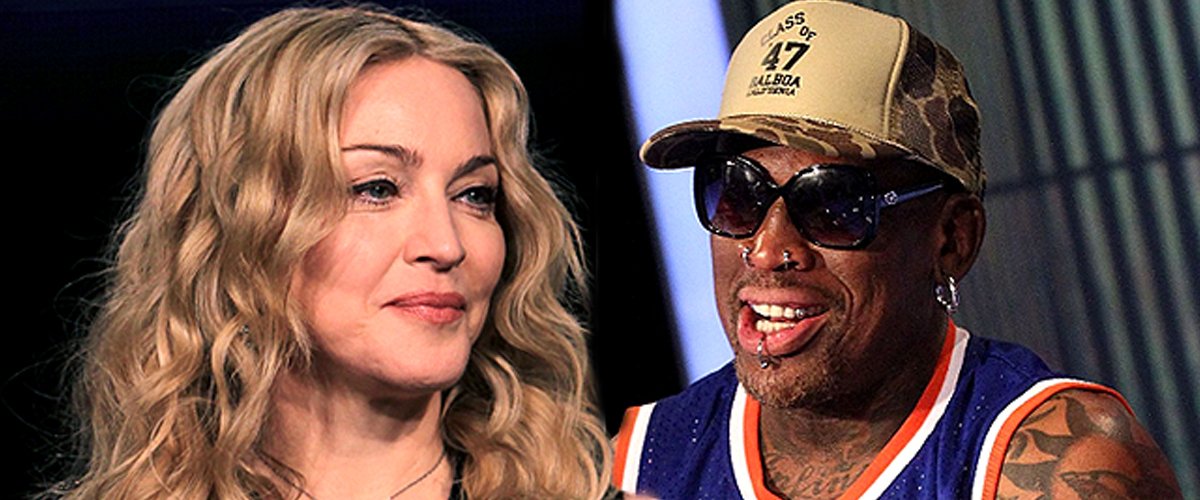 Getty Images
Dennis Rodman Reportedly Faxed Madonna about Wanting Six Kids — A Look Back at Their Relationship
Former NBA player Dennis Rodman, who has always had an eccentric reputation, allegedly sent Madonna a fax message telling her that he wanted to have six children with her.
Born on May 13, 1961, Dennis is known nowadays as one of the best rebounders who ever played the game. Unfortunately, he had a very tough childhood, and his romantic relationships used to make a lot of headlines.
If I got her pregnant, she'd pay me $20 million.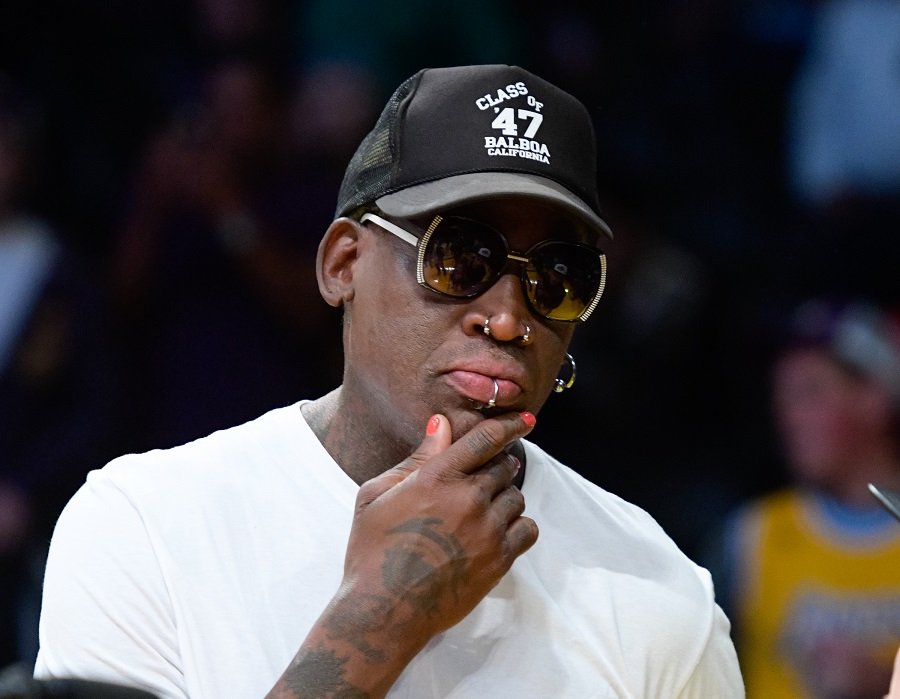 Dennis Rodman on November 25, 2016 in Los Angeles, California | Photo: Getty Images
DENNIS RODMAN'S SPOUSE
The woman who stayed by his side for longer was his ex-wife Michelle Moyer. The former couple met in a bar back in 1999, and a few months later, she got pregnant.
In 2000, Dennis Rodman Jr. was born. One year later, they welcomed their daughter Trinity. With two kids to take care, walking down the aisle was the obvious next step in their relationship, and so they did in May 2003.
Their marital bliss didn't last long, though, as Michelle filed for divorce the following year. Even though they tried to make amends for eight years, their marriage completely fell apart in 2012.
Michelle was neither the only woman that Dennis dated nor the most famous. That title goes to the one and only Madonna.
DENNIS RODMAN AND MADONNA'S RELATIONSHIP
In 1994, the NBA legend and the Queen of Pop met each other for the first time, and she felt attracted to him almost immediately as she asked for his phone number. However, Dennis didn't give her his phone number but his fax.
The following day, she faxed him wondering what his problem was and if he was trying to play with her.
Eventually, things between them improved, and they started exchanging loving and even sexy messages. As described in "Madonna: An Intimate Biography of an Icon at Sixty," Dennis Rodman once faxed her:
"I want to have six kids. What do you think?"
MADONNA REPORTEDLY WANTED TO START HAVING KIDS RIGHT AWAY
The singer replied that she was completely okay with the idea, but that in order to have six children together, they needed to start working on it immediately.
For whatever reason, Dennis was not really interested in her. Madonna, on the other hand, supposedly told her friends that she loved him, which is probably why she would call him "10 to 15 times a day," as explained in the book.
After a few months of engaging in that kind of relationship, Madonna heard that Dennis Rodman was sharing too many intimate details of her with mutual friends, so she ended their romance.
Things between them got especially bitter after the former NBA player released his memoir "Bad As I Wanna Be," wherein he explicitly and allegedly exaggeratedly opened up about his and Madonna's performance in bed.
Dennis described her in such a negative way that she even had to defend herself, claiming that her chapter in his book was filled with false information.
One of the supposed lies, for instance, is that they reportedly slept together "fifty to a hundred times." Allegedly, they did so only twice.
MADONNA REPORTEDLY OFFERED DENNIS $20M FOR A BABY
In another autobiography titled "I Should Be Dead By Now," Dennis claimed that Madonna was so obsessed about having a child with him that she would do as much as possible to promote conception. He wrote:
"She asked me that if I got her pregnant, she'd pay me $20 million. That's if the child was born."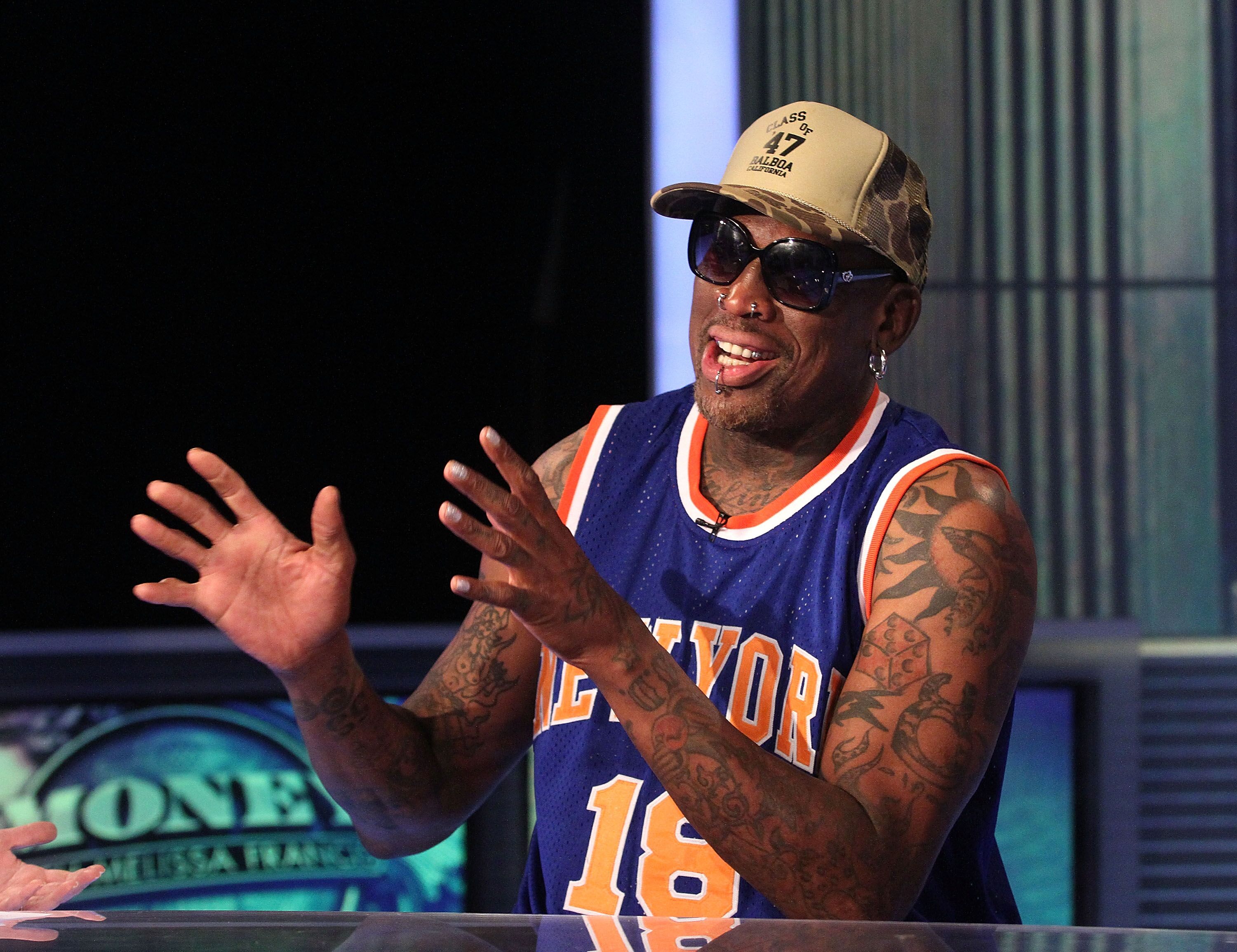 Dennis Rodman on December 9, 2014 in New York City | Photo: Getty Images
The truth is that they didn't have children together, mainly because their relationship is said to have lasted only a couple of months. At the moment, the former NBA star has only three kids, and two of them are up-and-coming athletes!
Dennis Rodman's daughter, Trinity, is a talented soccer player who has already represented the US in U-17 and U-20 tournaments. His son, Dennis Jr., is a dominant basketball player. Both of them play for the Washington State Cougars team.
Please fill in your e-mail so we can share with you our top stories!