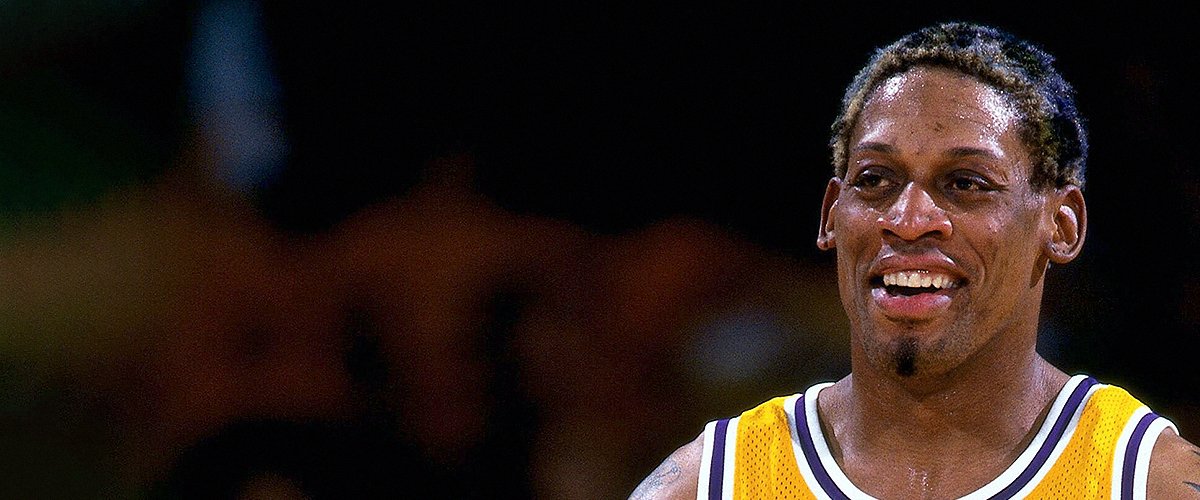 Getty Images
Dennis Rodman's Mom Shirley Kicked Him out of the House — inside Their Complicated Relationship
NBA legend Dennis Rodman, one of the greatest rebounders in basketball history, had a challenging relationship with his parents. His mom, Shirley, even kicked him out of the house.
Dennis was born on May 13, 1961, in Trenton, New Jersey. Unfortunately, he was destined to have a tough childhood as the relationship that his mother, Shirley, and his father, Philander, had was very negative.
She was the type of person that never showed love.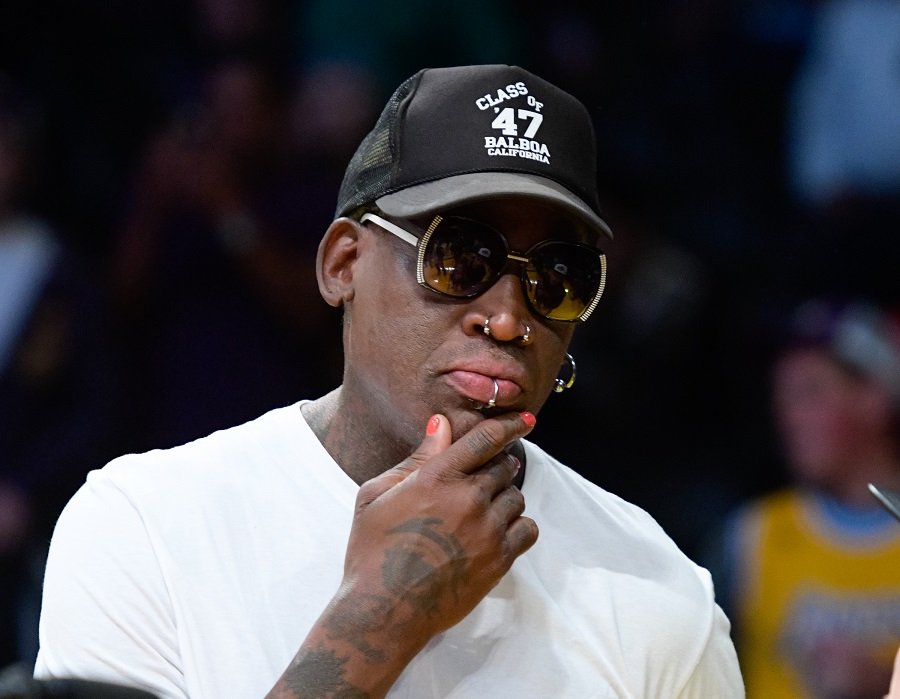 Dennis Rodman on November 25, 2016 in Los Angeles, California | Photo: Getty Images
DENNIS RODMAN'S CHILDHOOD
Eventually, Philander abandoned Shirley and the rest of the family, which was made up of Dennis and two young sisters. The single mother probably considered that there was nothing much left for them in New Jersey, so she moved to Dallas.
Things didn't improve for the family there, either, as she struggled to keep her children fed and clothed even though she would take any odd job that she could put her hands on.
During an interview that Dennis Rodman had with ESPN's "30 For 30," the NBA great confessed that his future didn't look bright at all and that the only options that he could see for his life were selling drugs, being in prison, or being dead.
While he was in high school, sports didn't seem to be his way out. Apart from the fact that he was cut from the football team, he was only 5 ft 6 in tall – not tall enough for the NBA.
By the time Dennis graduated from high school, Shirley had given him an ultimatum. He could either find a job or a new place to live. And she meant it. Dennis explained:
"She kicked me out. She changed the locks. I had a garbage bag full of clothes. I left the house, and I just sat on the steps down at the apartment complex."
DENNIS' PATH TO BECOME AN NBA PLAYER
Fortunately, a friend let him stay in the backyard of his house, where he used to sleep on a couch. From that point on, he would take whatever job that came his way, including folding boxes and throwing bottles away at 7-Elevens and working at a car wash.
A couple of years later, he grew up to be 6 ft 8 in. Since he spent most of his free time playing basketball, a family friend noticed how dominant he was and contacted the coaches at Cooke County Junior College in Gainesville, Texas.
Dennis agreed to attend the school and play for the basketball team, but he dropped off shortly later because of the schoolwork.
Only one year was enough for the coaches of the Southeastern Oklahoma State to notice his talent, so he ended up playing for that college. In 1986, he was the second-round pick of the Detroit Pistons. The rest is history.
Although Dennis Rodman's career in the NBA was outstanding, his relationship with his family never improved. In his 2005 book titled "I Should be Dead by Now," he wrote that his family was estranged and that he couldn't even remember the last time that he spent Christmas or any other holiday together.
He added that he "could never say, 'I love my mother'" and that she was the type of person that never showed love: she never hugged him or his younger sisters Kim and Debra.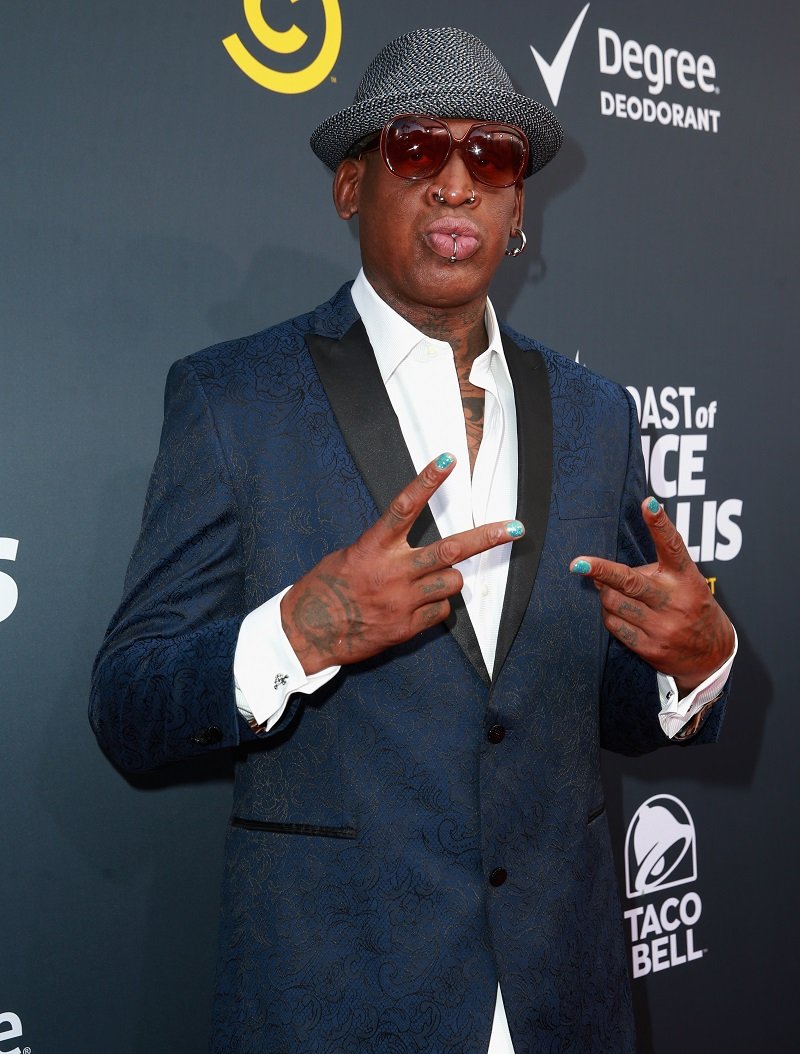 Dennis Rodman on July 14, 2018 in Los Angeles, California | Photo: Getty Images
HE EVENTUALLY MET UP WITH PHILANDER
Dennis confessed that he didn't hold any grudge against her because he knew she was a busy woman who worked four jobs at once to provide for her children.
However, he admitted to not being sure if he could ever "forgive or forget" the fact that she kicked him out of the house and forced him to be a homeless man for months.
His relationship with his father was also quite harmful. After being away for years, Philander showed up during a 1997 game between Chicago Bulls and Utah Jazz.
Since Dennis was late for practice, he simply dismissed the Black man who ran to his truck and told him that he was his father. The NBA legend believed that he was just another imposter trying to get money from him.
It turned out that the man was, indeed, Philander. He had just released a book about Dennis – a bestseller – and was signing autographs and doing interviews in the middle of the game. After explaining that Philander had 16 wives and about 29 children, Dennis said:
"I'm like, 'Whatever.' I was so used to not having a father after 37 years, I'm thinking, 'You know, it's a little late. It's a little late.'"
In 2012, Dennis and Philander met for the first time in 42 years after an exhibition game in the Philippines, where Philander lived. They were together for only three minutes, but promised to contact each other more often, said Philander.
During a break in the game, Dennis acknowledged his dad's presence over a microphone and even called him "father."
Nowadays, the NBA legend has three children. Two of them, Dennis Jr. and Trinity Rodman, are very talented athletes. His eldest daughter, Alexis Rodman, didn't follow in her father's footsteps.
In Dennis Rodman Jr.'s case, he is a basketball player who is playing for the Washington State Cougars team. Trinity, on the other hand, is a soccer player who has represented the US at the U-17 and U-20 levels. She also plays for the Washington State Cougars team.
Please fill in your e-mail so we can share with you our top stories!