How Pink Responded to Negative Comment after Reposting Billie Eilish's #BlackLivesMatter Post
Over the weekend, singer Billie Eilish addressed the murder of George Floyd at the hands of the police. Pink spoke up by sharing Eilish's post and showing her support for the singer's statement.
As with many issues, not everyone has been on-board with the riots occurring throughout the nation in regards to Floyd's untimely and unjustified death. People have been marching, burning buildings, rioting, looting, and more in response to the ongoing murders of people of color in the US by the police.
Eilish, 18, responded in support of the Black Lives Matter movement, which was at the forefront of the riots, by explaining the privilege that white people have as a collective. She also explained why the movement was named such and why the hashtag "All Lives Matter" was uncalled for at this moment.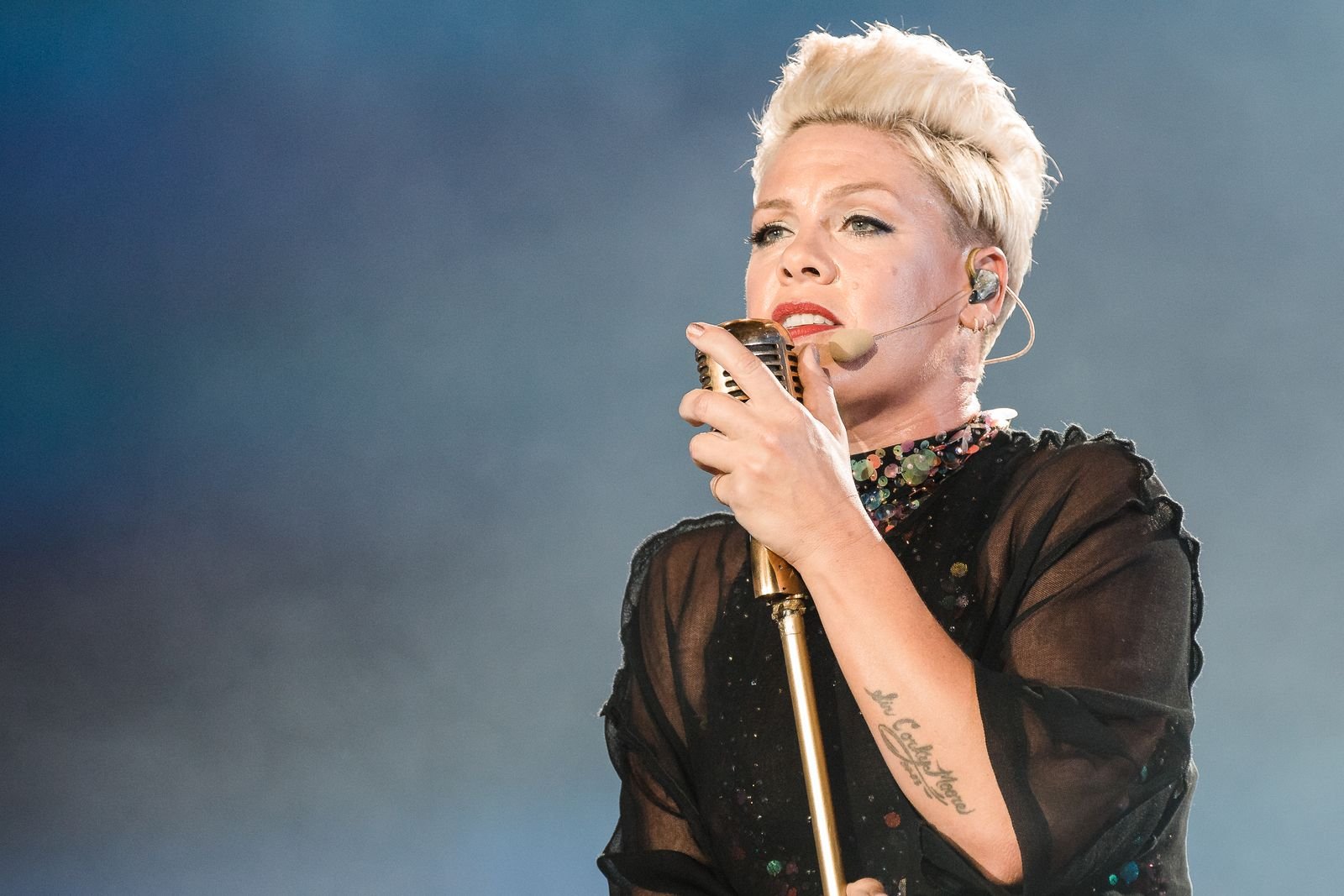 "SAY IT"
Pink, 40, shared Eilish's post and simply wrote: "Say it." She also included the hashtags "#justiceforgeorgefloyd" and "#blacklivesmatter."
This could happen to ANY ONE OF US! THAT is the atrocity!
FAN CRITICIZES PINK
The "Just Give Me a Reason" musician had to tackle some fans who responded to the post, seemingly, without reading it to comprehend the message. One person who claimed to have a "lawyer brain" shared how she understood where Pink and Eilish were coming from but quickly contradicted her statement.
SINGLING OUT A RACE
The fan alleged that Pink was singling out one race as being the only one that matters by inferring it with the "Black Lives Matter" notion. She continued claiming the slogan did a "disjustice" [sic] to Floyd's cause by lumping it together with the movement.
PINK SHUTS DOWN FAN
The woman lamented how Floyd's murder could've happened to anyone and called it an "atrocity!" alleging that the killing wasn't "about race." Pink responded to the woman's post stating:
"You are the epitome of white privilege and the saddest part is that you don't even hear yourself and probably never will."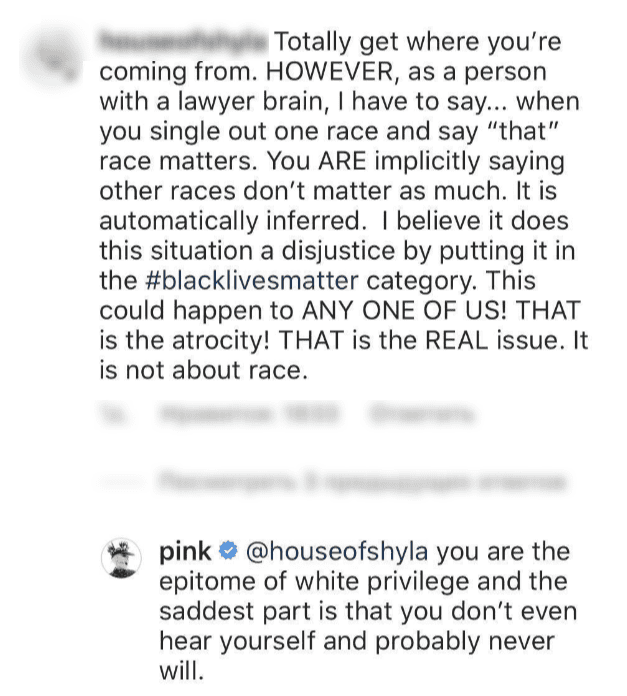 HOW DID GEORGE FLOYD DIE
Floyd died on May 25, 2020, after a Minneapolis police officer kneeled on his neck while arresting him. The victim died after the policeman refused to get his knee off even after Floyd stated several times that he couldn't breathe.
STARS SPEAK OUT
The "You Make Me Sick" vocalist isn't the only one addressing the Black Lives Matter movement. Musicians like Selena Gomez, Harry Styles, Lady Gaga, Jennifer Lopez, and many others have shared their thoughts on the matter.
Lopez urged people to go vote for change during the November 2020 elections.