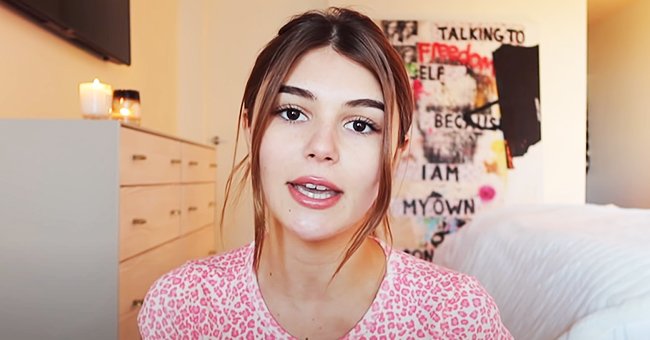 youtube.com/Olivia Jade
Lori Loughlin's Daughter Olivia Feels Awful about Having White Privilege Amid George Floyd Case
Olivia Jade Giannulli, the daughter of actress and convicted felon Lori Loughlin, has joined the ranks of people speaking up against racial injustice in the United States.
Yesterday, the YouTube star posted a message on her Instagram Stories, where she decried white privilege. In the message, the 20-year-old explained that it's not just enough not to be racist; instead, people need to take action against it.
In her message, Olivia Jade did admit that she had been born into privilege. Her parents are rich and famous, and she didn't always understand that these issues were present.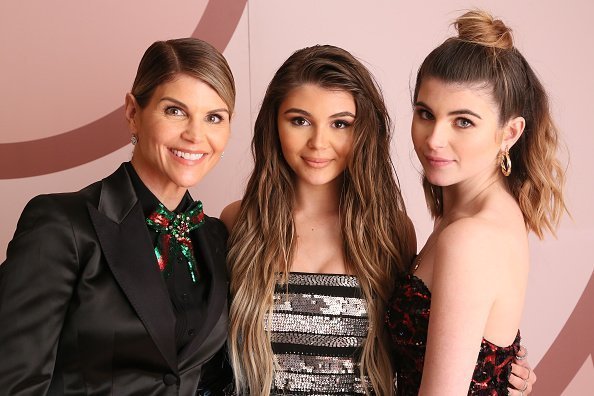 Lori Loughlin, Olivia Jade Giannulli and Isabella Rose Giannulli at Sephora.com on December 14, 2018. | Photo: Getty Images
However, she has become more understanding now, and she wants to learn more. The star goes on to encourage her fans to do the same. Olivia also takes a more pragmatic approach. She discouraged making racially insensitive remarks, even when casual. She also added:
"If you hear people saying disrespectful things. CORRECT THEM. Don't sit there & allow this to continue happening… it's outright wrong..."
The message is coming hot on the heels of massive protests across the country. Last week, footage showed Minnesota police brutally kneeling on George Floyd's neck, a black resident of the state.
George's death sparked massive protests across the country, with several states now being under siege. The demonstrations show no signs of abating, and more people are joining in.
Lori and Mossimo feel a great deal of remorse over what they did.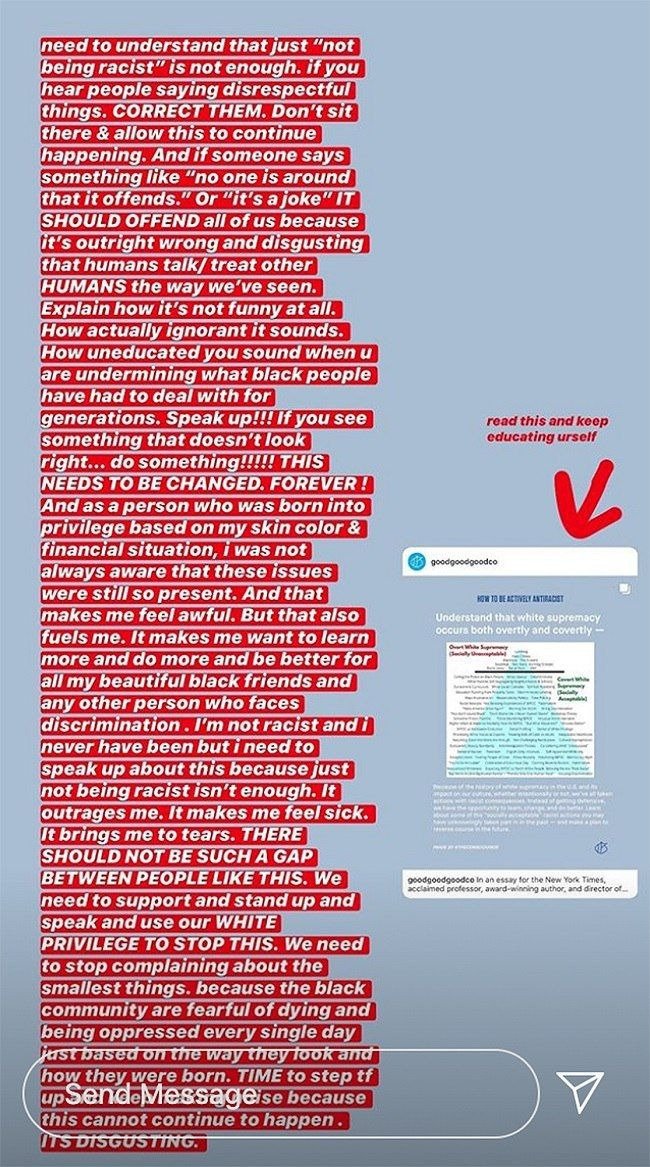 Olivia Jade speaking out against racism on her Instagram story. | Photo: Instagram/oliviajade
As for Olivia Jade, she's also got some problems of her own. Her mother, Lori Loughlin, got implicated in a college admissions scandal last year. Lori and her husband, Mossimo Giannulli, have pleaded guilty and are awaiting their sentence.
However, the sentencing itself won't be until August. A source recently confirmed that the couple was disappointed, as they hoped to get their sentence sooner. Per reports, the source added:
"They're disappointed. The whole point of this was to put this behind them, and they wanted the hearing sooner rather than later."
Despite the sentencing issues, the couple appears to be coming to terms with the situation. They had tried to fight the sentencing, but they eventually confessed to it.
Last week, a report confirmed that Lori and Mossimo feel a great deal of remorse over what they did. They reportedly want to get it over with and leave the entire chapter behind them.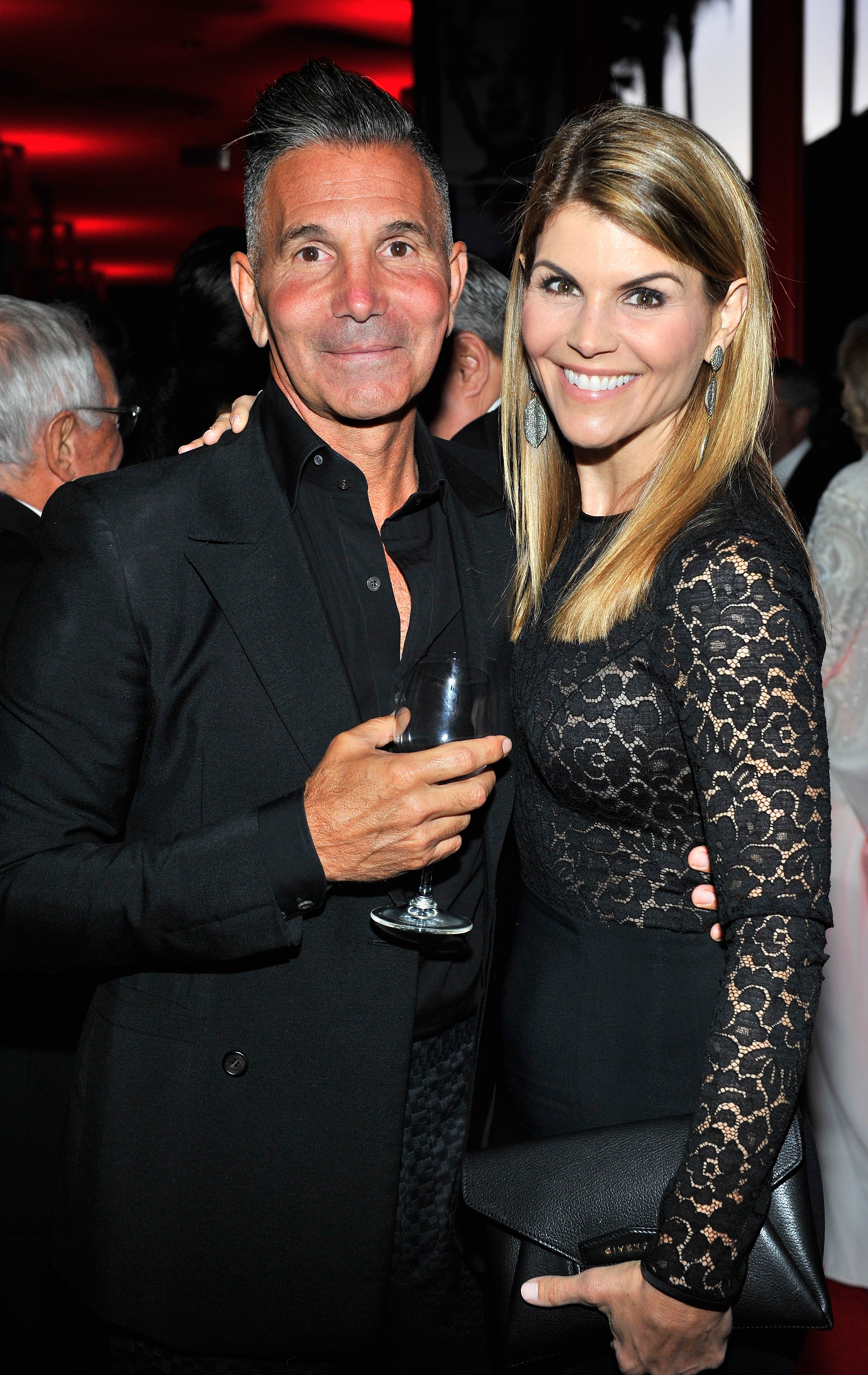 Mossimo Giannulli and actress Lori Loughlin attend LACMA's 50th Anniversary Gala sponsored by Christie's at LACMA on April 18, 2015. | Photo: Getty Images
Olivia and her sister, Isabella Rose, are also adjusting to how things will be. Experts expect Lori and Mossimo to spend two months in jail, and a source recently confirmed that it would be surreal for the sisters to visit them while behind bars.
Still, they're proud of their parents for coming clean and making things right. At the same time, they're happy that the sentencing wasn't as severe as they had thought.
Please fill in your e-mail so we can share with you our top stories!