Twitter/denzelcurry GettyImages
Hollywood Unlocked: Floyd Mayweather to Cover All Expenses for George Floyd's Funeral

World-famous boxer Floyd Mayweather reached out to George Floyd's family to pay his respects and offer to pay for all expenses during his funeral.
People from many US cities have taken their protests against racial injustice and police brutality to the streets following the tragic killing of George Floyd under Minneapolis police officer, Derek Chauvin. Given the trauma and heartbreak that this has caused his family, world-famous boxer Floyd Mayweather decided to reach out to the family and offer to pay for all funeral expenses.
While many celebrities and public figures have taken to the streets to protest police brutality and racial injustice in America, Floyd Mayweather chose to help the victim's family directly. According to Hollywood Unlocked, Floyd was devastated after learning that former officer Chauvin was only given a third-degree murder and manslaughter charge.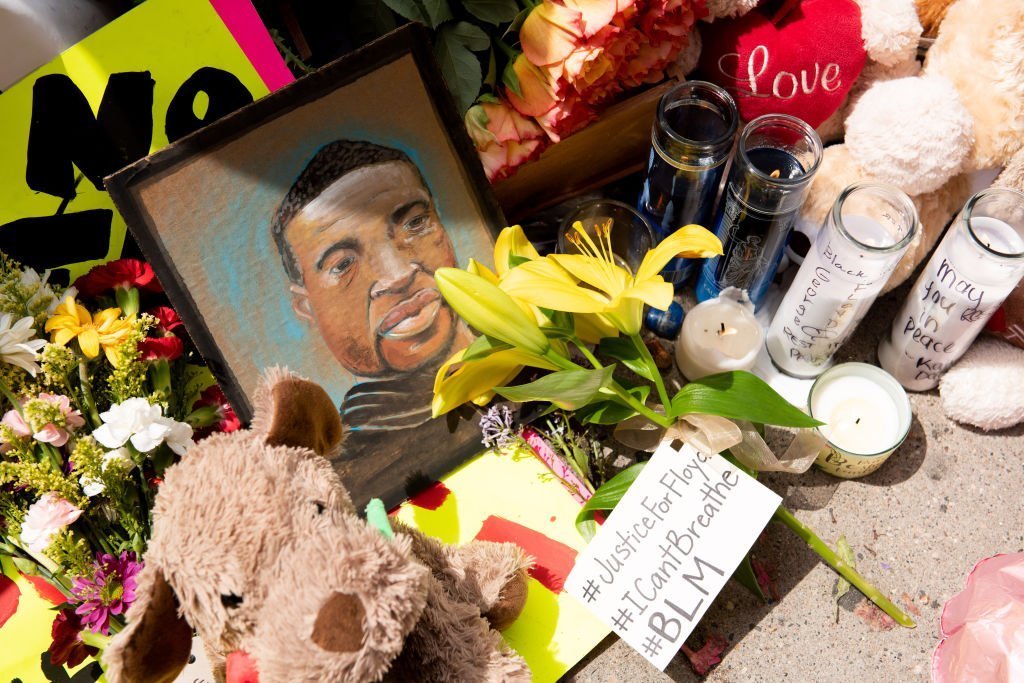 A memorial made for George Floyd following his death in Minneapolis | Source: Getty Images
MAYWEATHER'S KIND GESTURE
While speaking to Hollywood Unlocked CEO, Jason Lee, Mayweather shared the impact that George's death had on him. It turns out, the CEO of Mayweather's TMT music label, Anzel Jennings, grew up with George Floyd in Houston.
After learning about this, Lee reached out to the Floyd family on behalf of Mayweather, letting them know that he was committing to pay for three funeral services. The family is also looking to have a fourth service given the impact George's death had on people nationwide, and Mayweather has promised to take care of that as well.
GEORGE FLOYD'S DEATH
George Floyd was a 46-year-old who was unjustly killed outside of a store after being accused of writing a bad check. He was held down on hard cement with an officer's knee on his neck, which ultimately caused him to suffocate.
Videos of him pleading for his life went viral soon after the incident, and people have taken to social media and the streets to protest since then. Now, there have been uprising in many US cities, calling for lasting change in the system.
CELEBRITIES USING THEIR VOICES
As many people have clamored for change through the years, celebrities and public figures from all over the world are calling for reforms that would protect the Black community from racial profiling and police brutality. Aside from speaking out on social media, many of them have stepped out of their homes to rally with the people.
The likes of LeBron James and Michael Jordan have spoken out about racism in America, while the likes of Ariana Grande, Tinashe, Nick Cannon, and J. Cole have gone out of their homes to join rallies and protests.
Please fill in your e-mail so we can share with you our top stories!