Michael Douglas Is a Proud Father of 3 Children – Meet All of Them
Michael Douglas may have just lost a father, but he can take comfort in knowing that the late legend's legacy will live on. With three kids of his own, the proud dad still has a big family. 
In February 2020, the legendary Kirk Douglas passed away at the age of 103. Just over a month later, his son Michael and daughter-in-law Catherine Zeta-Jones revealed how often they remember him. 
Speaking to ET ahead of the event, "We All Play Our Part: A Benefit for MPTF," Zeta-Jones admitted, "He crosses our minds every day." The actress shares a girl and a boy with Kirk's son, Michael. 
Before he got married to the gorgeous Wales-born woman, Michael first tied the knot with Diandra Luker in 1977. The pair share son Cameron, who is 41 years old. 
CAMERON DOUGLAS
Michael and Luker would divorce in 2000 when Michael was well into his successful career as an actor just like his dad. Cameron proceeded to follow in his father and grandfather's footsteps as well.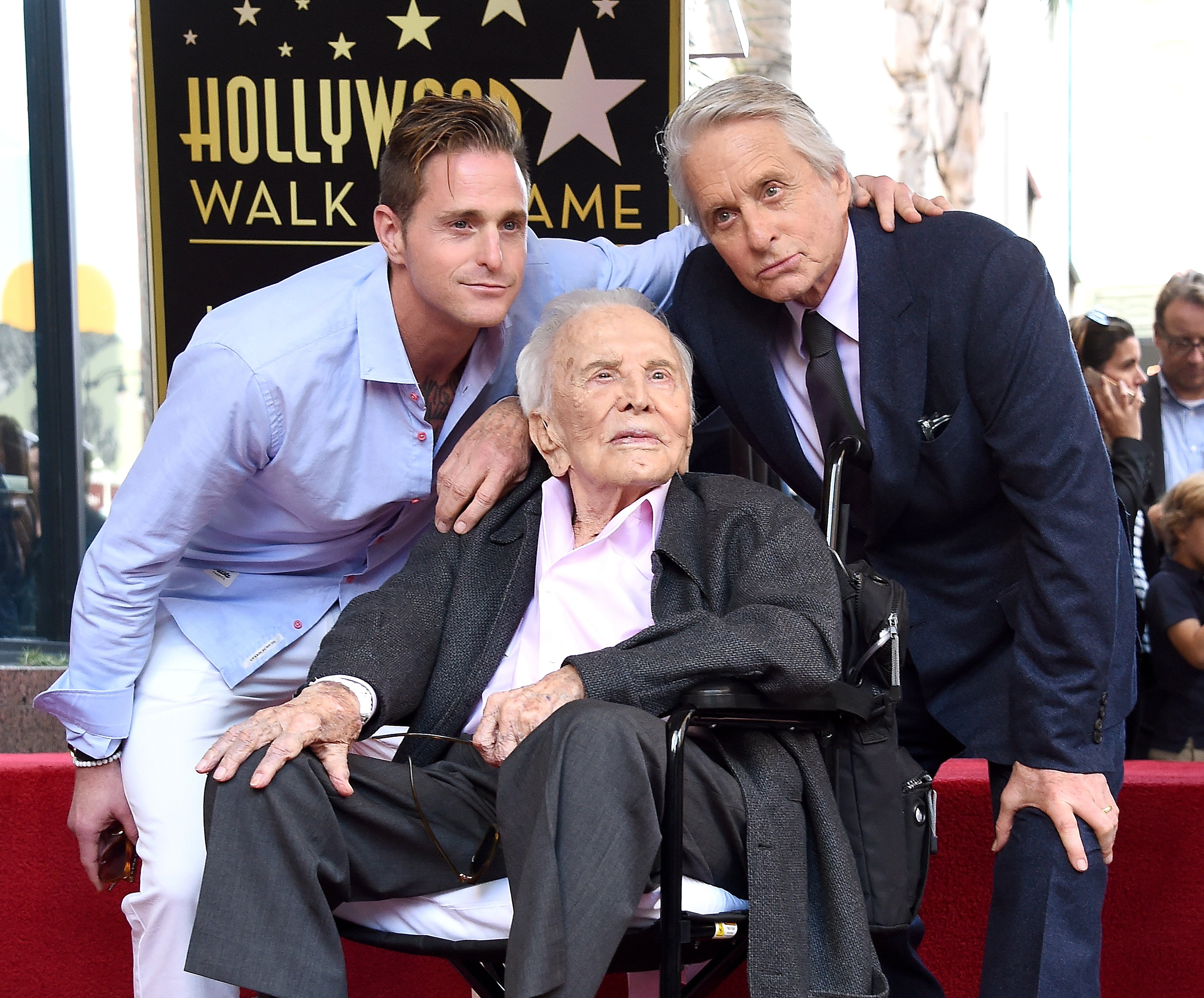 He's appeared in films like "It Runs in the Family," "Adam and Eve," "Loaded," and the short, "Dead Layer." His most notable work was in 2000's "Wonder Boys." 
Unfortunately, things took a turn for Camera in 2010 after he started dealing with drugs. He was sentenced to five years, only to have his time extended for smuggling drugs into jail. 
After getting released in August 2016, Cameron changed his life and became a father to two-year-old Lua with his girlfriend Vivian Thibes. He's still on the straight and narrow. 
DYLAN DOUGLAS 
Michael married Zeta-Jones in 2000, the same year the pair welcomed their first child. Dylan was born on August 8. As he got older, Dylan went the route of his big brother, dad, and granddad, too. 
Though he's still just starting out, he's already landed a voice role in the Disney show, "Phineas and Ferb." He also appeared as himself in  "Formula 1: BBC Sport," in 2015. 
Dylan's Instagram boasts a love of traveling, music, photography, and sports. The 19-year-old has also included quite a few family images on his feed and spreads awareness of learning difficulties due to his dyslexia. 
CARYS DOUGLAS
Michael Douglas' first and only daughter, Carys, was born on April 20, 2003. This time, we can say she's following in her mother's footsteps — and add singing to her aspirations. 
Carys is only 16, but she's taking the world by storm, starting with productions at school. On Instagram, she often shares clips of herself singing while playing the guitar. 
Like her mom, Carys is also a fashionable girl. Last year, she shared her best efforts at modeling in an issue of Vanity Fair Spain, where she posed alongside Zeta-Jones.
FATHER-SON RELATIONSHIP
Michael and his kids appear to have a sound relationship, much like the father-son bond that the actor had with his father. In a tribute shared upon his death, Michael tried to express his love for his late dad. 
He wrote: "To me and my brothers Joel and Peter he was simply Dad, to Catherine, a wonderful father-in-law, to his grandchildren and great-grandchild their loving grandfather."
We're sure that all of Michael's kids miss their grandfather, and our hearts go out to them. We hope to see all of them accomplish what their dad and granddad have in their own way.