See Kylie Jenner and Kim Kardashian's Reactions to George Floyd's Death
'Keeping Up with the Kardashian' stars Kylie Jenner and Kim Kardashian post heartfelt tributes in honor after George Floyd following his brutal murder.
Earlier in the week, a lot of major celebrity established brands helped bring awareness to the issues surrounding racial injustice by observing "Blackout Tuesday."
Kim Kardashian's
 "KKW Beauty" and 
Kylie Jenner's
 "Kylie Cosmetics" all took part in #blackouttuesday by not sharing any content on their social media pages in what has been called "going dark."
We are going dark across our social media channels to honor George Floyd, Ahmaud Arbery, Breonna Taylor and the countless others that have senselessly lost their lives due to racial injustice.

In doing so, we make digital space to raise the voices that need to be heard.

— KKW BEAUTY (@kkwbeauty) June 2, 2020
On their personal social media accounts, both Kim and Kylie showed their support for people speaking out against the murder of George Floyd.
Floyd died on May 25, during an arrest when a police officer from Minneapolis had him pinned to the ground with his knee on his neck for 8 minutes. The officer has been jailed and charged with manslaughter and third-degree murder.
Kim penned a heartfelt message, which revealed that for years she has been watching the cases of senseless murders rise, and was too afraid to speak up, she admitted:
"The privilege I am afforded by the color of my skin has often left me feeling like this is not a fight that I can truly take on as my own."
However, Kim said was her anger, outrage, and disgust that she felt for the families affected have pushed her to speak up. "I know I can use my own voice to help amplify those voices that have been muffled for too long," she concluded.
Her friend Lala Anthony said, "your voice is powerful. The work you do is powerful. Thank you." While some fans were critical of Kanye West's silence on the protests, one person asked them to use their connection with President Donald Trump to help.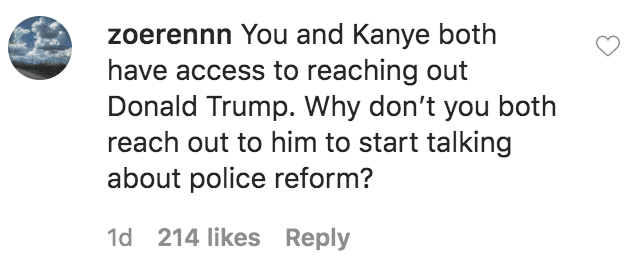 Kylie also addressed the issue of racial injustice and posted a photo of a quote from Dr. Martin Luther Jr King that
stated
, "there comes a time when silence is betrayal."
In a lengthy message, kylie admitted that after watching the video of Floyd's brutal murder, she could not get his face or last words out of her mind. 
Kylie said, even though she may not understand the fear that black people around the country face every day, her heart broke for Floyd's family.
She admitted to having a sense of fear for her daughter and urged people to come together for change and to continue to raise awareness about racial injustice.