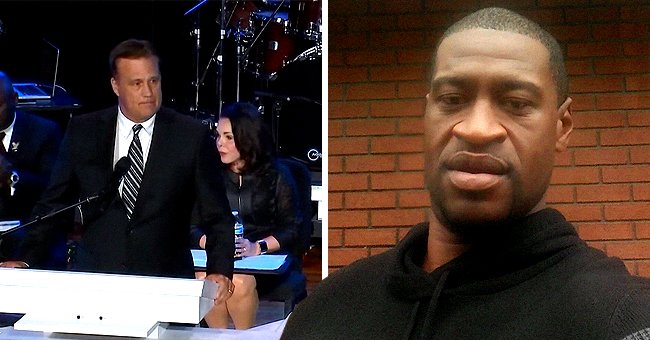 Twitter/WCVB. | YouTube/NBC News.
North Central University Honors George Floyd by Creating Scholarship for Students of Color
The first memorial service to commemorate George Floyd's memory took place on Thursday, and the emotional day also gave rise to something beautiful with the start of a scholarship in his honor.
North Central University in Minnesota hosted George Floyd's first memorial service, and well-known faces from different walks of life came together to support George's family during this difficult time.
CELEBRITIES SHOWED THEIR SUPPORT
NBC News live-streamed the memorial attended by celebrities such as Kevin Hart, Tiffany Haddish, Ludacris, Terese Gibson, T.I. and his wife Tiny, and the NBA star Stephen Jackson - whose been a longtime friend of George.
During the service, North Central University's President, Dr. Scott Hagen, announced the start of the George Floyd Memorial Scholarship aimed at aspiring young black American citizens, and he challenged other institutions to follow suit.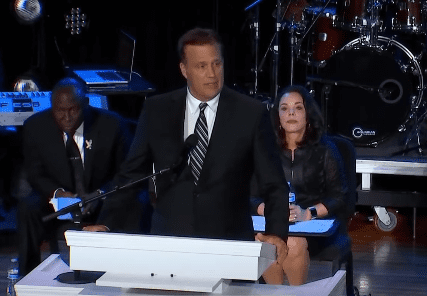 Dr. Scott Hagen announcing the start of the George Floyd Memorial Shcolarship at the first memorial service held for George Floyd on June 4, 2020. | Source: YouTube/NBC News.
GEORGE'S FAMILY SHARED THEIR TRIBUTES
The announcement was met with an eruption of applause from all attending the memorial service and feeling all the love in the room; it prompted George's brother Rodney to make special mention of what matters most to them as a family, as he said:
"We didn't have much growing up, but we had a house full of love. It's amazing to me that he touched so many people's hearts."
A POIGNANT MESSAGE DURING THE MEMORIAL
Grateful for the support they've received from the city of Minneapolis and others from around the world, Rodney referred to is as "a beautiful thing."
Hundreds of people attended the memorial service during which Rev. Al Sharpton gave a powerful eulogy during which he said:
"What happened to Floyd happens every day in this country. It's time to stand up in George's name and say, 'Get your knees off our necks.'"
THE OTHER TWO MEMORIAL SERVICES
According to reports, the second memorial service will take place in Raeford, North Carolina, on June 6, followed by the third service set for June 8 in Houston, Texas, where George used to live.
A private service to honor George Floyd, which is said will be attended by the former Vice President Joe Biden, is expected to take place on June 9, also in Houston, Texas.
CHARGES FACED BY THE POLICE OFFICERS
In addition to Derek Chauvin losing his job and being arrested on charges of murder and manslaughter, the three other officers, Tou Thao, J. Alexander Kueng, and Thomas Lane also present at the time of the incident, got brought up on charges of aiding and abetting murder.
Before autopsy results revealed George's cause of death to be a homicide, Derek had been charged with third-degree murder. The charges since got amended to second-degree murder and second-degree manslaughter.
Please fill in your e-mail so we can share with you our top stories!