Ice-T's Wife Coco Austin Tries Chic Silver Snakeskin Swimsuit in New Photos
Ice-T's wife, Coco Austin, tried out new looks as she got a head start on some of her favorite fashion picks for the summer season with a metallic cutout.
Coco Austin has always been a fan of the summer. It's not just because it gives her the opportunity to show off her curvy figure, but it allows her to try out her favorite swimsuits.
Her love for swimwear is something she has passed on to her daughter, Chanel Nicole, who always has on a matching swimsuit in their adorable mother-daughter photos.
A two-piece swimsuit is typically Coco's go-to summer look. However, recently she revealed that she was trying out new styles. In a caption she said:
"Swimsuit season is here! Have fun trying new styles...what do you think about this one?"
As she posed poolside on her patio future, Coco chose a metallic snakeskin monokini that had a one-sided cut-out. The look she chose was from Cream Fit Women, and 69 Flavors Swim.
"Great style for you! I, however, would look like a rotisserie chicken," joked one person. Another person praised her for always looking good in every swimsuit she wears. 

According to 
Daily Mail,
not everyone was a fan of the swimsuits. One person thought the design didn't look 'functional,' but they still thought it was an appealing style.
Her post has received over 53 000 likes, with many people complimenting her beauty. One fan asked Coco her secret to having a small waist. In her reply, she gave all the credit all to her genes.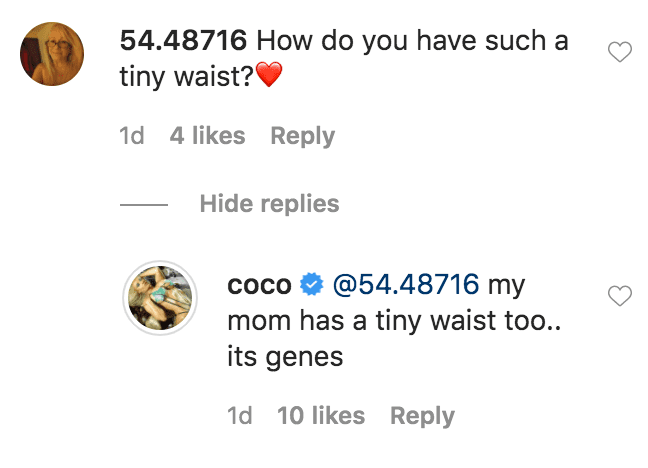 Coco and her husband, Ice-T, have been self-isolating with daughter, Chanel, in Arizona. They have been spending a lot of time poolside, and recently, she brought home a new pool accessory. 
"Went to the grocery store to get some salad stuff and came back with this thing...a dragon," she revealed along with a photo of her and Chanel and the blow-up dragon.
Over the weekend, Coco showed off her expensive taste for matching accessory with her daughter when the two posed in floral dresses complete with mother-daughter purses by Bell Beachwear.
The bags were detailed with silk ribbons, and Chanel had a mini teddy bear attached to her bag as an added accessory.