Dick Johnson of NBC 5 Is Survived by Three Children — Inside His Life and Death
Veteran journalist Dick Johnson was loved by many, and his sudden death on June 9, 2020, left many of his fans and colleagues in shock. The NBC 5 news anchor enjoyed a successful career and won several awards, but for him, his greatest achievement was his family.
For most Americans, the year 2020 will count as one of the worst years in recent times, with hundreds of thousands of deaths recorded as a result of the novel Coronavirus pandemic.
Aside from that, there has been general unrest across the country as people continue to demand justice for George Floyd, who died as a result of police brutality.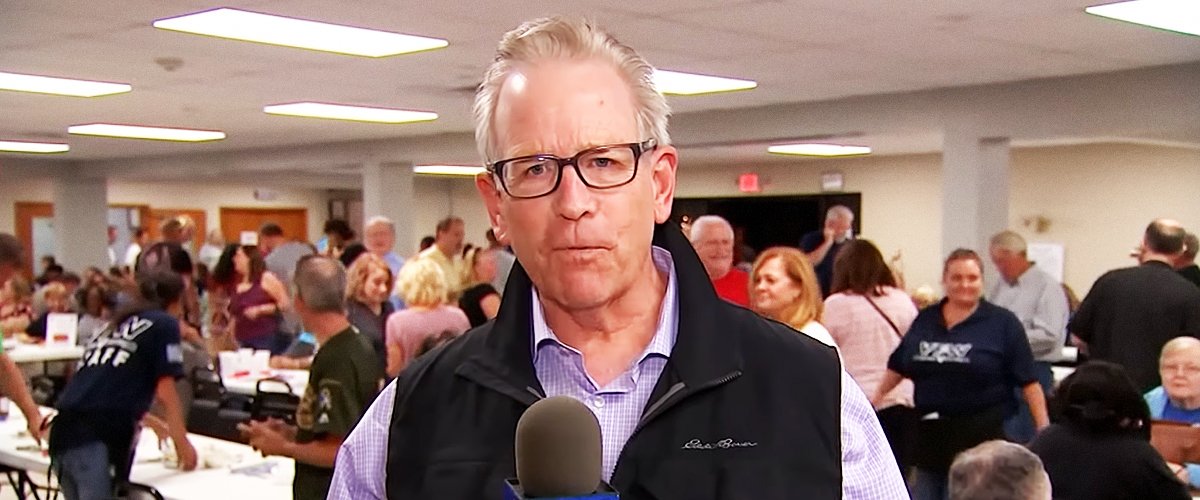 Closing out what has been a sorrowful first half of the year, one of America's finest and most seasoned journalists, Dick Johnson, died suddenly at the age of 66, on June 9, throwing many of his fans, family, and colleagues into mourning. 
The legendary news anchor enjoyed a successful career spanning several decades. Johnson loved his job and had an unwavering dedication to any assignment he was on. Still, above anything else, the beloved news anchor was a proud family man and loved his grandkids immensely. 
DICK JOHNSON'S CAREER
Dick Johnson was born in October 1953, and he studied at DePauw University in Greencastle, Indiana, where he earned a Bachelor's degree in political science and government. 
Johnson began his career in Indianapolis as a reporter for WTHR-TV from 1976 to 1977. He then moved on to Dallas, where he worked for KDFW-TV from 1977 to 1982. During his five-year stint in Dallas, Johnson anchored the 5 p.m. news and also worked as a political reporter. 
In 1982, Dick Johnson made the career-defining move to Chicago, where he finally made his home. Johnson's first job in Chicago was for ABC 7 Chicago, where he worked for the next two decades as an anchor and reporter. 
Finally, Johnson made the switch to rival TV station NBC 5 in the fall of 2002. Once There, the veteran journalist co-anchored NBC 5 News Today and was also a street reporter. During his time at the NBC-affiliate TV station, Johnson also served as a co-anchor for the evening newscast. 
Dick Johnson's NBC career spans nearly 18 years. He was the recipient of several awards throughout his career, including a DuPont-Columbia, national and regional Emmys in recognition of his outstanding work. More recently, he received a Peabody award as part of a group of NBC 5 reporters led by his colleague Carol Marin.
The renowned street reporter is famously known for being on Air Force Two with then-Vice President George H.W. Bush during the assassination attempt on President Ronald Reagan. 
Johnson covered several high-profile stories throughout his career, including Mike Tyson's rape trial, the return of Iranian hostages at West Point, and the famine in Ethiopia, among others. 
Aside from his career in journalism, Johnson also enjoyed a muted career in acting, which saw him play bit-part roles in movies such as "Barbershop 2," "Chicago Overcoat," and the NBC film "Chicago Fire."
DICK JOHNSON'S PERSONAL LIFE
Dick Johnson was married to Lauren M Johnson, and the couple shares three grown-up children, sons Griffin Johnson and Parker Johnson and daughter Maclayne Johnson. 
Johnson's eldest son Griffin is married to Brooke Johnson, and the couple shares two beautiful daughters that they flaunt on their Facebook posts and profiles. The NBC News Chicago anchor is fond of his two grandkids and regularly dotes on them on social media.
Dick Johnson and his wife, Lauren, were married for over three decades and lived in Chicago. In 2008, the couple put up their Burr Ridge house for sale after two of their children left home, leaving only the youngest child, daughter Maclayne who was 14 at the time, with the couple. 
Later in 2010, the couple reduced the asking price of the Burr ridge house, which they built in 1996, to $1.2 million. When the house was initially listed for sale in August 2008, the asking price was set at $1.555 million.
Earlier in the year, Johnson and his wife had relocated to Michigan due to the novel Coronavirus outbreak. The late anchor had pre-existing respiratory conditions, and doctors advised him to move to a less populated area as a precautionary measure against the highly contagious COVID-19. 
In a Facebook post in March, Johnson explained his absence from NBC Chicago and offered apologies to his fans. He said:
"The Coronavirus, my age, and a respiratory issue prompted my doctors to send me packing. So here we are, settled in 'up north' and riding this out as safely as possible. I'm sure you are too."
DICK JOHNSON'S DEATH AND TOUCHING TRIBUTES
Veteran TV journalist Dick Johson died at the Northern Michigan hospital, following days of respiratory complications. Johnson's family confirmed that his death was not related to the novel Coronavirus.
Following his death, there has been an outpouring of tributes on social media from the late NBC 5 news anchor's fans and colleagues. Carol Marin took to her official Twitter account to pen a lengthy tribute in honor of Dick Johnson. 
Former NBC Chicago sports journalist Peggy Kusinski also paid tribute to the legendary newsman. There has been an outpouring of support for the family of the famed television journalist, and most residents of Chicago have described his death as a significant loss to the city.